On his ability to move the ball with the young guys WR Aaron Dobson, WR Kenbrell Thompkins: "Yeah well it started with what we did up front, handling the ball from the first play - 62 yards -  yeah incredible, hand the ball off as many times as we did on the first drive and get the ball in the end zone it was great, the offensive line took a lot of pride in that. We're challenged to be a tough football team so to really do that and run the ball like we did was great and the second drive we were able to make some plays throwing the ball, spread the ball to different guys. KT (Kenbrell Thompkins) did a good job, Aaron (Dobson) did a good job, Josh (Boyce) had some opportunities, Danny (Amendola), I mean everyone contributed so it was really a good week, it was a good week."
On the touchdown to Shane Vereen and how he took extra long on the play: "I was trying to figure out what to do, I saw what we wanted. I was looking and trying to figure out well what's the best thing to do because I knew the coverage and then Shane (Vereen) and I had a little connection and it was good. It was a great catch, I mean to get his feet down, a tight area, Shane (Vereen) has been doing that but I mean he's really come on. He's really continued to improve so it was great to see him make that play."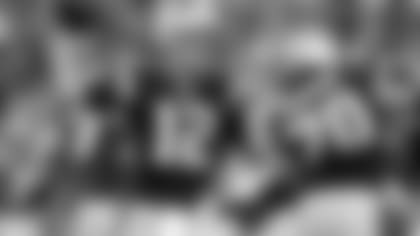 On how valuable this week was especially being able to go against different defenses:** "Yeah it was really, I think there were a lot of things you can't simulate in a walk through. In practice you go against your own defense you kind of get a rhythm for your defense and what they're going to do. We've had all spring, the 12 or 13 practices we had there and then the 9 or 10 practices we had against ourselves to start camp so after 22, 23 practices everyone kind of knows each other so it's nice to go to a different team and see what you got and tonight was different and not everyone was tackling, it was live, this was real football. This week was a productive week to get out there and see where we're at to measure up against good teams."
On his confidence level in these guys, are they in generally the right spots and the places you expect them to be?: "Well, we're a better football team now than we were when we started the week. But we've got to be a better football team at the end of next week than we are tonight. So it's a building process and we're trying to make one play turn into two good plays turn into three good plays and it's not all going to go perfect, it's going to be hard. This sport is - once you think you've got it figured out its going to kick you right back in the butt. So we got a long way to go but it was fun to get out there and play for the first real game in seven months."
On how big the ability of his running backs to run the ball is for the offense: "Like you said it's critical to run the ball and they know you're going to run it. We had big runs, we had short yardage runs where we needed to get the ball, we ran in on the goal line so I mean that establishes the identity of the team how well you run, how well you stop the run and all those guys did a great job, they are big strong powerful runners that want the ball in their hands and when they get in the rhythm, they make a bunch of plays and Stevan Ridley has done it since he got here.. Shane (Vereen) is doing it. Brandon (Bolden) made some runs."
On his thoughts on the tight ends tonight: "Well it's hard to really single out anybody but everyone contributed so, we got a long way to go. I mean it's so early, one preseason game and four weeks from the start of the year, every bit of preparation we have we've got to use it."