Although it feels like years ago at this point, we can't lose sight of the fact that the Patriots coaching staff had hands-on experiences with prospects at the Shrine Bowl back in January. The coaching staff had a chance to get to know the members of the West team and, most importantly, see how they fit into their scheme and absorb information.
It's rare for coaches to get on-field exposure to players before they draft them. In Vegas, the Patriots staff had a full week of practice to teach concepts, correct mistakes, and see how players react to coaching. For those reasons, we'll use this as a refresher of the standouts from Shrine Bowl week.
Here are my favorite day-three sleepers for the Patriots in this year's draft:
CB Terell Smith, Minnesota
Round Projection: fourth-fifth
Smith is flying under the radar in a crowded cornerback class but made some money in Vegas and the combine. At over six feet and 204 pounds, Smith put down a 4.41-second 40-yard dash for an 8.67 relative athletic score. He has the size, athleticism, and footwork in his technique to mirror receivers and flip and run with vertical threats. His reps at outside corner at the Shrine Bowl were impressive, flashing mirroring quickness and ball skills from press-man and off-coverage (closing burst). Smith is also a willing tackler, which the Patriots covet. He fits the mold.
LB Tyrus Wheat, Mississippi State
Round Projection: fourth-fifth
The Patriots coaching staff was raving about Wheat all week long in Vegas. Wheat is in the Pats "elephant" linebacker mold at 6-2, 263 pounds. He can sink, leverage, and dent the edge as a sturdy edge setter while possessing some first-step quickness to convert speed to power or turn the corner. Wheat also offers versatility to play on or off the line, and instinctive coverage drops into the flats from the edge, while his game could take the next step with more seasoning. Wheat's biggest issues are losing sight of the ball and developing a more robust rush plan, which New England's coaching staff can help fix. It won't shock me if the Pats select him with one of their three fourth-rounders.
LB Isaiah Moore, N.C. State
Round Projection: fifth-sixth
A three-time team captain and a Shrine Bowl star, Moore's game is similar to former Patriots linebacker Elandon Roberts. New England's coaching staff was enamored by Moore's instincts against the run at the second level, where he instantly clicks into blocking schemes and makes his presence felt by taking on blocks with authority. Moore won't stay on the field in passing situations, but the Pats love a good hard-hitting MIKE linebacker, and Moore fits that prototype to a tee.
WR Demario Douglas, Liberty
Round Projection: fifth-sixth
Douglas is the day-three Zay Flowers in this class. He uses 4.44-speed to present plenty of vertical juice to open up defensive backs for deadly double moves and intermediate breaks. He also has the quickness to win inside at the first two levels and forced 20 missed tackles while averaging 6.2 yards after the catch per reception.
With Flowers only participating in one practice at the Shrine Bowl, Douglas dominated reps in the slot for the Patriots offense on the West squad. Douglas doesn't have Flowers's precision as a route-runner and is making a bigger jump in competition. But he has a similar athletic profile and stood out during Shrine Bowl week.
TE Will Mallory, Miami
Round Projection: fifth-sixth
Mallory wasn't a Shrine Bowler, but if Douglas is day-three Zay, then Mallory is day-three Dalton Kincaid or Sam LaPorta. Mallory registered the fastest 40-yard dash among tight ends at the combine (4.54s), making a noticeable impact stretching the field as a seam runner. His catch splitting the cover-two safeties up the seam against North Carolina was eerily similar to Kincaid's highlight-reel grab versus USC. He'll also present a horizontal field stretcher on shallow drags and crosses. Although he gives good effort, Mallory isn't an in-line blocker. But he fits the receiving tight end mold.
TE Brenton Strange, Penn State
Round Projection: fourth-fifth
The Penn State product is a unique athlete with a 9.09 relative athletic score. Strange played a move tight end and H-Back role for the Nittany Lions. He is an impact perimeter blocker in the RPO game, using his foot speed to gain favorable leverage and set up running lanes for ball carriers on screens. He'll also throw his weight around to help runners get the edge on crack toss and stretch schemes. Strange took snaps in the slot, from a wing alignment off the line, and in the backfield, giving him intriguing versatility. At this stage, he's more of a check-down and submarine route specialist off bootleg actions with plus-YAC ability rather than a traditional route runner. But the physical tools are there for Strange to be a blocking chess piece and develop as a downfield receiver.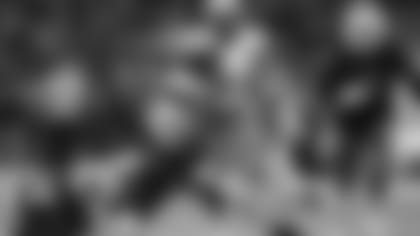 RB DeWayne McBride, UAB
Round Projection: fourth-fifth
The Patriots love small-school prospects who dominated lesser competition. McBride ran for over 3,200 yards with 35 rushing touchdowns in his career, leading the FBS with 155.7 rushing yards per game in 2022. His carrying trait is his contact balance and lateral agility, which helped produce 1,072 rushing yards after contact in 2022. He runs angry, has the power and balance to discard arm tacklers easily, and has solid vision as a discount Marshawn Lynch. The Pats have been rumored to be sniffing around the running back market, and although they could go for a more dynamic receiving back like Deuce Vaughn or Eric Gray, McBride has RB2 upside behind Rhamondre Stevenson as an early-down back. He'd immediately push for the carries left behind by Damien Harris.
OL Warren McClendon, Georgia
Round Projection: sixth-seventh
The Patriots have stayed in touch with the Georgia right tackle throughout the draft process, including meetings at the combine, his Pro Day, and a recent private virtual visit. After starting 38 consecutive games for the national champs, McClendon had a strong showing at the Senior Bowl. His skill set is similar to former Pats tackle Marcus Cannon, with enough foot speed and length (34 1/2") to stick at right tackle while possessing the necessary power to play inside. McClendon's timing, strength generated from a compact frame, and footwork make him a plus-blocker in the running game. He'd make sense on the right side in New England.
OL Connor Galvin, Baylor
Round Projection: sixth-seventh
The Patriots coaching staff got an extended look at Galvin in Vegas, and he stood above the rest as a pass blocker. Although his ideal NFL position is murky, Galvin is a fluid athlete with the foot speed to be a sound positional run blocker and the body control to mirror edge rushers with clean pass sets. The Baylor product might be a zone-scheme-specific player because he lacks functional strength, and his limited arm length could force teams to kick him inside (32 ⅜). But he's an NFL-caliber athlete with impressive initial quickness, the ability to change directions, and the lateral agility to reach and turn out defenders.
OT Dalton Wagner, Arkansas
Round Projection: sixth-seventh
Wagner towered over the other offensive lineman at the Shrine Bowl, standing at 6-8, 320 pounds with 34 ⅜-inch arms. He has ideal size for the position and uses his length and heavy hands to win early in the rep by stunning rushers to a halt. Wagner routinely uses independent hands to jolt rushers and shows impressive cohesion with his footwork for a player of his stature. However, his feet are too heavy for work on the left side, and his height puts him at a leverage disadvantage in the run game. Wagner projects as a Patriot-like right tackle who can overpower defenders with his upper-body strength.
S Jordan Howden, Minnesota
Round Projection: sixth-seventh
Howden is a do-it-all safety prospect and multi-time team captain who had a solid week at the Shrine Bowl. His instincts and physicality give him a chance at free safety in the league, where his route recognition and run support from depth stood out. He also flashes better-than-expected man coverage skills on the perimeter against flexed-out tight ends and running backs. Howden lacks an explosive playmaking gear but has enough speed (4.49s) and football smarts to make an NFL roster.
NT PJ Mustipher, Penn State
Round Projection: sixth-seventh
Along the same lines as a thumping middle linebacker, there will always be a role for a block-eating nose tackle in New England's odd front defense. Mustipher did his part for Penn State by occupying space and blocks from A-Gap to A-Gap. He doesn't have much juice for pass-rushing or knock-back power, but he's a capable hold-the-fort nose tackle in a gap control defense. Mustipher could push for playing time in a Carl Davis-like role with more consistent footwork to absorb contact.
DISCLAIMER: The views and thoughts expressed in this article are those of the writer and don't necessarily reflect those of the organization. Read Full Disclaimer