FOXBOROUGH, Mass. (AP) - Logan Mankins got tough working with his dad on a cattle ranch in California. Getting kicked by a steer was just part of the job.
And no reason to take a day off.
That upbringing helped prepare him for a profession that brought more serious pain, left guard for the New England Patriots. That couldn't stop him either.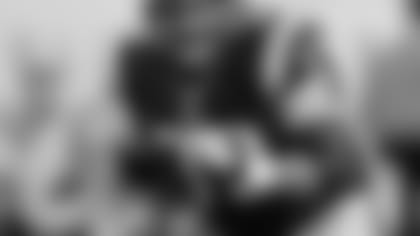 "I learned that kind of stuff from my dad and the kind of guys that he worked with," Mankins said Thursday. "They're all tough guys and they always took pride in never missing days of work and always being there, no matter what the circumstances were."
So Mankins played the entire 2011 season with a torn ACL in his right knee suffered in the opener. Then he tore his left MCL in the divisional round but kept playing in the AFC championship game and the Super Bowl.
This season, he missed just one series after hurting his left ankle on Dec. 29 when he blocked on LeGarrette Blount's 36-yard touchdown run in the Patriots' 34-20 win over the Buffalo Bills.
Even coach Bill Belichick was surprised at Mankins' speedy return after he was helped off the field by two Patriots personnel.
"I've coached a lot of tough guys," Belichick said. "I don't think there's any that I would put ahead of him. Maybe some on that level, but none ahead."
The Indianapolis Colts are about to find out.
Mankins is preparing to block them Saturday night in an AFC divisional-round playoff game.
"They've got a good front seven," he said. "They don't mix it up too much but they do what they do and they do it well. They've got one of the most explosive players in the league in (Robert) Mathis (and) he can change the game at any moment if you let him."
Mankins has been chosen for five Pro Bowls in the nine seasons since the Patriots drafted him in the first round from Fresno State in 2005.
Backup offensive lineman Will Svitek was drafted in the sixth round from Stanford that year and is in his first season with the Patriots.
"He's a hard-working, blue-collar, tough guy," Svitek said. "He's just a pure football player, old school. I think he can do whatever you ask him to do. Logan kind of epitomizes what you want in a football player. He epitomizes what toughness is. He's one of a kind, a true competitor, a great teammate."
Mankins grew up on a 10,000-acre cattle ranch in Catheys Valley, a town with a population of 825 in the 2010 census. He and his father Tim won prizes as a steer-roping team.
"Growing up on a ranch, you don't have much of a choice if you want to work or not," he said. "There were many days where you're pulled away from school to go work. So we learned that young."
"Of course," Mankins said.
"No," he said. "Kicked, ran over, all kinds of stuff."
On a team known for its mental toughness - overcoming injuries and deficits -there's no one tougher than the soft-spoken, bushy-bearded, 308-pound Mankins.
"To me, mental toughness is just doing your job," he said, "putting the team before yourself. When things aren't right for you, you still do what's right for the team. I think we have a lot of guys that buy into that."
Mankins started all 89 games in his first five seasons and has missed just 14 games in his career. Seven of those came at the start of the 2010 season when he didn't play during a contract dispute.
It looked like he might miss another one when he could put little weight on his injured ankle as he was helped off the field against the Bills.
"Usually when you get an injury, that's the first thing that crosses your mind, that you're going to be out for a while. Then you just take a few moments and really see what's going on," Mankins said.
"Any time you bang something up, you've got to let it cool off a few minutes. ... It felt good enough to go so we taped it up pretty good and got back in there. But, you know, we have guys on our team that do that every week."
At least the first-round bye gave Mankins extra time to heal.
"I've been limited at practice, but it's going good," the rancher's son said. "It's improved every day, so we'll see what happens by Saturday."