The New England Patriots opened their annual training camp presented by Optum on Tuesday, July 27, when players reported. Additional open practice dates have been announced for August 25-26 on the practice fields behind Gillette Stadium. The daily practice schedule throughout training camp is tentative and subject to change. Fans planning to attend practice are encouraged to check out our training camp section for last-minute updates or call the training camp hotline at 508-549-0001. Parking, admission to practices, admission to Fan Walk and Play Football area and rosters are all free.
Gillette Stadium offers ample parking for the thousands of fans who attend training camp practices and enjoy the family-oriented entertainment. Bleachers, located on the west sideline of the practice fields, will provide seating for thousands of fans with overflow seating for thousands more on a hillside in the north end zone.
JOINT PRACTICES WITH THE GIANTS
The Patriots will hold joint practices with the New York Giants in Foxborough on Aug. 25 and Aug. 26 at 10am prior to the preseason game at MetLife Stadium on Aug. 29. These practices are open to the public.
COVERAGE ON PATRIOTS.COM
If you can't make it to Patriots Training Camp we've got you covered. You can look forward to unequaled coverage as the Patriots get ready for the 2021 campaign:
Blogservations ... camp battles, personnel reports and more.
Training Camp-Cast ... post practice podcast.
Patriots Practice Wrap ... the day's video highlights and interviews.
Live and on demand press conferences featuring Bill Belichick and select players.
Photo galleries and more.
ROSTER REDUCTION DATES
The NFL roster limit during training camp is 90 players. Following the first preseason game on Tuesday, Aug. 17, rosters must be reduced to 85 players. The Patriots will reduce their roster to 80 players on Tuesday, Aug. 24 before a cut-down to a 53-man roster on Tuesday, Aug, 31.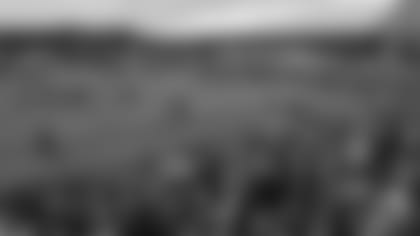 ACTIVITIES
Besides watching the team practice, we hope you explore the fun-filled activities, games and photo opportunities along the Fan Walk and Play Football area. Be sure to keep an eye out for appearances by Pat Patriot, the Patriots Cheerleaders and Patriots Alumni.
AUTOGRAPHS
Due to NFL/NFLPA COVID-19 protocols, Patriots players will not be allowed to sign autographs at Training Camp.
PATRIOTS PROSHOP
The Patriots ProShop will be open daily on all days that the public has access to practice. The ProShop is located on the northeast corner of the stadium below the Patriots Hall of Fame presented by Raytheon Technologies. Fans attending training camp and parked on the west side of the stadium may access the ProShop via the staircase on the north end of the stadium. Times will vary depending on the daily practice schedule, opening at least one hour before or after each practice session.
PROHIBITED ITEMS
All fans entering the Patriots training camp facility with a view of the practice fields will be screened by metal detectors, as well as having any and all bags screened by security personnel. While bags are permitted at training camp, we encourage fans attending to use clear bags for speed of inspection and entry. To ensure that all fans have a safe and enjoyable visit to Gillette Stadium for Patriots Training Camp, the following items are prohibited:
Animals, except service animals assisting those with disabilities
Any alcoholic beverages
Beach balls
Bullhorns and air horns
Coolers
Drones
Fireworks or pyrotechnics
Sticks/Poles
GoPro Cameras/Video Cameras (no video recordings)
Balloons
Illegal drugs or any other illegal substance
Laser pens
Noise makers
Remotely Controlled Aircraft
Selfie sticks
Weapons of any kind (including knives)
Any other item deemed inappropriate by stadium management
Fans are reminded to please leave all such items appropriately secured in their vehicles.
Individuals with possession of a prohibited item(s) may be denied admission to training camp, ejected, arrested and prosecuted. Prohibited items that are discovered at training camp will be confiscated.
CONCESSIONS
The concession stands at training camp offer fans a variety of food and drink options. All concession stands will be cashless. Please bring your credit or debit card. A cash to card machine will be available at Training Camp.
PARKING
Parking is free throughout training camp. Tailgating is not permitted in the lots during training camp.
BAG POLICY
The Clear Bag Policy will NOT be in effect for Training Camp. Bags will be permitted at Training Camp after being screened by our security personnel. Please see our safety procedures page for more information including our prohibited items list.
RAIN POLICY
When the Patriots are forced to practice indoors due to inclement weather or poor field conditions, those practices will be closed to the public. For that reason, we stress the importance that fans and media visit the Patriots training camp section or call the training camp hotline at 508-549-0001 prior to every practice for up-to-the-minute changes in the daily practice schedule.
TRAINING CAMP QUICK LINKS