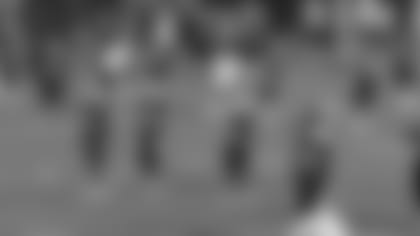 ]()Mother Nature and the Patriots combined to bring the excitement as the team returned to the practice fields behind Gillette Stadium for Saturday evening's session in shorts, shoulder pads and helmets. While Bill Belichick's team put in its second straight relatively crisp workout, it was the weather that stole the show as the first part of practice saw a fast moving storm blow through that included heavy rains, high winds and left a pair of rainbows grazing the sky above the practice action. One of the rainbows actually appeared to touch down on the far end of one of the practice fields.
Once the brief but dramatic weather cleared through, the rest of the workout took place under partly cloudy skies and warm temperatures as the day's second session focused primarily on the passing game. As far as the actually passing goes Tom Brady continued to look sharp, with Benjamin Watson, Troy Brown and Reche Caldwell serving as his favored targets. Caldwell had a strong day throughout both sessions on Saturday, catching the ball cleanly and looking quick and elusive at times after the catch. Brady hit Caldwell for a long score down the middle of the field in a seven-on-seven drill as the free agent addition split coverage from Willie Andrews and Antwain Spann.
While the actual passing game looked decent, the pass protection appeared less sharp in both drills and group work. The linebackers and running backs got together in one drill with the defenders working on their one-on-one rush moves and the backs working pass protection. Both sides claimed their share of victories, although rookie Laurence Maroney struggled a bit in his reps. Veteran Corey Dillon had solid protection on his turns and Chad Brown showed some veteran experience in his reps as a rusher beating David Thomas on a bull rush on one successful play.
But the part of the pass rush drill that drew the most attention from the crowd was a pair of reps by Tedy Bruschi. Bruschi took what appeared to be somewhat of a late cheap shot high on backup quarterback Todd Mortensen in frustration after one rush sequence, earning applause from the crowd. Next time through Bruschi got to Mortensen again with a late shot and this time the crowd gave the veteran linebacker a standing ovation. Bruschi was more than happy to accept the cheer and waved the crowd on to only get louder.
The practice closed with a team hurry-up drill with the offensive squad led by Matt Cassel working against a group of first unit defenders with just 1:30 on the clock. Cassel struggled to move the offense through much of the segment and threw one interception that was returned for a score by Asante Samuel. But Cassel did complete a nice ball to rookie free agent Keron Henry, unfortunately the clock ran out before the unit could get to the line for another play and the day's second session similarly came to a close.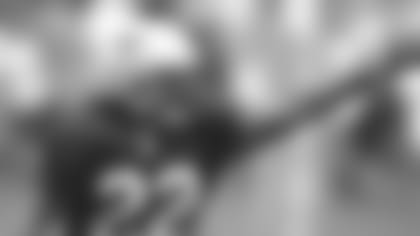 ]()Who's Hot:**Willie Andrews – Andrews continues to be the most energetic returner in camp. While no return drills are full contact in practice, Andrews has at the very least shown enough to earn a strong look in preseason action as the Patriots continue to search for some young blood for the return game.
Who's Not: John Stone – Stone has struggled through the first two days of camp dropping a number of passes. His worst effort came in Saturday's evening session when a Tom Brady pass bounced square off his numbers and fell incomplete on what should have been a nice completion in the middle of the field. Stone also struggled during a special teams segment of the workout working as a gunner against two vice players, drawing some constructive criticism from special teams coach Brad Seely.
Play of the Practice: Samuel brought the damp crowd to its feet with an interception late in practice that he returned for a score during a team two-minute type drill. Samuel stepped in front of a Matt Shelton out cut to haul in Cassel's pass and sprinted down the sideline for the score. Samuel then capped the exciting play by laying the ball up basketball style through the goalposts in celebration.
It's never a good thing to be without the services of an elite player like Richard Seymour even in training camp, but if there is a silver lining to the All-Pro's absence it's that fifth-year linemanJarvis Green is getting even more reps with the first unit than might normally be the case. Green has played in at least 15 games in each of his first four seasons in the league although he's registered just 17 starts serving as New England's top lineman off the bench for most of his career.
Now a relative veteran on a young defensive line that includes recent draft picks Ty Warren and Vince Wilfork, Green continues to work to be the best he can be in New England. And the extra reps early in camp certainly can't hurt.
"It's another year for me to get better, trying to polish my technique," Green said Saturday. "Right now I just need to get better and get my reps as long as I can."
And Green knows the hard work will be rewarded, as it was last year when he signed a lucrative extension to remain in New England. In Bill Belichick's world that's all about being able to do more, Green is willing to come off the bench, fill in for injured teammates, play in four-man fronts and just about anything else that's asked of him.
"We have a lot of guys that can do multi-tasking as far as playing different positions," Green said. "I mean that's the way it is with everybody, even with the cornerbacks, with the linebackers. We have guys who can rotate, and that's just the way it is, I'm just one of those guys who can come in rotate, can come in and fill in."
And that's what he does both on the game field and in this case, on the practice field.
--Recently re-signed linebacker Chad Brown says his offseason workouts have him in good condition for the start of training camp, although he does admit his current weight is not ideal. "I'm probably a little light," Brown said after the morning session. "I'd like to pick up some more weight, but I usually gain weight during training camp. Conditioning-wise, I feel as if I'm in great shape conditioning-wise."
--Troy Brown returned for the evening practice after sitting out the morning session and found it interesting that quarterback Tom Brady had called him country club for getting practices off early in camp. "Country club," Brown questioned. "His golf swing is better than mine, so you tell me who's country club."
--Tight end Benjamin Watson participated in the evening workout after missing the morning action.
--Beyond holdout Deion Branch and the list of 10 PUP players not in action, Marquise Hill, Matt Light and Garrett Mills also missed the evening workout.
--With Light not practicing, Wesly Britt saw action at left tackle with the first unit. Rookie Ryan O'Callaghan also took some reps with the first unit, rotating in with Brandon Gorin at right tackle.
--Rosevelt Colvin had maybe the line of the day and it had nothing to do with football. The linebacker gave a little good-natured ribbing to a local TV reporter who was wearing a shirt showing his station now had HD programming. "No one cares that you went to HD," Colvin joked.
--Apparently Belichick has taken to using a musical phrase in regards to his desire to get his entire team on the field and working together in training camp. "The quicker we can get everybody out here on the field working together as I unit, the better off we're gonna be," Chad Brown said. "Coach Belichick's theme is 'get in time' – it's a musical phrase, a band doesn't sound right, can't play right if everybody's not in time. The same goes for a football team; if everybody's not understanding what the guy next to him is doing, what the next thing is going to be then we can't play well."
--Former Purdue teammates Colvin and tackle Gorin worked one-on-one on pass rush/pass blocking together prior to the start of practice.
--Center Dan Koppen, on the team's PUP list to start training camp, was on the field in shorts and t-shirt watching his offensive line teammates go through pre-practice drills. He adjourned to the indoor practice facility when practice action started.
--Vernell Brown, Hank Poteat, Andrews and Caldwell fielded punts from Josh Miller in pre-practice special teams action and later filled the same roles during a special teams segment of practice.
--Mike Wright got some reps with the first defensive unit working at right defensive end.
--Watson returned to action with an up-and-down evening workout. He dropped a pair of passes in the middle of the field and actually drew a mock cheer from fans when he held onto a pass later in the action.