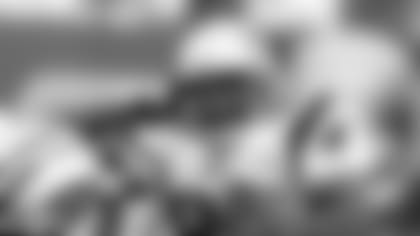 Troy Brown, often regarded as Mr. Patriot, has been with the Patriots since he entered the league in 1993, longer than any other member of the team. In fact, Brown is currently tied for the second-longest single-team tenure in the NFL, since Packers quarterbackBrett Favreand Lions kickerJason Hanson** have been with their respective teams for 15 years.
Brown has 529 receptions for 6,150 yards in his 14-year career. He's on the verge of breaking the Patriots all-time receiving record. It will take a season-high six receptions this weekend against the Bills, but if Brown gets them, he'll pass Stanley Morgan as the player with the most receptions in Patriots history. Morgan has held the record since 1984, when he bettered Gino Cappelletti's then-record of 292 catches.
"If anybody was going to break it, I'm glad it's Troy," said Morgan in a phone conference with the New England media on Thursday. "I had an opportunity to talk to Troy a couple years ago and I told him I couldn't wait until he breaks it, because he was the only one that I thought was close enough."
Morgan was with the Patriots for 13 years from 1977-1989 before signing with the Colts for his final season in 1990. He's a four-time Pro Bowler. In addition to holding the Pats all-time record in receptions, he owns team records in yards (10,352), touchdowns (67) and yards-per catch (19.4).
"[Troy] reminds me so much of myself. He's a team player." Morgan said. "He's always done what is asked of him. He doesn't complain and he goes out and does whatever it takes to get the job done. That is probably the biggest thing that I really admire about him."
Morgan admitted that he was probably faster at his peak than Brown. He listed that fact and changes in offensive theory as the reasons his overall yards (10,352) and yards-per carry (19.4) are so much higher than Brown's (6,150 and 11.6, respectively).
Coach Bill Belichick agreed.
In his Thursday press conference, Belichick described Stanley as, "Fast. Really fast. A big play guy. He was a big vertical threat. A good run-after-the-catch guy. When he was running those posts, those free safeties had to really get on their horse and get back there because he'd get on top of you in a hurry."
Belichick went on to talk about offensive changes that have resulted in diminishing yards-per carry averages.
"I think you see teams doing a lot of those...call it 'look passes,'" Belichick explained. "You know, plays in the running game when the defense moves up the blitz or takes the run away and the quarterback just raises up and tosses it out there. It's not those conventional, intermediate and deep routes that a lot of teams ran in the passing game. New England was a big play action team back then. Historically play action routes are going to be a lot deeper than the shorter drop back routes. By the time you run the play fake and try to separate the defense and give those guys a chance to run those in-cuts and post patterns and over routes and stuff like that, that if you hit them you're going to gain a lot more yards than on those shorter, quick-drop timing type of throws in the west coast offense, which a lot of teams are running."
As active veterans go, few are more venerable than Brown. Although this is only his first season with the Patriots, one of the most well respected veterans on the team is linebacker Junior Seau, who's in his 17th year in the NFL.
Seau spoke about Brown on Thursday as well.
"Troy's got six more years before you put him in with me," joked Seau. "Nah. Troy's done a great job. For him to be doing the things that he's doing now is amazing, especially in the position that he's in. He's not only doing a great job in terms of performing on the field, but he's really showcasing on how to be a professional. That means a lot. That means a lot to the game, it means a lot to me, because he respects this game. What he does off the field and what he does in practice and what he does to prepare, that goes further than what you see on Sunday."
Seau also talked about what it takes to stay in the league long enough to become a tenured veteran.
"You've just got to be smart with it," he said. "You've got to know the game, number one, but more importantly, you've got to know your body. You've really got to be dedicated to the game of football. I'm on my 17th, and yeah, it's a feat.
"You have to know the difference between being injured and hurt," explained Seau in front of his locker, which displays a bottle of senior vitamins and a game ball from the season opener, among other things. "And you've just got to play this game with injuries. As hard as that may sound, it's just the way it goes."
Brown has been a reliable receiver for the Patriots again this year, and currently ranks second on the team with 15 catches for 168 yards this season. Morgan said Brown's ability to get open is what continues to make him a threat to defenses, despite his age.
"If you can't read the coverage and know where the open holes are, you can't get open. Troy has that knack of finding the right spot at the right time to get open and make sure he's doing what he has to do to get a first down if that's what's called for," said Morgan. "That's something you can't teach once a receiver has reached that level."
Morgan now lives in Memphis, Tennessee. He said he still watches his former teams, the University of Tennessee and the Patriots. He played running back for Tennessee in college. He said he's working with a California-based company that makes fiber optics for the military, and that it was difficult for him to make the transition out of football at first.
"The fondest memories I have would always be playing there in Foxborough," he said. "And playing there in front of the fans there. They treated me very, very well. I don't remember too many negative things that were said about me. They loved me and I loved them. The memory I would probably share more than anything would be the night we beat Miami in Miami for the AFC Championship. That was unbelievable."
That game was way back in 1985. Morgan had 39 receptions that season for 760 yards and 5 touchdowns. He caught seven passes in Super Bowl XX, that year, though the Patriots fell to the Bears 46-10.
Notes:
The Patriots wore shorts/sweat pants, helmets and shoulder pads at practice today, which was held outside. Russ Hochstein was the only player not seen during the portion of practice available to the media. Ty Warren wore a red non-contact jersey yesterday, but was back in his regular uniform today.