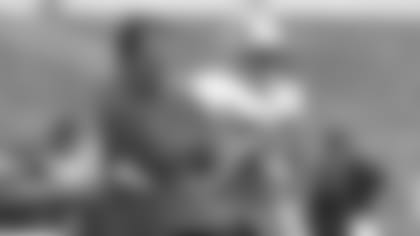 ]()With the preseason opener at Cincinnati just three days away, the Patriots began their preparation for the Bengals during Tuesday's morning session. Head Coach Bill Belichick explained some of the differences between the schemes Cincinnati uses and what the Patriots normally see on a daily basis, and that the prep work will continue through Thursday's walk-through.
"We have a couple days to get ready for some of things Cincinnati does that we don't do," Belichick said. "They handled us pretty well in the preseason last year and their offense racked up about 500 yards against during the regular season as well. They use a 4-3 front on defense with a lot of stunting and a lot of four wide receivers sets and other things we won't get to go against by running our own stuff."
A mixed-and-matched group of offensive players spent the bulk of practice running plays off cards against a first defensive unit that featured a couple of new faces. Rodney Bailey joined Vince Wilfork and Richard Seymour up front with Ty Warren, the normal starter, not dressed. Warren has missed several days of practice and was sporting a brace on his right knee.
"It's training camp – we're taking it one day at a time and just concentrating on getting better on my techniques," said Bailey, who missed all of last season with a ruptured Achilles suffered in training camp. "It's good to be out here and trying to get better. It's a lot to learn and I'm enjoying the chance I'm getting."
Also, with Rodney Harrison out of uniform (likely a veteran day off), rookie James Sanders lined up next to Eugene Wilson at safety. Sanders appears to be a physical player in Harrison's mold and it's possible the coaches feel he's more of a strong safety.
That would explain why the fourth-round pick got the nod over Guss Scott, who has logged many reps as a starter thus far in camp. Scott has played both corner and safety, which could mean he's viewed as more of a Wilson-type free safety. Sanders and Wilson joined Tyrone Poole and Asante Samuel at corner while Duane Starks and Chad Scott rotated in periodically. Randall Gay was out of action for the third straight practice.
The linebackers again featured Mike Vrabel and Chad Brown inside with Willie McGinest and Rosevelt Colvin outside. Matt Chatham took reps at both inside and outside with the second group.
The offense appeared to have some success on running plays, opening up some nice holes for Corey Dillon, Kevin Faulk and Cedric Cobbs. Dillon found a large hole on one play running to the right, the spot where Bailey replaced Warren. The passing game didn't have the same success, however, as completions for all the quarterbacks were few and far between.
]()All four quarterbacks took reps, but interestingly Matt Cassel was the first to replace Tom Brady during 7-on-7 drills earlier in the workout. It may just be a coincidence, but perhaps the coaches wanted to give the rookie more work in anticipation of the preseason opener Friday night. In any event, he looked sharp in completing a pair of passes – one to Jed Weaver for a short gain, the second a bullet over the middle to Eugene Baker that hit the receiver in stride.
Brady wore a wrap on his right elbow and didn't take many reps once the Cincy scout work began. He took his regular turn during the warm-ups and 7-on-7s, but didn't seem to be as sharp as normal. He overthrewDeion Branch badly on one play, and then was picked off by reserve linebacker Eric Alexander. He did follow that up with a tremendous throw deep down the seam to Troy Brown, who got behind Larry Izzo and Antuan Edwards for a big gain.
]()Rohan Daveyhad some moments, hittingDavid Givens** with what would have to be the longest pass of camp. Davey's pass traveled roughly 60 yards in the air and hit the wideout in stride. But he still seems to lack the consistency with many of the shorter throws, which even when completed don't always appear to be very accurate.
"I think Ro's continued to improve at his position at a number of different things," Belichick said. "It's not just throwing the ball, it's reading defenses, reading coverages, making checks or adjustments at the line of scrimmage … it's the overall operation, and as we've expanded it over the last three or four years we've expanded it for everybody. For the starting quarterback and for the other quarterbacks on the roster as well. That's part of his growth even though he's not taking snaps out there with the first team. That's something that he has to do and he's gotten better at."
Willie McGinest practiced for the second straight day after spending the opening week mostly watching and maintaining his conditioning. Belichick indicated that the veteran, now entering his 12th season, is on a different program than the rest of his teammates and the slow start to camp is a planned maneuver.
"We've been on a schedule with Willie for the last couple of years in terms training camp and his preparation for the season," Belichick said. "I think it's worked well for him and it's worked well for the team. Whatever it is it's because we feel like it's mutually beneficial for the player, the team and the unit that he's on. So that's why we do it that way."
In addition to Warren, Harrison and Gay, several others were not dressed for practice. Benjamin Watson,P.K. Sam, Bethel Johnson, Ryan Claridge, Chad Morton, Tim Dwight and Andre Torrey all were in shorts and T-shirts and retired to the bubble for conditioning work.
Watson's situation is particularly disappointing. Many observers believe his athleticism could expand the offense greatly if he's healthy, but he's had a hard time staying on the field. Belichick said Monday that his current injury is not related to the surgery that caused him to miss all but one game last year.
With just a couple of days to go before the Bengals opener, it would appear that his prospects for playing would be slim. However, Belichick wasn't ready to make that determination.
"I wouldn't say that. He's day-to-day," Belichick said. "When he's ready to go, he'll be back out there. There are a lot of players in that category that are close to being out there. When will that be? When they're ready." ...
Linebacker Tully Banta-Cain was in full pads at the start of practice but eventually removed his shoulder pads and joined the group in the bubble. Banta-Cain also missed Monday's practice. …
Before the prep work began, the first units spent several minutes banging heads, raising the level of physicality a notch from most of the previous days. The first offensive line had Tom Ashworth back at right tackle with Brandon Gorin lining up at left guard with the second group. The remainder of the first wave remained the same while Gorin was joined by Gene Mruczkowski, Victor Leyva, Billy Yates and Nick Kaczur. Mruczkowski and Leyva alternated between left guard and center. …
Just a day after taking part in his first practice as a Patriot, tight end Matt Brandt was released. Brandt took the roster spot vacated when rookie seventh-round pick and Mr. Irrelevant Andy Stokes was let go Monday, but evidently his first impression was not a good one.
The wide receivers and running backs worked on some different drills from their normal pre-practice routine. The wideouts executed cut blocks against the heavy bag while the backs ran through a gauntlet of blocking pads in a drill that emphasized ball security. … The quarterbacks worked on their play action fakes with the backs following through and running short pass patterns in the flat. … Brad Seely's boys got some work with two kickoff units taking several reps each. Of note was the inclusion of rookie Ellis Hobbs and corner Hank Poteat with the first group while free agent newcomer and special team veteran Wesly Mallard lined up with the second group. … Bam Childress continues to impress despite his extremely long odds. The former Ohio State wideout made a terrific catch near the sideline, and later worked his way into the clear but couldn't make the catch when Davey's pass was well overthrown.