New England's first day of mandatory veteran mini-camp certainly got a boost in media coverage and overall buzz when the team officially announced the signing of Tim Tebow Tuesday morning.
While the former Heisman Trophy winner and now Patriots third-string quarterback was the reason the likes of NFL.com, NFL Network and ESPN were on site for the practice, there were plenty of other interesting notes and tidbits from Foxborough.
The morning workout took place under cloudy skies on damp fields, but the air remained dry. Players wore helmets, sweats/shorts and once again were without jersey numbers.
Beyond Tebow, Gators were the overall story of the day as linebacker Brandon Spikes took to the practice fields for the first time this spring in New England. Spikes has been working out on his own in Florida as he rehabbed a knee injury and heads into the final season of his rookie contract.
The general feel of the practice was more crisp than the final session of OTA practices last week that was open to the media, when the Patriots passing game really struggled. Today there were far more completed passes and prized free agent addition Danny Amendola had his most active, productive workout in his short time in New England.
Beyond those key bullet points, here are one man's observations of a practice with players not wearing jersey numbers and the bulk of the action taking place more than a field away:
--Julian Edelman (foot), Nick McDonald and Rob Gronkowski (back, arm) were the only players not seen in some form on the mini-camp practice fields.
There was a large group of players rehabbing, riding the bike or spending time working with the training staff inside the Dana Farber Field House. That included Mark Harrison (foot), Donald Jones, Duron Harmon, Devin McCourty, Alfonzo Dennard, Brandon Bolden, Brandon Ford, Spikes, Aaron Hernandez, Josh Boyce, Sebastian Vollmer, Niko Koutivides, Nate Ebner, Tavon Wilson and Dan Connolly.
Dennard, Jake Ballard and Stevan Ridley were all on the practice fields after getting banged up in the final media session of OTAs. Ridley and Ballard seemed to take their normal reps in the mini-camp practice, while Dennard rehabbed and watched from the sidelines.
Spikes began the practice with the rehab group and in the indoor practice facility before taking to the field later and finishing up the day with a couple reps in team action against the offense.
--There were five players on the field who aren't listed on the New England roster at this point – No. 35 white, No. 41 blue, No. 68 white, No. 71 blue and No. 84 white. (Blue indicates a player on defense, white on offense.) These could very well be players in town on a tryout basis. The early media thought was that No. 84 was Jabar Gaffney, but that turned out to be incorrect. Whoever he was, No. 84 struggled at times, including trying to catch passes from Tebow in the opportunity portion of the workout.
--For the record, Tebow was assigned No. 5 in New England as backup quarterback Ryan Mallett already has No. 15. Tebow took part fully in positional drills and did a lot of throwing, but did not take part in team action with the offense. He spent these periods talking to coaches, primarily Josh McDaniels. Tebow did run the offense through a few plays during the "opportunity" portion of work late in practice while the more experienced players were on another field. Brian Daboll, who has primarily been working with New England's offensive line but is a former offensive coordinator with three different teams, ran this segment and called the plays for Tebow's offense. Tebow clearly still has the same questionable footwork and elongated throwing motion that has been an issue for him dating back to high school.
--Notre Dame head coach Brian Kelly was on the field observing the practice. He spent much of his time chatting with Belichick throughout the session.
--Amendola had his shirt off prior to practice, revealing that he wears a supportive strap on his left shoulder. He did catch a ton of passes throughout the day, mostly from Brady. It was our first real taste of the DA Show and looked solid even if there was one pretty bad drop, which clearly annoyed Amendola.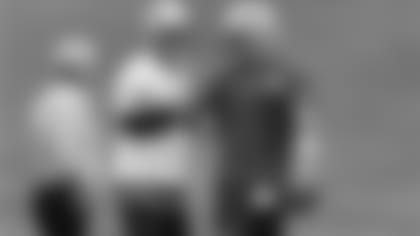 --Robert Kraft walked onto the field mid-way through the practice, wearing some pretty sharp Patriots-colored blue and red Nike sneakers. He spent some time talking with Kelly between the two fields.
--Ballard didn't have a great workout. He had a ball zip right through his hands in group work with the quarterbacks. Later, he looked to lack athleticism as he struggled to try to get to a ball in the back corner of the end zone. Despite comparisons to Gronkowski, Ballard doesn't have anything resembling the hands or smooth route running of the Pro Bowler.
--During the quasi open-field "tackling" in the middle of practice the offense took swing passes before trying to get by the defenders.
--Random (aren't these all?) observation, the offensive linemen no longer use metal weight plates for drills working on their punch. Dante Scarnecchia now utilizes weighted red bags for the drill that seem to be made just for it.
--During punt return work Leon Washington was followed at returner by Amendola, Lavelle Hawkins and Kenbrell Thompkins.
--Thompkins had a nice catch on a deep ball down the left sidelines, beating Ras-I Dowling and then Steve Gregory to the ball from Brady.
--There were a few trick plays sprinkled into the workout, but by rule I can't tell you what those were.
--The team used the down-and-distance markers for portions of group and team work. In Welker-like fashion Amendola picked up his share of first downs over the middle.
--Stephen Gostkowski worked on his field goals for the first time that I've seen this spring. He struggled early, pushing two attempts at a 48 yarder (using the triangle apparatus as a holder) wide right. He got things rolling with a couple kicks from shorter yardage, but still didn't appear overly happy with himself. He then wrapped up team drills with field goals on the far field, but it was hard to assess his success.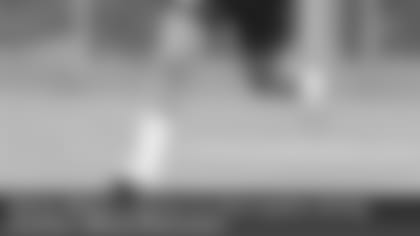 --Adrian Wilson had a nice pass defense on a Ryan Mallett throw late in practice. At first I thought it was Jerod Mayo, that's how imposing Wilson looks from a distance.
--Tim Tebow met with the media but did not take any questions. He just offered a short statement before saying he'd talk to us again soon. I doubt that he will.
--Spikes also spoke with the media on his first day back in Foxborough. This is what he had to say when asked why he chose to skip OTAs and workout on his own: "Honestly I just felt like I was trying to put myself in the best position to compete for a spot on the team and also to help this team win a championship. You guys know me – I frequently do things a little different than everybody else. I don't think that's bad or a shocker. Honestly, if everybody in this world was a conformist it would be one boring place."
--Leon Washington and Kyle Arrington also spoke with reporters. Arrington got an example of the Tebow circus when a reporter asked him if he'd seen Tebow and Brady talk to each other. Not kidding, that question was really asked.
--The Patriots will return to the practice field again on Wednesday morning for the second session of the three-day camp.