New England Patriots offensive lineman Sebastian Vollmerwas at Vincent M. Igo Elementary School in Foxboro on Thursday to speak with students, answer questions, and share his experience as a native of Germany coming to the United States to play football.
The 6'8" tackle towered over a group of first graders as they eagerly questioned him about his teammates, learning to play football, and moving to the United States.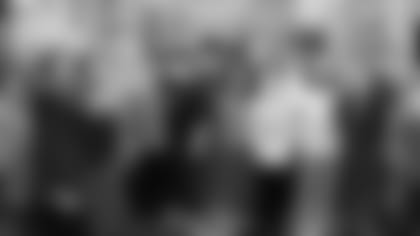 ]()Vollmer, accompanied by Patriots wide receivers coach Chad O'Shea, also visited a fourth grade classroom, where the discussion focused on respect, hard work, and getting along with peers. Vollmer, who O'Shea introduced as "one of – if not the – smartest players" on the team, spoke to the class about the dedication and hard work involved in being a professional athlete, the importance of working to improve yourself in everything that you do, and above all, the need to respect classmates, teammates, teachers and coaches.
"I think it's always great to be visible in the community," said Vollmer, "And sometimes it's easier for kids maybe to relate to someone else other than their teachers, even though we're really relaying the same message, just because it's something new or maybe a person they haven't seen before.
We really emphasized respect today and I thought the kids got something out of it."
"It certainly makes a big difference to have him here. It makes a bigger difference than if I say those same things." said Betty Fernandes, a fourth grade teacher at the Igo School. "Having him – as a role model – talking about respect and dedication to work and work ethic is really important for the kids to hear. We can use this as a reminder in the future. 'Remember when Sebastian Vollmer was here and the kinds of things he talked about – respecting your peers and working hard?'
"And I can always tell them they can get more homework then because they have to work as hard as Sebastian does," she laughed.