Looking invigorated after his morning workout at Gillette Stadium, a smiling Sebastian Vollmer strode confidently out of the Patriots locker room and onto the game field.
The skies above were cloudy – quite the opposite of Vollmer's sunny disposition after he re-signed this week with the team that selected him in the second round of the 2009 NFL Draft.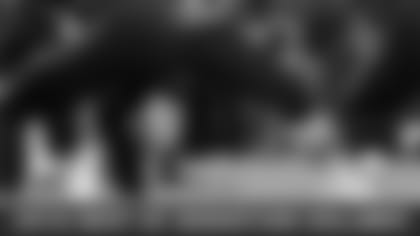 ](/node/45926)"You know, it's great, to get the business side out of the way. Once [free agency] officially started, you have to deal with it. Most of us go through it at one point in your career. It's a weird feeling," he admitted during an appearance on Patriots Today. "I'm just happy I'm back here. I didn't want to leave… didn't have to. It feels good."
Vollmer wouldn't specify if other NFL clubs were interested in his services during the opening days of free agency, only that he was unsure where he'd eventually land. Part of that may have been due to the 6-8, 320-pound right tackle's considerable injury history. He missed just one game last season, but played through a number of injuries (back, foot, knee) and had an arthroscopic procedure on one knee just last month.
"I guess there's always a little bit of uncertainty," he added about the free agency process. "You just don't know exactly what's going to happen. There was mutual interest, obviously [with the Patriots]."
Vollmer said he was healthy enough to work out again, and it sure seemed that way.
"Oh, definitely. I was out there [last season]… I mean, you're not going to find a guy who's not hurt during the season, that plays a lot, at least. That's part of it. Obviously, I made it through.
"I feel good. Again," he stressed, "I'm just excited to be here, because I want to work out here in the weight room. But overall, I feel really good."
Though he never technically left the Patriots, he is leaving the New England area tonight to head back to his native Germany, where his sister is getting married this weekend.
Healthy, happy, and headed home, Sebastian Vollmer was a man with plenty of reasons to smile on this overcast Thursday.