When you're an offensive lineman, the less your name is called the better.
Unless, of course, you're Dan Connollyand setting and NFL record with a 71-yard kickoff return.
Normally, though, o-linemen generally don't hear their names called unless they've committed a penalty or surrendered a sack. In that regard, Sebastian Vollmer– all 6-8, 315 pounds of him – has managed, for the most part, to hide in plain sight this season.
"Yeah, I guess," the low-key, second-year tackle conceded. "There are always people that judge someone's play. I don't think you can really worry about all that. Just do your job, which you're supposed to do, and try to get better every week. That's the most important thing. That's been my goal since I got here and it's going to be my goal going forward."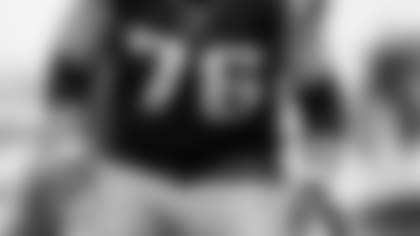 ]()Selected by New England in the second round of the 2009 NFL Draft, the German native has been something of a phenom, not only for his preternatural size, but also for his ability to pick up the game of American football so quickly. He played in youth leagues back in his native land before accepting a college scholarship to the University of Houston, where he starred for four years, first as a tight end before moving to the offensive line.
As a rookie last season, he stepped in for injured left tackle Matt Lightfor several games, receiving national attention for his stellar handling of Indianapolis Colts pass rush specialist Dwight Freeney. This season, with Vollmer manning the right tackle spot, didn't get off to the smoothest of starts for Vollmer. He struggled with some protection schemes early in the season, but has since settled into his role. Furthermore, he has been flagged for just four penalties all season.
Through 14 games, the man Vollmer is charged with helping protect – QB Tom Brady– has been sacked a total of 24 times. That number is right around the average for his 11-year career, but compares favorably to season in which Brady and the Patriots won the Super Bowl: 41 in 2001, 32 in '03, and 26 in '04. In the historic 2007 campaign, Brady was hauled down 21 times.
Vollmer was forced to become Brady's right-hand man, if you will, after an unfortunate succession of occurrences that began in the preseason. First, Logan Mankins'holdout to start the season forced Nick Kaczur, the incumbent right tackle, to move to left guard. That's when Vollmer stepped in for Kaczur, who then suffered a back injury right after training camp opened. So, the left guard job fell to Connolly.
Mankins' return gave a boost to the line, but shortly thereafter, right guard Stephen Nealwas lost for the season with a shoulder injury. Connolly stepped in there as well and had been doing yeoman's work before suffering a concussion last week against Green Bay. Ryan Wendellpicked up the slack at right guard in place of Connolly.
Through it all, Vollmer has simply gone about his business.
"I feel like we kind of prepare for those situations," Vollmer said of dealing with shifting personnel groupings.
"Through practice, you rotate certain guys. Even in training camp, you're working with different guys, so, it's not like the first time I've played next to Stephen or Dan. You know these guys, you see them every day, you talk. I don't think it's that big of a deal."
What is a big deal is Vollmer versatility. Head coach Bill Belichickhas lauded Vollmer on numerous occasions for his rare ability to play both left and right tackle. As is his nature, though, it seems, the player himself is reluctant to identify why he's able to succeed where so many others have failed.
"I don't know. I mean … I really don't know," he confessed. "I'm just trying to do what I'm told to do as best I can. Coach tells me, 'Go on the right,' I give it my best there. If he says, 'Go to the left,' you give it your best there. That's probably for someone else to judge, whether I'm good or not."
Could it be that he just absorbs and processes the instruction he's given by his coaches more easily than most players at his position?
"Yeah, more or less," he replied. "Obviously, you have to understand the plays by looking at it on paper, or what you've been told, and you get better doing it by practicing or game-time experience. That's been good for me so far, being exposed to different things, and I'm able to pick it up faster."
Luckily for the Patriots, and Brady in particular, Vollmer has been a quick study.
Thu12/23 Practice Notebook