FOXBOROUGH - New England Patriots greats Mike Vrabel and Dante Scarnecchia got their red jackets on Saturday as the esteemed duo took their long-awaited places in the team's Hall of Fame, where their contributions to the organization will be highlighted and remembered forever.
Due to rainy conditions, the 2023 induction ceremony was moved inside Cross Pavilion at Patriot Place but the location shift did little to dampen the excitement along with an array of Patriots greats who came to show their support for a player and coach who meant so much to the franchise.
Robert Kraft began by introducing Scarnecchia, thanking him and his family for their dedication and contributions.
"Many football coaches act like marine drill sergeants, but for Dante, it was no act," said Kraft. "His journey with the Patriots spans over four decades, a testament to his unwavering commitment and love for this team. You would be hard-pressed to find anyone who made greater on-field contributions over his 34 seasons which propelled us to 10 of our NFL-leading 10 Super Bowl appearances and helped us claim five of our six Super Bowl championships. Dante's contributions to the Patriots are not just measured in wins and losses, but in the countless players he has mentored, the lives he has touched and the culture of excellence he helped foster."
Scarnecchia's vast football experience had unparalleled value to the team during the two decades of dominance, as his offensive lines helped pave the way with dominant run games while also protecting superstar Tom Brady as he composed his own Hall of Fame career.
A tough, no-nonsense coach who always seemed to get the best out of his players, Scarnecchia's contributions to the franchise are hard to fathom. His career spans both the best of times and the worst of times in Patriots history giving him an unprecedented perspective even among the all-time team Hall of Famers.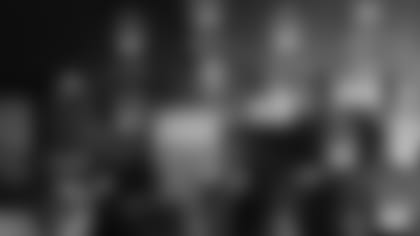 "When something like this happens to you, I think the only thing you can do is to thank all the people that helped you get here and that's what I am thrilled to do today," said Scarnecchia. "Because I think today is all about the words 'thank you' and they're really important to us."
Scarnecchia ran down his list of thank yous, starting most importantly with his wife Susan and family who supported him throughout his career, and running through everyone in the organization, top to bottom, who helped him along the way before finishing by thanking his players.
"Thank you to the many players I had the privilege to coach and that includes special teams, tight ends, defense for four years and offensive line," said Scarnecchia. "Thank you for being attentive. Thank you for buying in. Thank you for the hard work in the meeting room and on the practice field. Thank you for practicing like winners and playing like champions. Thank you for establishing and maintaining a culture that was conducive to winning. Thank you for all those things and, most importantly, thank you for putting up with me."
Scarnecchia was joined by some of those final players after his speech, with Matt Light, Dan Koppen, Sebastian Vollmer and Nate Solder taking the stage to share some stories of their experiences playing under him.
"You always did tell the truth," said Matt Light. "You always had our back and we are definitely very thankful and thankful to be in this position to enjoy this moment with you and celebrate what has been an unbelievable career."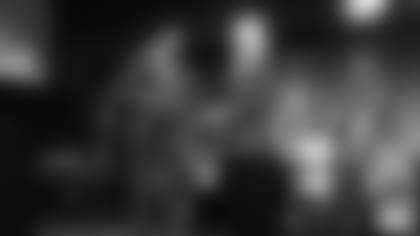 Robert Kraft returned to the stage to introduce Vrabel, who spent eight years with the Patriots after arriving in 2001 as a member of a highly productive free agency class that helped the team secure their first title in Super Bowl 36. Vrabel was one of the prototypical Patriots from the first dynasty era, a tough, smart and versatile player who came through with his best play in the biggest moments. The linebacker won three championships with the team and was a key piece of 2007's 16-0 season in which Vrabel posted career highs in sacks (12.5), QB hits (17) and forced fumbles (four), earning first-team All-Pro honors as well as his only trip to the Pro Bowl.
Remarkably, Vrabel had ten career catches with the Patriot and all 10 went for touchdowns, including two in Super Bowls, a fact that came up frequently throughout the day's speeches.
"On and off the field Mike was a natural born leader," said Kraft. "He was a mentor to younger players, a voice of reason in the locker room, and a man who led by example, his wit, timing and delivery always seem to be the perfect antidote to lighten the mood in some of those serious team meetings. His unique blend of toughness, strength, intelligence, work ethic and versatility earned him the respect of his coaches and teammates alike and a place among this franchise's all-time great players."
Now head coach of the Tennesee Titans with a new perspective on the NFL since leaving New England, Vrabel embraced how special it was during his run with the Patriots.
"I don't want anybody to [take it lightly] when they go away from here because any time that you're associated with a Hall of Fame with an organization that has the trophies that this one has behind it, I don't think you take it very lightly," said Vrabel. "And again, I just remind everybody, don't take what you have for granted, especially what we had here."
It was a long journey for Vrabel, from four years spent as a backup in Pittsburgh to when he arrived in New England looking for an opportunity that became a Hall of Fame career.
"I showed up and all I wanted to do was start for this team, wanted to start and I want to show Tedy Bruschi and Willie McGinest, Brian Cox and Roman Phifer and all these guys that I belong," said Vrabel, adding how special of a team it became. "I'm just so appreciative of everybody, that we held each other accountable because there was trust. There was an understanding, there was a respect that you could say things that needed to be said to each other. And every day that's what I'm trying to recreate.
"Wherever I coach and now it's in Tennessee, obviously. But I'm trying to recreate what we had in that locker room. And I don't know if we'll get it, but we're going to try every day. I'm going to try because nothing was more important than the team. Not your feelings. Not your stats, not your paycheck. Not what you've done in the past. Nothing was more important than football team."
Vrabel was joined on stage by Scott Zolak, Drew Bledsoe, Richard Seymour, Ted Johnson and Romeo Crennel, as the group reminisced about some of their favorite Vrabel moments.
"What I would say is when he came in, he raised the compete level," said Johnson of Vrabel. "We had a high compete level. Now that linebacker group, we had to compete on everything. I mean, just everything we did, it was a competition. And that was partly because of how Mike was wired. You know he he was wired that way and we had a unique room of linebackers, all just very good at their own skill set. And there's two ways to keep a job in the NFL, either you're pretty good at a few things or you dominated in one thing. Mike was really good at a lot of things. He was one of the most complete all-around football players I've ever I've ever played with."
Patriots head coach Bill Belichick closed out the program sharing some personal favorite stories and anecdotes about the all-time coach and player, including one of his favorite memories of Scarnecchia yelling at a monstrous former player named "Big Cat" Williams.
"They didn't call him 'Big Cat' for nothing. He's like 6'8", 300 whatever. He blocks out the sun," said Belichick. "It's training camp and frustrations are kind of coming on and you see Scar yelling at Big Cat, but he's looking straight up at Big Cat. 'You don't use our techniques. That's why you're not doing this right. You're not having any success because you have your way and your way is not working. So you better start doing our way. Alright, well you're never gonna be any good.' And he's looking straight up, Big Cat's looking straight down at him.
Minutes later, with practice was winding down, Scarnecchia was asking Big Cat about how his family was, a perfect example of how effortlessly Scarnecchia could toggle between a hard-nosed coach and the caring person he is, Belichick relayed to the delighted laughter of the audience in attendance.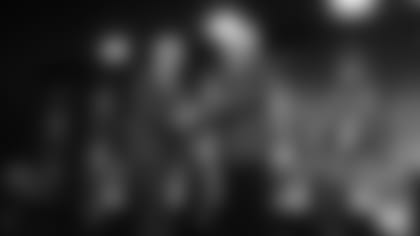 "You had a great way," said Belichick to Scarnecchia. "A great way of teaching, of getting [your] point across and a very, very effective, great teacher... great fundamental teacher and a great scheme teacher."
For Vrabel, Belichick again hit on what an ideal teammate Vrabel was and shared an example of the linebacker's acerbic wit.
"Mike had an edge to him," said Belichick. "[He] could kind of get away with it because of the respect everybody had for him. And he was funny. He was funny.
"So, I walk in [the meeting room one day] and say tomorrow, we're gonna have weigh-in and Mike is sitting in the back of the back of the room, and he yells down. 'Hey, Bill. It's not the players you should weigh in, why don't you weigh in the coaches?'
"It broke up the room, you couldn't do anything but laugh because honestly you look around, you know, and all of us are overweight, except for Dante."
But Belichick was also sure to highlight what made Vrabel a Patriots Hall of Famer.
"It was very easy to picture Mike as a coach when he was a player," said Belichick. "It really was because he was very cerebral, but at the same time, Mike is one of the best fundamental players that I think I've coached. I've coached a lot of linebackers, but Mike was a very good fundamental player, the use of his hands, he's long, he's very strong, very stout, and has a good feel for how to rush against those long tackles. Obviously, that's why he's wearing red jacket. I mean, he was a very, very productive player, his leadership and his intelligence that he brought to our team, not just our defense, obviously, but even the coaching staff."