Josh McDaniels chooses to keep his eyes on the road ahead, not the rearview mirror, so leave your questions about Super Bowl XLII at the door.
"The game's over," New England's offensive coordinator said Friday. "We did the best we could. We're moving on. We're excited for this season and we can't wait for Sunday."
Leaving the past behind is a wise choice. With so much to work on before Sunday's season opener against Kansas City, McDaniels simply doesn't have the time to dwell on what went wrong in last year's stunning loss to the Giants.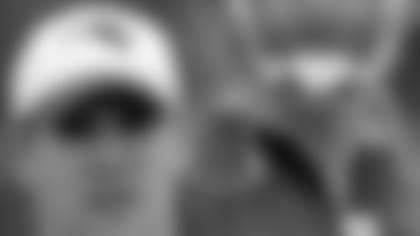 ]()Among his many tasks is making sure the Patriots' new pieces on offense jell with the remnants from last year's team, which set an NFL record with 589 points. Keep in mind he has to do so with a quarterback who sat out the entire preseason due to a sore foot.
Chemistry might be an issue in the beginning, but McDaniels is confident the Patriots can rekindle the magic from 2007, even if history suggests it's nearly impossible.
The 1962 Houston Oilers, 1984 Washington Redskins and 1999 Minnesota Vikings all suffered noticeable declines in production after breaking the NFL scoring record the previous year. Then again, none of those teams had Tom Brady, Randy Mossor Wes Welker. McDaniels does – and he's got all of them together for the second year in a row without the inconvenience of having to get the newcomers up to speed with the veterans.
"At this time last year, we had so many new guys that they were constantly learning the whole year," McDaniels said. "I would say we're ahead of the game in that respect. I think we're always trying to fight to get back to that level of consistency that you hope to reach at some point during the course of the season and I don't think we're quite there yet.
"From a learning standpoint and an understanding of the system standpoint, I think we're where we would want to be."
Now comes the challenge of duplicating the production from last year while concurrently trying to fend off the defensive adjustments from opposing teams. The Patriots already saw a sample of such diverse game-planning in 2007 when teams made an attempt to take Moss out of the equation after New England averaged 41.4 points per game through the first nine weeks of the season.
As a result, Moss' output dwindled in the second half, but the Patriots kept winning thanks in large part to breakthrough performances by wide receiver Jabar Gaffneyand running back Laurence Maroney. Gaffney finished with a career-high 122 receiving yards in a victory over Pittsburgh while Maroney ran for 156 yards in the next-to-last game of the season against Miami.
"We saw a lot of different things as the year went on," McDaniels said. "Some teams – and no two teams really play us the same – [had] different people play different type of coverage schemes against [Moss] and some of that gave us other options.
"There were certainly plays where more than one guy is open on a play and not everyone can get the ball, so we looked at some things to do differently with all of our players."
As evident by the numbers, not all of the adjustments worked. Moss still finished with 1,493 yards and set an NFL record with 23 touchdown catches in 2007.
"You can get people the ball even if there is a specific scheme to try to stop them," McDaniels said.
Whether or not the Patriots can keep feeding the ball to Moss and racking up points at a record-setting pace depends on how well they counteradjust. McDaniels is working on ways to supplement the production in anticipation of the new schemes and coverages the offense will face in 2008.
"We do that every spring where we evaluate what we did with our running game and our passing game and try to get different people involved in the game plan," he said.
"You'll probably see some things you didn't see last year for Randy and for Wes or for Jabar or the tight end position or the backs. It's just part of our growing process. We try to expand our offense every spring."
One of the ways to overcome this hurdle might be to place a stronger emphasis on the running game, which is poised for an explosive year following the addition of LaMont Jordanand the return of Sammy Morris, who averaged 4.5 yards per carry in 2007 before suffering a season-ending injury in October. The Patriots have five running backs on their active roster entering Week 1, including Kevin Faulk, who is currently serving a one-game suspension.
"Hopefully, we should be able to keep fresh backs on the field at all times," McDaniels said. "We don't really do the big role thing. They can all kind of interchange with each other. They should be in the game and able to give us productive plays whether it be in the passing game or running game."
With the Super Bowl loss a distant memory, McDaniels has clearly channeled all his focus on preparing for Sunday's opener against the Chiefs. Save your recollections for someone else.
"We've moved on from that game," McDaniels said. "Offensively, it takes all of us – the coaches and the players – on every play to be successful and every game is the same way. If you want to put together 10- or 12-play drives and score touchdowns, you need consistency and you need people to work together and you can't have breakdowns. We've got to do a good job of working together and playing together."