Another milestone moment for Wes Welker.
The Patriots' All-Pro wide receiver donned full pads for the first time since January 3 in Houston, when he severely ruptured his left knee.
For the first three days of training camp, Welker had been on the Active/PUP list while he continued rehabilitating from the surgery to repair his torn knee ligaments. The offseason also saw Welker undergo a procedure to fix a problem with one of his shoulders. For the first three day and six practices of training camp, he had been attending the sessions in shorts and a t-shirt as he performed rehab activities with the team's medical staff.
The sight of him in uniform today brought delirious cheers from the thousands of fans who filled the bleachers and berms surrounding New England's practice fields behind Gillette Stadium. Every time Welker touched the ball today, it seemed, fans erupted in applause.
"It feels good. It doesn't feel like I ever left it, just being out there and being able to work and do some things when nobody's really looking," Welker told reporters following practice. "It feels good out there. It feels good to get out there with the teammates and do some things. Anytime you've got the fans out here, it definitely adds a little bit of motivation and making sure you are looking nice out there…You know people are watching, so you want to make sure you are looking good and staying on top of your game."
Though he was in full pads, it wasn't exactly full steam ahead just yet for Welker. As was the case in spring practice sessions, Welker took part in individual and some positional drills with his fellow wide receivers, but when it came time for team periods, Welker was not part of the action.
However, during the middle of Sunday morning's workout, while the punt return unit occupied the right practice field, Welker, quarterback Tom Brady, and wide receiver Randy Mossworked together on the left field, running patterns and communicating at the line of scrimmage. When the scout-team period arrived, Brady and Moss went over to the right field while Welker remained on the left to work with the medical staff.
"No. We're not there yet," he admitted, "but every day we get a little bit closer. Slowly but surely we are making progress. I feel like there's improvement every time. I think I can constantly get better at my game. The knee feels great and the shoulder feels great. It's just a matter of teaching the muscles, 'Hey, this is how you are supposed to move. You are supposed to get out of your breaks like this. You are supposed to be able to explode out like this.' And really, kind of getting them back in that shape."
]()News of Welker's return came just before practice, when Patriots director of player personnel Nick Caseriotook to the podium in place of Bill Belichick. Caserio informed the media that Welker had passed his physical, including the traditional training camp conditioning test, and would rejoin his teammates on the field today.
On the field, Welker was wearing his usual white jersey as an offensive player and not the red, no-contact jersey given to players who are recovering from injuries. Yet, at least in his first practice back, Welker didn't participate fully. But by no means did that shake Welker's confidence that he'll eventually return to form.
"No, not at all. It's [about] just consistently working on a daily basis and making sure that we are getting those muscles back firing and doing what they know they can do. Eventually we will get there. I wouldn't say that one [injury] is any better than the other. They both have their days. It's like a girlfriend. They have good days. They have bad days. You wake up and you roll with the punches."
One of the more common activities that Welker has done, even today in full pads, is to run routes with a tether around his waist. A member of the medical staff would hold the tether a few yards behind Welker, to provide resistance, and then release the tether once Welker exploded out of his break.
Asked about that particular activity, and whether it might help him become quicker than he was before the injury, Welker offered this response.
"That's the goal: It's to get better. Whether you're hurt or not and whether you are coming back from something or not, everyday is just about improving and making sure you are really critiquing all the little aspects of your game."
Belichick, a reporter pointed out, has said in the past that, with an injury of the nature Welker suffered to his knee, the final 10 to 20 percent of rehabilitation is often the most difficult.
"I think it's mainly just knocking the rust off and making sure that you are out there getting routes and running routes against coverages, and [having] a man in your face, and getting releases and things like that. It's hard to simulate that stuff when you aren't out on the field," Welker replied.
Like Brady, who suffered a nearly identical injury in the 2008 season opener and wore a protective brace all last season, Welker has been seen wearing a similar device on his knee during the spring and into the summer, including today. Welker said he expects to continue wearing it until he and his doctors and coaches feel it's no longer necessary.
Perhaps, like his comeback, that day will come sooner than expected. In another sign that Welker is thinking less and less about his damaged knee, he kicked a football in frustration after dropping what he felt was a catchable pass when he was working individually with Brady. He did something similar during a practice in the spring. PFW
Weather: Sunny, 80s, comfortably warm, dry, and breezy**
Who's Hot: Wes Welker **Fresh off the Active/PUP list, the All-Pro wideout was back in full pads, nearly six months to the day after having reconstructive knee surgery.
*Who's Not: James Sanders
*His play hasn't necessarily suffered, but his reps appear to have diminished over the first few days of camp.
Play of the Day: Jerod Mayo saves a touchdown pass **During 11-on-11 action, the inside linebacker made a great leaping effort to deflect a play-action pass to tight end Alge Crumpler directly under the goal post, saving what would have been a sure TD.
Ten players were either not in pads or not in attendance at all. Wide receiver Matthew Slater, linebacker Derrick Burgess, guard Logan Mankins, o-lineman Nick Kaczur, and defensive lineman Ty Warrenwere not seen on the practice fields. Defensive back Bret Lockett, running back Thomas Clayton, rookie defensive lineman Kyle Love, rookie defensive back Terrence Johnson, and defensive lineman Ron Bracewere in attendance, wearing shorts and t-shirts and working with the team's medical staff.
Cornerback Jonathan Wilhitewas riding an exercise bike early on. He started the session in full pads, but took off the shoulder pads to ride the bike. Not sure why exactly. He walked off with shoulder pads in hand at the conclusion of practice with all the other players.
The special teams focus of the day was on the punt return unit. The usual crew of Julian Edelman, Brandon Tate, and Kevin Faulkrotated to field the kicks.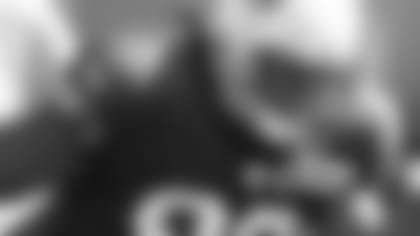 ]()* Rookie Jermaine Cunninghamhas been seeing more and more reps at outside linebacker, usually on the left, opposite Tully Banta-Cain. While he hasn't made any stand-out plays just yet, his increased presence in the lineup is something to watch.
In the Team O vs. Team D 11-on-11 period, one of the first plays was a dud for the offense, as tackle Matt Lightand rookie tight end Rob Gronkowskicommitted false starts and were forced to take a penalty lap around the practice fields.
On a fly pattern down the left sideline, cornerback Leigh Boddenwas running step for step with Tate as Brady lofted a strike in their direction. The ball was slightly underthrown, but Tate made a valiant effort to adjust by pivoting 180 degrees clockwise. The ball hit his hands, but Tate bobbled the ball and he and the ball fell to the ground out of bounds.
Lots of shuffling of the inside linebackers, with Mayo and Gary Guyton, Tyrone McKenzieand Eric Alexander, and Brandon Spikesand Dane Fletcherteaming up most often together.
Though he was in full pads, guard Stephen Nealdid not participate in the 11-on-11 period with the rest of the offense. He stood off to the side and observed. It's unclear what the reason was for his exclusion.
Defensively, there were some good plays made. OLB Rob Ninkovichread a reverse nicely and fought off a block from Thomas Welch to make the stop. And cornerback Darius Butlernearly had an interception of a Brian Hoyerout-pattern pass to Aaron Hernandez, but the rookie tight end outfought the undersized corner to make the catch.
During red zone/goal line period, Brady threw a play-action TD pass to Gronkowski, who was crossing the field from left to right. Gronkowski made the catch, turned, and bowled over safety Patrick Chungat the goal line for the score. On the very next play, some excellent blocking by the o-line allowed running back Fred Taylorto score easily up the middle.