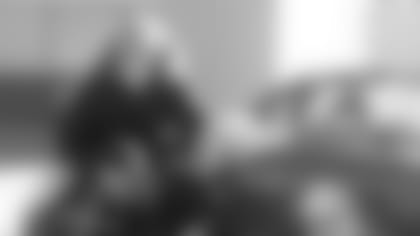 ]()FOXBOROUGH, Mass. - The New England Patriots announced today that West Newton, Mass., resident Marcey Ford has been chosen to drive away with the Patriots specialty license plate featuring the jersey number of Patriots kicker and all-time leading points scorer, Adam Vinatieri. Ford won the No. 4 license plate by entering the "Four the Fans" raffle, sponsored by the New England Patriots Charitable Foundation.
Throughout the 2005 Patriots regular season, fans had the opportunity to purchase $10 raffle tickets for a chance to win the first, single-digit Patriots place to be released to the public. All the proceeds from the raffle sales, which totaled nearly $25,000, will benefit the New England Patriots Charitable Foundation.
"I was so thrilled to find out that I won the license plate," Ford said. "Adam Vinatieri is the greatest kicker in the NFL, and I am proud to display his number on my vehicle, especially at Patriots games."
The New England Patriots license plates went into circulation in March of 2005 and became the fastest selling specialty plate in the history of the Commonwealth, with nearly 8,000 plates currently on the road. The license plate features the Patriots logo centered above the Roman numerals representing each of the team's three Super Bowl Championships. The team is auctioning off hundreds of low-numbered plates throughout the season at www.patriots.com to raise additional funds for the Charitable Foundation.
The New England Patriots Charitable Foundation was established in 1994 by the Kraft family as a vehicle to help support the youth and families of New England. The Foundation's mission is to assist a variety of charitable organizations and programs that foster cultural diversity, education, family, and health. The Foundation uses its resources to serve the youth of New England by encouraging their education, growth, creativity and development of character; and to help support a better quality of life in the communities the Foundation serves. The Patriots Charitable Foundation raised nearly $25,000 through lthe icense plate raffle.