Patrots nose tackle Vince Wilfork. Photo by David Silverman


A simple answer seemed to sum things up.
"I've been out for two weeks and I missed it."
Vince Wilforkelaborated, of course, when asked repeatedly by reporters why he decided to return to practice with the Patriots after missing – by choice – the previous organized team activity (OTA) practices this spring.
Wilfork, the one-time Pro Bowl nose tackle entering the final year of a six-year deal he signed with the Pats as a rookie, is looking for an extension of his contract and had been using the voluntary OTAs as a tool in negotiations.
"It was tough for me," Wilfork admitted of his absence. "I wasn't trying to make a point. I told them I wasn't coming. They understand the business aspect to it … I have to do what is smart for my family. Right now, the smart thing thing is to be here, playing football, what I do best. Let's see what happens from here."
"We both understand this is not personal in any way," declared Patriots owner Robert Kraft, who was on the sidelines for much of practice Wednesday.
"Vince Wilfork is a great guy. You know, every year we have these business issues that have to get worked out, and one way or another, they'll get worked out. Hopefully, Vince will be here for the long term.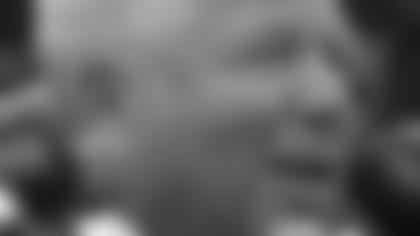 "Vince and I have a great relationship," added Kraft. "We actually chatted during the golf tournament Monday … this is just each side doing their business. You need to make decisions and prioritize. There's a limited amount of money we can spend. So, we're always trying to balance that and keep a team together and put ourselves in the best position to win."
Wilfork went on to say that he felt he could forgo the OTAs, but not this week's mandatory mini-camp. He even conceded that a factor in his decision to return was the possibility that he'd be fined substantially (according to published reports earlier this month) for missing the mandatory mini-camp sessions.
"There is a business part to it, and that's the part I hate," he added. "I love the football, the fans, I love the people that surround me. But business is business. However that needs to be handled, it'll be handled. Now, everything is starting to crank up, the mandatory stuff. And now my team really needs me. So, I'll be here. You can depend on me being here, and I will."
When asked about Wilfork's return, head coach Bill Belichickwas typically tight-lipped.
"Well, the players that were here we were working with. Those [OTAs] were all voluntary sessions and I'm glad everybody's here today."
"Bill is Bill," Wilfork observed. "He didn't pull me to the side for anything special."
Wilfork was asked if his presence today was a signal that a new deal will be struck between him and the organization.
"I don't know. I hope so," he replied, "but who knows what the future holds. I love this organization, I love my teammates, my coaches. I don't think there's any better place out there. That's not the issue here. Hopefully we can move forward. If not, we'll keep handling it. But at the same time, I'll be practicing, I'll be with my teammates, I'll be doing everything I can in my willpower to stay.
"At the end of the day, I'm still a Patriot, and I want to be a Patriot. I'm looking forward to a great camp and to a great season. Hopefully we can move forward from here."
… With the additions of Wilfork and LB Adalius Thomas, who missed Tuesday's OTA workout, 75 players (44 offense, 31 defense) took part in the first day of mini-camp. The missing included many of those who'd been absent for the OTAs: WRs Tyree Barnes, Shun White, and Brandon Tate; DB Brandon Meriweather; RB Sammy Morris; CB Mike Richardson; WR/DB Ray Ventrone; safety Brandon McGowan; LBs Jerod Mayoand Tyrone McKenzie; OL Mark LeVoir; DLs Ty Warrenand Jarvis Green.
… During goal-line situation work, backup QB Kevin O'Connellthreaded a perfect touchdown pass to TE Tyson DeVree, who was streaking across the back of the end zone. The ball split two defenders, including LB Gary Guyton, who looked like he was in perfect position to make the interception. He jumped in front of DeVree, but the pass went just wide of his fingertips and into the hands of DeVree.
… Safety Tank Williams, who played some inside linebacker last year during training camp, saw some reps at ILB during 7-on-7 action today
… Punter Tom Malonecontinues to show improved mechanics and a stronger leg. He has been consistently booming his kicks in recent practices, a trend that continued on Wednesday under the watchful eye of special teams coach Scott O'Brien.
… At one point during the 2-minute drill, kicker Stephen Gostkowskirushed onto the field with the field goal unit and promptly nailed a 60-yarder.