Patriots nose tackle Vince Wilfork.


Vince Wilfork's actions have spoken louder than any words possibly could, but just in case anyone still wondered if a holdout or any other form of public displeasure was to be voiced, the big nose tackle put those to rest Saturday morning.
Wilfork has been present for all five practices thus far, and listening to the big man speak there doesn't seem to be anything in his plans that would change that. Well, perhaps the fact that his wife is due to deliver the couples' third child soon might alter that, but otherwise he discussed his situation for more than 10 minutes and never showed even the slightest sign of trouble.
Many of the questions that came his way were related to a potential contract extension as the former Pro Bowler is set to enter the sixth and final year of his rookie deal. His message remained the same through most of them – that he would only control the things he could control – and that he had no intentions of leaving the Gillette Stadium practice fields anytime soon.
"[The contract] will take care of itself when it's time to, but right now, I'm trying to put that to the side and trying to do what I'm here to do – that's play football," Wilfork said. "I'm really not paying attention to it, nothing else but playing football right now."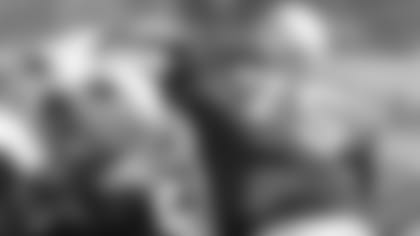 ]()Throughout the briefing, Wilfork maintained his composure and never drifted off his original point. He did admit that balancing the contract negotiations – which he wouldn't say were ongoing or not – and playing can sometimes be difficult.
"It's tough, but being a professional you have to," he said. "The last thing I want is being on the field and being [mad] at everybody, and now my teammates can't trust me to do what I have to do. I would not put my teammates in that predicament. They know what they can get out of me. They know what they will get out of me. Business is business and I'm here doing what I need to do.
"That's what I pay my agent to do, to handle this stuff because I don't want to be bothered with this. I have a job to do and the last thing I want to do is to have all this stuff going on. My wife is pregnant and she's due Aug. 5. I have a lot of headaches in my household and I can't add one more to it. I'll let my agent handle that situation and go forth from there. Me personally, I want to play football. I'm going to play football and whatever happens, happens."
There has been a decidedly physical aspect to camp thus far and the linebackers have led the charge. Adalius Thomasrattled a few people Thursday morning and that continued into Friday. Today is was Jerod Mayo's turn, and the second-year linebacker delivered.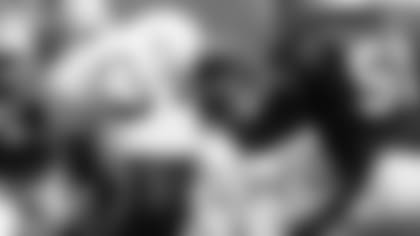 ]()During a team period late in practice, Sammy Morris took a handoff and tried to make his way through the line on a off-tackle run. Before he cleared the traffic, Mayo lowered the boom with a shoulder that knocked the running back off his feet.
"I did [get a good hit on him], but I'll save the rest of those for the games," Mayo said with a smile. "I'll probably grt busted about that later on in the day when we watch the films."
It was the kind of play Mayo would like to make more of after a terrific first season that saw him capture the Defensive Rookie of the Year award but one that didn't see him make a lot of what he calls "impact plays." To that end he's set out to learn the playbook even more extensively than the notorious studier did in 2009 in an effort to cut down on his reaction time on the field.
"I just want learn the defense a lot better than I had it down last year," Mayo said. "Even though I had a pretty good year last year I had guys helping me. I want guys to depend on me as far as making the calls and stuff like that."
"Just being able to react, and that goes back to knowing the playbook like the back of my hand," Mayo continued when asked how one goes about learning how to make more plays. "So, that's what I want to do. Last year I was out there thinking and trying not to make mistakes and this year I want to go out there and make plays."
Mayo also said he's added slightly to an already imposing physique through his offseason work.
"I'm about 250, 251 pounds right now, and my times have been pretty good as far as running," Mayo said. "We have our own little Combine-type thing here. [Strength coach] Mike Woicik was real happy with me, so we'll have to see what it does this year."
He then flexed his biceps and joked with reporters, asking if he looked bigger. He said the added muscle was important in order to perform in Bill Belichick's scheme.
"Any time you're playing in a 3-4 defense, you're pretty much like a defensive lineman when you are an inside linebacker," he said. "So those extra pounds will help me. Later on in the year last year, my body starting wearing down and things like that. I think these extra pounds will really help me later in the season -- and hopefully we'll go a long time this year."
Mayo would not say why he missed some time during spring OTAs but said the issue had been resolved.
Who's hot: Ron Brace –The rookie has been getting more opportunities with the likes of Richard Seymour, Ty Warren and Jarvis Green missing from practice, but Brace seems to be making the most of them. He's shown active feet and good strength as he learns the techniques of two-gapping up front.
Who's not: Kevin Faulk – When you've been around as long as Faulk has and been as surehanded as he has, it's tough to call him out for mishandling one kickoff. But watching him drop Stephen Gostkowski's kick during a return drill was just so shocking that it had to be included.
Play of the day – Greg Lewisran a post corner on Terrence Wheatleyand got behind the second-year corner, but even when safety Brandon McGowan came over to help Lewis was still able to make the catch of a perfectly thrown pass from Matt Gutierrez.
Quote of the day –"We're both about a couple of years from getting our AARP cards." -- Shawn Springs when asked about going against Moss on a daily basis.
There were a couple of additions to the attendance list Saturday morning with punter Tom Maloneand tight end Benjamin Watsonmissing their first practices of camp. They were joined on the sidelines by Jonathan Wilhite, who missed his second straight practice, Tedy Bruschi, Al Johnson, Ryan O'Callaghan, Randy Moss, Myron Pryor, Richard Seymourand Jarvis Green. Moss continued his pattern of missing the first practice of the day, which he's done for three straight days. There were no changes to the official lists as none of the six players who opened camp on PUP/NFI returned.
The tight ends and tackles worked together against the defensive ends and outside linebackers in a drill working on the running game. The offense seemed to get the better of things as the defenders appeared to struggle setting the edge. … Special teams coachScott O'Brienonce again was an active participant in practice, today getting some work in for his kick return unit. A variety of kick returners were used includingLaurence Maroney, Matthew Slater, Terrence Nunn, Julian Edelman, Faulk, Wes Welker, Wheatley and Darius Butler. … James Sandersmade a terrific play to set up an interception during the team period. Matt Gutierreztried to thread the needle to Alex Smithas Sanders provided underneath coverage withLeigh Boddenworking over the top. Sanders closed well and made a well-timed leap to deflect the pass right into the hands of Bodden, who returned it for a touchdown. … Edelman made a great catch off an absolutely perfect throw from backup quarterback Kevin O'Connell. Edelman ran a deep out and was pretty well covered but O'Connell waited patiently and led the rookie perfectly into the clear. Edelman made a diving catch just out of the reach of a defender in what was probably the best play for both players thus far in camp. … Joey Galloway, who returned after missing Friday's afternoon practice, had a tough time handling a Brady fastball and wound up contributing to a defensive touchdown. Brady fired a quick screen to the veteran but watched it bounce off Galloway's chest into Wheatley's hands for a touchdown. … Stephen Gostkowskiclosed practice by hitting 6-of-7 field goals. … The afternoon session is scheduled to kickoff at 3:45 p.m. and wrap up at 5:30 p.m. As always, check with patriots.com for the latest changes to the camp schedule.