INDIANAPOLIS – Tully Banta-Cain led New England with a surprising 10 sacks in his return to the Patriots in 2009. But despite that double-digit sack effort, something that's become a rarity over the last two decades in New England, the Patriots pass rush was anything but dynamic.
The lack of a consistent, threatening rush hurt the teams pass defense as a whole. As such getting a game-changing type pass rusher this offseason would seem to be the Patriots most pressing need.
And while fans dream of landing prize free-agent-to-be Julius Peppers, another obvious option to fill the void is a very strong 2010 draft crop of potential 3-4 outside linebackers. New England vice president of player personnel Nick Caserio included "those conversion players, the defensive end/outside linebackers" among his list of the most impressive groups at this week's Combine.
But finding and developing those guys in New England has been a challenge. While recent years have seen Elvis Dumervil (Denver), James Harrison and LaMarr Woodley (Pittsburgh) and Clay Matthews(Green Bay) evolve into consistent pass rushers, the Patriots attempts haven't been so fruitful.
Former third-round pick Shawn Crablehas landed on IR for two years running. Pierre Woods has proven little more than a special teamer. Even high-priced free agent Adalius Thomasnever became a game changer on the edge in Bill Belichick'ssystem.
Maybe part of the problem is the high standards Belichick and Co. have held at the spot. With high ideals – guys 6-4 or taller, 260 pounds and with 4.6 speed – the crop of talent is a small onel. Belichick touched on that last April when talking about last year's potential 3-4 outside linebackers.
"I think that there were more shorter players, maybe a little less speed than what we've seen, maybe a little more power with good production," Belichick said after the 2009 draft. "There weren't a lot of 4.6, 4.65 [40 time] guys. There weren't a lot of 6-4, 6-5 guys. I'd say it was a much smaller pool of those types of players."
While there are clearly plenty of talented players available on the edge this spring, once again few fit the perfect 6-4, 4.6 40 mold that Belichick would seem to prefer. That's something the team will have to take into account when melding its immense need with the talent on hand this week in Indy.
"The reality is that pool of players, the 6-4, 260-pound guys that run 4.6, there's not many of them," Caserio said this week in Indy. "You're looking at a number of different qualities. You're trying to identify, 'OK, here's their skill set. Here's what they do well.' And then, you have to look at, 'OK, how are they going to fit with what you do defensively and schematically.' Some of the small guys … like, I think Dumervil is a great example. A 5-11, 260-pound guy … maybe he's not the prototypical outside linebacker type, but he can rush the passer. He was productive in college, and that production has translated over into the NFL. You look at a player like Dumervil, and he's got quickness … he might not be the fastest guy, but he's got good playing strength and he's really good leverage and he uses that to his advantage.
"So there's different ways to skin a cat. You're looking for this ideal. The reality is that sometimes that ideal is hard to find. You have to be able to look at that player and say, 'Here's what they do well.' And then, once you've identified that, you try and fit it into your system and, 'OK, here's how we're going to use it to maximize his skill set.'"
It sounds like maybe New England is pulling back from its ideal, seemingly out of necessity.
"I don't think you want to get locked into a prototypical size, we all want that, but you can't shut out good players because he might not be 6-3," Pittsburgh director of football operations Kevin Colbert said.
That leads us to this year's group of conversion types, one in which teams like New England must first decide which college ends can indeed make the switch to 3-4 linebacker in the NFL. With as much as half the NFL now employing some sort of 3-4 defense moving forward, the competition for those players is as high as ever.
The competition is high. The players are few. That means if a team needs a 3-4 edge rusher with potential, it's probably going to have to go after it in the first couple rounds of the draft.
The three most likely candidates, and the three rated to go in the first round of the draft as pass rushing outside linebackers according to NFLDraftScout.com, are Clemson's Ricky Sapp (6-3, 252), Texas' Sergio Kindle (6-3, 250) and TCU's Jerry Hughes (6-2, 255).
Sapp played in some 3-4 packages at Clemson this past fall, bouncing back from a December 2008 ACL reconstruction of his right knee. He said he's already talked with the Patriots, and that mostly 3-4 teams have shown interest in him at this point.
"I met with some of the scouts," Sapp said of New England's interest. "One of the biggest things they were talking about was scheme wise and dropping [in pass coverage] and rushing off the edge."
Sapp is very open that the latter part, rushing ability that helped him put up five sacks in returning from the injury this past season and the strength of his game.
"Rushing the passer, getting to the quarterback, making plays in the backfield," Sapp said with a confident smile. "That's what I do all day. Speed. Quickness."
Hughes, who had 26 sacks over the last two seasons including 11 last fall, understands that he doesn't have the ideal height that NFL teams look for. But he believes the success of some of the shorter pass rushers in the league in recent years should help his draft stock. He's also kept an eye on those players to help better his own game.
"Whenever you got somebody who is kind of the same build at you, you always watch to see what they do to be successful," Hughes said. "So whenever I get a chance to watch them on Sunday, I'm always watching different technique things that they do to make a sack or tackle for a loss."
Kindle comes from Will Muschamp'swell-coached, pro-caliber system at Texas where he played both end and linebacker at times. He shined as a junior with 10 sacks while playing with Redskins rookie Pro BowlerBrian Orakpo, production that dipped to six sacks while seeing a few more double teams this past fall and more action as a defensive end.
As highly-recruited a player as there was when he chose Texas, Kindle has all the athletic ability in the world but questions remain as to putting that talent to work consistently on a football field. His experience at both positions and athletic makeup make him an intriguing prospect for almost any scheme, but he certainly would be up to playing in the 3-4 and admits it looks as if a home in an NFL 3-4 seems likely at this point.
"It's always good to play in the 3-4 just because of the hybrid position. But I can play in a 3-4 or a 4-3," said Kindle, who hopes to run a 40 time that will "open the eyes" of NFL coaches.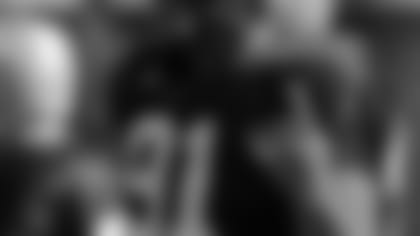 There are other college ends slatted by NFLDraftScout.com to go in the first couple rounds that individual teams might project for the switch including elite underclassmen like Georgia Tech's Derrick Morgan (6-4, 272) and USC's Everson Griffen (6-3, 273).
They are less obvious 3-4 linebacker projections, but in the end such an opinion only matters to the team that drafts them. Griffen said at the Combine on Saturday that plenty of teams have talked to him about playing on two feet in the 3-4. He's the biggest of the edge rusher conversion candidates and closest to the ideal, especially if he runs the 4.5 40 he claims is "100-percent realistic. You'll see when the time comes."
Maybe the most striking example of a guy whose college production is pushing him beyond his failings in terms of measurables is Michigan's Brandon Graham (6-1, 268). He led the country in tackles for a loss last season at Ann Arbor, including 10 sacks, and was dominant as the Senior Bowl MVP. Those accomplishments are pushing him up into the first round, a round higher than his former teammate Woodley went to the Steelers.
"I think it helps me a lot," Graham said of watching supposedly undersized guys succeed as NFL pass rushers. "I watch Dumervil now, he was the leading sacker last year. I look at myself as the next one. He's 6-1, he's small, a lot of people didn't think he could do it. But I believe whoever gets me is going to love me.
"No matter what size I am going to get to the ball and cause havoc."
Graham has at least one tie to the Patriots in that he's friendly with Woods, who returns to Michigan often and has advised him on what it's like playing in New England.
"He said it was a great experience, just like Michigan," Graham said. "You love to hate them. They have a swagger about them and they take pride in what they do. Everybody in the building works hard so get ready if you become a Patriot."
He also sees himself as a natural linebacker, the position he loved and played before moving to end at Michigan.
"I'm very comfortable because growing up I've been playing linebacker since I was 7 and I got to Michigan and played defensive end. So I knew, I always wanted to stand up, that was my dream, coming out playing linebacker. They moved me to D-line I had to adjust. I think I'll fit straight-in as soon as I get back."
Though Graham's stock may be on the rise after the Senior Bowl, it probably hasn't reached the point he wants it to.
"I'm trying to be Top 10, that's where I'm trying to go," Graham said matter-of-factly. "I'm going to show everybody when I go out there and run and do everything, I've been working hard."
A bit of a dark horse to keep an eye on could be South Florida's George Selvie (6-4, 252). Selvie, a former center, exploded on the scene as a sophomore with 14 sacks. He faced endless double teams the last two seasons, dropping his sack totals to five in 2008 and three in 2009, when he was overshadowed by teammate and fellow prospect Jason Pierre-Paul.
Selvie, rated as a possible fourth-round pick by NFLDraftScout.com, looks forward to potentially getting to play linebacker in the NFL.
"I think it will help me a lot," Selvie said. "You see the Shawne Merrimans, the DeMarcus Wares, they're out there rushing the passer and they're great at it. I have stood up a little bit and rushed the passer. I know I can do it. I think it will help me greatly. I just have to work on coverages, stuff like that, but rushing the passer will be no problem."
To a man the players, regardless of experience playing the position, show little trepidation converting to a 3-4 rush linebacker in the NFL. The reality is that the onus is on NFL teams to find the ones who can indeed make the conversion, both quickly and effectively. Woodley and Dumervil lacked the ideal measurements, but have done it well. Former Jets top-10 pick Vernon Gholston looks the part but has yet to prove he can contribute much as a pro.
It's a projection, at times a difficult one. And it's a projection the Patriots will have to make if they're to find an edge player to add a jolt to the team's pass rush in this April's draft.