Nineteen times, Tom Brady has won the AFC's Offensive Player of the Week award. Since the award was first given out in 1984, Only Colts QB Peyton Manning has won the award more times (20) than New England's franchise quarterback.
Brady's 2-for-2 so far this season in that department, but when asked today about it, he claimed he wasn't aware he'd been so honored for the second week in a row. And in typical Brady fashion, he spread the compliments around the way he does the football.
"It's always very flattering to be chosen. There're so many great players in the league and really, our offense is 11 guys out there. There's never one player. It's not the quarterback, it's not the receivers; it's everybody," Brady stated.
He also shared the credit when a reporter pointed out that Brady's already thrown for nearly 1,000 yards after just two games.
"There're different ways to win games [and] I think we've had opportunities to be able to throw the ball. Last year against Buffalo we ran it pretty good in both games, so when my number is called upon I try to execute. When the running backs' number is called upon they try to execute – the offensive line always has to execute. The receivers, they know when they're the primary on the play; they know when they're run blocking. Offense is about everybody really being on the same page. Everyone's got to be on the same page doing their job.
"I think we've done a decent job the first couple of weeks getting off to a good start, but it's only going to get tougher from here. I think this week is going to be a huge challenge for us. We're going up against a team that is also 2-0, that has scored a ton of points, that has been tough on opposing offenses. They're in their home stadium and we've got our work cut out for us, we really do."
He was speaking about this weekend's trip to Buffalo, where the Patriots haven't lost since the 2003 season opener. In all, the Patriots have a 15-game win streak going against their AFC East rivals from western New York.
Like New England, the Bills' offense has had no trouble piling up points under the direction of former Harvard signal caller Ryan Fitzpatrick. Defensively, Buffalo has several new high-profile players, but they're battling some key injuries, just like the Patriots.
"[Linebacker Shawne] Merriman's back to his old self and [nose tackle] Kyle Williams is one of the best interior guys we face all year," Brady remarked.
"They're really big, physical players, athletic at linebacker, good coverage in the secondary. I think playing against them last year in that second game – it wasn't our best performance out there either. We scored points – I think we were the beneficiaries of a lot of turnovers – but we know how good of a defense [they have]. They really match receivers tight. It's tight coverages, tight throws and they can get after the passer, too."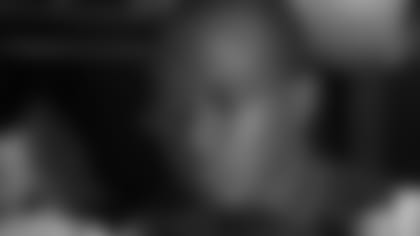 Former Jets wildcat quarterback and special teamer Brad Smith signed a free agent deal with Buffalo this summer, but little else has changed in his game.
"Same guy. They use him in the same ways," said co-captain Matthew Slater. "He's a good player. We have to be ready for him in two phases of the game."
Despite their overall record in recent years, the Bills have consistently been productive on special teams, both in coverage and in returns, as the Patriots witness last year in Foxborough when C.J. Spiller returned a Patriots kickoff 95 yards for a score.
"I think the effort with which they play," cited Slater as a reason for the Bills' special teams success. "They're very well-coached and have players that buy in to what they're trying to get done. That always makes them a handful for us.
We gave up that kick return to them last year and we've had trouble with them in the past.
"It's going to be very challenging for us in all three phases of the game. We have to have a good week of preparation and be ready to go Sunday.
Like other players who spoke to reporters today, Slater insisted that New England's 15-game winning streak over Buffalo means little when it comes to their preparation for the Bills.
"They're always going to be amped because it's a big division game and, obviously, they're 2-0. They're at home, they're going to have their crowd behind them, so, it's a big game for them and for us. We have to approach it as such.
"We can't take these guys lightly," Slater concluded. "What's in the past is in the past. That win streak doesn't mean anything. These guys are a good football team."
Dan and Rob Gronkowski were Buffalo Bills growing up in western New York. So, this Sunday marks a homecoming for the brothers.
Asked today if he was getting inundated with ticket requests from family and friends, Rob, the younger of the pair, acknowledged with a chuckle, "Yeah, but I told them to talk to Dan."
The elder Gronk told reporters his favorite Bill back in the day was quarterback Jim Kelly, but that they no longer own any Bills' clothing or other paraphernalia.
And both made it abundantly clear that they're not feeling sentimental about going home.
"I'm not really worried about that," Rob asserted, "I'm just trying to get ready for the game and focus on the Buffalo Bills, not who's in the stands. I could care less who's out there."
"Going home is exciting," added Dan, "but we're not thinking that this is anything but all business. For Rob and I, we're not thinking about going home to Buffalo but about playing them. We have to stay focused on the game."