ALLEN PARK, Mich. – We're learning a bit more about the two-year contract extension that QB Tom Brady received this past weekend. It seems the final two years of that new pact could be voided by the Patriots, meaning the 42-year-old passer is essentially playing on a year-to-year basis, contractually speaking.
The player himself appeared to acknowledge as much when he spoke with the media following Monday's joint training camp practice session with the Detroit Lions.
"I'm really not worried about it. I'm secure for this year, I think," he grinned. "At least I get a few first team reps out there. I just go out there and try to do the best I can… There's a lot of guys who have one year left on their contract. I've got one year to go and we'll see what happens."
Brady gets an $8 million bump in salary this season, from $15 million to $23 million, and in so doing, helps lower New England's salary cap figure for 2019. Beyond that, Brady is now scheduled to make $30 million or more in each of the next two seasons, but it sounds like those years will be revisited by the club and player when the next offseason rolls around.
"I mean, it's really the reality for most guys in the NFL. I don't want to think I'm any different than anyone else," Brady continued. "Football is a tough business. It's a production business. I'm ready to go this year and that's really what matters. That's where my focus is.
"It's a unique situation I'm in… my 20th year with the same team, 42 years old, so, pretty much uncharted territory I think for everybody. I'm going to go out there and do the best I can this year and see what happens. We've just had a great history. I love playing quarterback here. I love this team, this organization, Mr. [Robert] Kraft, Jonathan [Kraft], Coach [Bill] Belichick, all of the coaches, all of the players.
"The focus is this year and what we've got to do," Brady emphasized. "That's where I'm focused. That's all that really matters in the end. That's what this team expects of me, to put everything into it, like I always have and I'm really excited for the year."
"It's always good to come to an agreement with a player – any player – so that's a good thing," Belichick observed prior to Monday's practice. "Tom's been very consistent throughout the course of his career, and I feel like we're off to a good start in training camp. We all have a long way to go, but I know Tom's worked hard. He's put in a lot of time, a lot of work, as he always does. He's very well prepared. We're looking forward to just building this preseason, and continue to get better on a daily basis."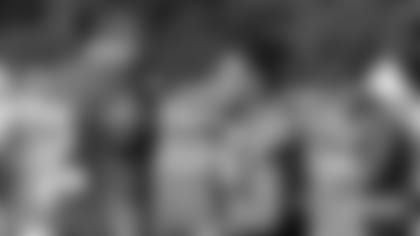 Catching up with Amendola
He's still wearing jersey number 80, only now it's the Honolulu Blue of Detroit, rather than the dark blue of New England. Wide receiver Danny Amendola, an integral member of the 2014 and '16 Patriots Super Bowl-winning squads, was asked what it was like to suit up against his former teammates for joint practices.
"A lot of familiar faces," he smiled, "but luckily it's a lot of good football players, too, so, we get to get good work in and try to get better here in camp. We're excited they're here. Everybody's working hard. It's full-tilt the whole practice."
When he was a Patriot, Amendola became one of Brady's most reliable receiving targets and the two remain close friends, the receiver asserted.
"I talk to him a lot," added Amendola. "It's just good to catch up, see him [here], and watch him play. He can play forever. He's a great quarterback, he's in great shape, great conditioning, obviously. I'm excited to see him play."
The Patriots made a rare stop en route to Michigan Sunday to pay a brief visit to the Pro Football Hall of Fame in Canton, Ohio. Head coach Bill Belichick was already there, having attended the induction ceremonies the night before, which included Class of 2019 member and former Patriots cornerback Ty Law.
Belichick joined up with the rest of his team for a two-hour tour of the Hall, then the short flight to Detroit Sunday afternoon.
"As always, the Hall of Fame was awesome," Belichick raved Monday to reporters at the Lions' headquarters. "It was a great experience. Because I was there a little longer, I got to see a lot of things maybe that I wouldn't have seen otherwise. Certainly, it was great to see Ty and all of the people that came to support him, as well as the other guys that were there… to see Red Grange's shoulder pads, Joe Namath's cape, and Johnny Unitas' high-top shoes – it's just thrilling. It really is, to put it all in one place. It was great."
"It was amazing," echoed Brady. "A great experience, great to see everyone. It was very cool."
Remembering Don Banks, 1962-2019
The pro football media world went to work Monday morning with a heavy heart after learning of the sudden, unexpected death of colleague Don Banks. For the past three decades, Banks has covered the National Football League for a variety of media outlets, including here at patriots.com.
Recently hired to cover pro football for the Las Vegas Review-Journal, the 57-year-old Banks traveled to Canton, Ohio over the weekend to report on the Pro Football Hall of Fame induction ceremonies. He was found unresponsive in his hotel room Sunday morning.
Before joint practices between the Lions and Patriots Monday, the head coaches of both teams expressed their sympathies.
"That was shocking," Belichick remarked. "I've had an opportunity to work with him many, many times. Very professional, very passionate. I just had a lot of respect for the way he did his job. Our condolences on behalf of the organization, too, to the Banks family."
"I know there are a lot of people in this room who worked with him," Detroit's Matt Patricia said to a packed room of media members at the Lions' facility. "We didn't cross paths much when I was with New England, but I know how tight-knit the media community is, so… I want to express my sympathy."
Banks was generally regarded by peers as one of the more affable and talented football scribes in the industry. He leaves behind a wife, two sons, and many colleagues who will miss him.
Buy: The D – New England continues to look sharp defensively, continuing a trend that began in Foxborough earlier this camp. Against the Lions, the Patriots successfully kept Detroit out of the end zone several times during the down-and-distance, end-of-game situational period that closed out today's practice.
Sell: The TEs – After nine training camp practices, it's been a relatively quiet summer thus far for New England's tight ends, in terms of eye-popping plays.
Play of the Day: Rookie WR N'Keal Harry made a fantastic catch during an 11-on-11 period against the Lions' defense. Having separated from a Detroit defender, Harry made a diving reception on a deep throw downfield from Brady. Then, since he wasn't touched, Harry had the presence of mind to get back on his feet and continue running for more yardage before eventually being stopped.