Of the 48 players on the field, the majority were rookies. You looked around the Patriots practice field and saw plenty of first- and second-year players. The occasional veteran with three or more years' NFL experience was out there, as well.
But the one who stood out was running back Fred Taylor, he of the 11-year NFL résumé.
"No, I don't feel like the old guy," he said with a quiet smile. "Young guys inspire me. They inspire me.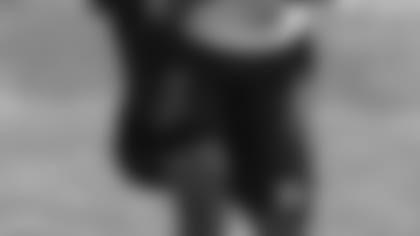 ]()"I want to play. I love to win. I'm very competitive. We play this game to try to win a championship. First and foremost, though," he added with a laugh, "I've gotta learn the dag-gone plays."
Which is why he was here on Wednesday, when New England allowed the media to observe one of its offseason organized team activities (OTAs), which are essentially mini-camp-like practices. Players wear no pads except helmets as they run through an outdoor workout with coaches in individual position drills, group work, and limited offense-versus-defense action.
Most of the established Patriots vets (including QB Tom Brady) weren't in attendance for this OTA, as it was designed to help the rookies and other new players get accustomed to the Pats system. Such workouts are voluntary, but even a player like Taylor realizes how valuable they are.
"If I want to be able to play with the guys on the team, I volunteered to come here and try and … not get ahead … but not be behind, not get yelled at too much. That's the most important thing for me right now. I don't want to feel like a rookie out there. So, I listen. I've always been coachable. Whatever I've got to do, I've got to do it. But it starts with learning the plays."
Taylor admitted that after such a lengthy career with the Jaguars, and having played college football at the University of Florida, he thought he would end his playing career in the Sunshine State.
"It's all a business at the end of the day. Once you can learn that, it's easier to deal with. I thought I'd retire there, but I prayed on the situation. God knows what's best, and I'm here."
He said he still feels like he has some tread on his tires and plans to "run until the wheels fall off."
"I've always said I wanted to catch Jim Brown[on the NFL's all-time rushing list]," he admitted, but was quick to add, "whether I do or I don't, it's been great playing in the NFL for this long. When you look at the average lifespan of a player, the things I've gone through with the injuries, whatever I end with, I'll take it."
The injury-plagued Taylor reportedly hurt his wrist during a recent workout in his home state of Florida, but on Wednesday, he said the incident was blown out of proportion and proclaimed himself "fine," saying that "it's never been an issue."
With Brady among the non-participants, second-year QB Kevin O'Connellgot the bulk of the reps at quarterback (veteran Matt Gutierrez and rookie Brian Hoyeralso shared the passing burden).
But after practice, O'Connell was asked about Brady's expected return and the influence he's had on him so far.
]()"It's tremendous. He does everything the right way, from the time he gets in in the morning till the time he leaves," O'Connell said. "Like I said when I came in here [last year], I was looking forward to the experience of having such a tremendous leader at the position and trying to take things each and every day from him and get better and eventually help the team any way I can."
What about Brady has impressed O'Connell most?
"His leadership," he replied, "and the way you walk into the locker room and you can just tell Tom's there by the mood of the locker room. It starts at the top with him and I think he's been like that for so long here, people just continue to gravitate toward him, young and old. It's something that I really look to as a young guy to be around him and learn that and kind of apply that to being a leader in my own right."
When asked about how Brady seems to be recovering from his season-ending knee injury, O'Connell had a prepared response at the ready.
"I can just say that we're all working hard, man," he said smiling. "I know he's going to do everything in his power [to come back]. Being around him for the better part of a year, I have a lot of respect for him when it comes to his work ethic and I know he's going to be just fine. I'm just looking forward to working with him the rest of the summer."
… Second-year corner Terrence Wheatleywas one of a few players on the field Wednesday who missed most of last season with injuries. After the session, he spoke with reporters, one of whom asked what type of advice he's giving rookie defensive backs like Patrick Chungand Darius Butler. He mentioned some tips on how to learn the playbook. "As a rookie, your head's spinning from day one," Wheatley observed. "You go out there and you hear all these different terms. When I came in, I was writing stuff down in my own terminology, then going home and trying to stay awake long enough to rewrite everything in what they're calling it. The one thing I learned is go out there and just trust you instincts and make a play."
… Wheatley almost made the play of the day during Wednesday's practice. During 7-on-7 action, Wheatley made a great adjustment on a deep pass by O'Connell. The ball was intended for WR Sam Aiken, but Wheatley was in better position to come down with it. He got both hands on the ball for what looked like a sure INT. But as he fell to the ground, Aiken latched on to the ball as well and the two players wrestled for the ball after they hit the turf. When they were finally separated, Aiken came away with the football. A great play all around.
… Veteran TE Tyson DeVreemade a nice effort to stretch out for a pass over the middle during 7-on-7 play. He was uncovered, but the ball was thrown just slightly ahead of him, so he lunged forward, leaving his feet to go parallel to the ground, and snatched it with both hands. The catch drew praise from teammates and coaches alike.
… Chung was seen doing pushups on the sideline in between plays during the 7-on-7 portion of practice. He did this at least a couple of times, leading some in the assembled media to assume that it was a self-imposed punishment for a mistake he'd made in coverage on the previous plays.
… Aiken made several nice catches throughout practice, during scrimmaging sessions and receiver drills.
… Butler was very active in coverage when offense faced off against defense. He used excellent technique to break up a couple of passes in the 7-on-7 action, getting his arm out in front of the intended receiver to knock the ball away at the last second without making contact with the offensive player.
… Seventh-round pick Julian Edelmancontinues to work on his receiving skills. The former QB shows great athletic ability and quickness out in the open field, and has better than average hands, though he still has a tendency to lose his footing coming out of breaks in his routes.
… There's a fun drill to watch the team do, in which coaches set up an area about 10 yards wide by about 30 yards long. An offensive player is given the ball and allowed one move to get by a lone defender, who comes up to try to make the "tackle" (which is simply a two-hand-touch, as the players aren't wearing pads, and contact is not allowed). Today, Edelman made a nifty move to get by linebacker Eric Alexanderuntouched. WR Robert Ortizdidn't even need a move to shake linebacker Vince Redd. Ortiz simply used a burst of speed before Redd could come close to making the play.