It was once again a fascinating August with plenty of surprises. While we got some answers to the burning questions that existed at the end of July, training camp and the preseason also opened up a new set of things to ponder, while others remain. Of course, every NFL team experiences a degree of uncertainty as they embark on the regular season and the Patriots are no different. It's an important season as the team looks to build on a 2021 campaign that saw them return to the playoffs after a one-year absence.
Here are the Burning Questions now facing the Patriots as the regular season gets underway.
1. Mac ready to jump?
Mac Jones' Year 2 development tops this list as the quarterback certainly had his moments during training camp and preseason, though he and the offense haven't shown a lot of consistency stringing good plays together. Let's start with the good, as Mac has thrown some of the prettiest deep balls of his two years this summer. His rapport with DeVante Parker was instantly apparent. The offense's resilience in Las Vegas joint practices showed up as well, with Mac throwing drive-ending touchdowns to cap both sessions with the Raiders. He's looked most comfortable running the spread offense, which is likely a direction they'll lean into as game planning enters the equation. But there's still a lot going on around Mac, including changes to the coaching staff and playbook that could ultimately pay off but so far, in the early going, it's been a work in progress, leaving a good deal of uncertainty about how quickly it will all come together in Week 1. The team's high hopes will depend heavily on their quarterback's play and decision-making in his second season.
2. OL (part one) ready to protect?
Of course, a huge part of Mac's development is tied to the offensive line and the pass protection that they provide. That protection over the summer was also inconsistent, playing a big part in the offense's inability to establish much rhythm outside of certain periods. Aside from David Andrews, there have been changes in the air at the other four spots with the tackles flopping sides, a rookie at left guard and Michael Onwenu finally finding a landing spot at his college position of right guard. The backups have been inconsistent as well with almost everyone in the group taking criticism this summer for missed assignments, mental mistakes and blown blocks. This kind of thing isn't totally unheard of for an offensive line coming out of camp, especially with so many changes going on, however, the team opens against four really good defenses that will feast on any poor play. The time to turn it on is now.
3. OL (part two) Ready to open rushing lanes?
At least there were some really intriguing glimpses of the passing attack this summer, whereas the rushing attack failed to deliver the same kind of big moments. Of course, nothing can truly simulate a running game without live tackling, but whether it was practicing against themselves, joint practices or even the preseason games, the production on the ground left us wanting more. The offense continues to work on wide zone runs, but it's a complicated dance that must be fully in sync. There's reason to believe they'll get it down, just like it's a good bet they'll make use of more traditional gap runs when the games really count. But the best way to help Mac and the pass protection is to get the rushing attack going to lighten boxes and take pass rushers out of their game. No matter what schemes they're running they'll have to find a way to open some holes up.
4. Is there enough running back depth?
After adding Ty Montgomery and two rookie running backs this offseason, the positional depth at running back appeared outstanding at the start of camp. However, Montgomery looks like he sustained a serious ankle injury, Pierre Strong had limited offensive impact during the preseason, while Kevin Harris and J.J. Taylor ended up on the practice squad. Add it all up and the Patriots appear to be starting the season with less than they ended last year, with just Damien Harris and Rhamondre Stevenson proven and ready to go and no reliable backup like Brandon Bolden with NFL experience. Taylor could still be elevated from the practice squad, while Montgomery should return this season and Strong and Harris should develop, but until those things happen it will be the Harris and Stevenson show once again.
5. Will Parker and the second-year FAs elevate the attack?
Tyquan Thornton's injury in Week 2 of the preseason was an unfortunate development as the promising rookie looked poised to add a new element of explosive speed to the offense. With him on the shelf, the Patriots offense will enter the season with largely the same group of weaponry that they had last season, save the trade acquisition of DeVante Parker, who has been a consistent threat throughout the summer. Nelson Agholor and Jakobi Meyers also had strong summers despite the overall inconsistencies of the offense. Meyers is Mac's go-to in big spots and has shown a knack for making contested catches himself, while Agholor has flashed more of the deep ball playmaking skills he had while he was on the Raiders in 2020. The wild card is Kendrick Bourne who had a disappointing camp, being ejected from a joint practice for fighting and then missing the preseason game against the Panthers for undisclosed reasons. Bourne was a gamer who came on as the season progressed last year, the same could happen in 2022. His late touchdown catch in joint practices against the Raiders was a reminder of the kind of playmaker he can be. The offense will need to rely heavily on their four healthy receivers out of the gate before Thornton's potential mid-season return provides a possible boost.
6. Same DL, different results?
The defensive front looks about the same as it did last season with the lone new 53-man roster addition being sixth-round pick Sam Roberts, who flashed in preseason games with some disruptive play. Despite the disappointing end to 2021, there are some reasons for optimism after the group had a strong training camp, consistently preventing the Patriots offense from moving the ball in practice. They also flashed in joint practices, even if their preseason game performances were just fair. Davon Godchaux stood out with a strong camp that helped earn him a contract extension, while Deatrich Wise also flashed improvement. But it's Christian Barmore who could help elevate the group back to a consistent level of play, his role has increased late this summer and he looks poised for a big season that could payoff for those around him as well.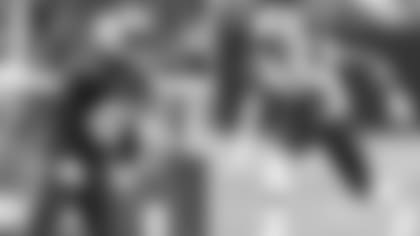 7. New linebacker impact?
While the defensive line looks largely the same as 2021, there will be a distinct new look at the second level, with linebackers Raekwon McMillan and Mack Wilson set to play significant snaps, while Anfernee Jennings was one of the bright spots of camp and could ascend to a three-down role himself. The influx of youth and new energy brings both promise and the unknown. Matthew Judon and Ja'Whaun Bentley are the key cogs who will be heavily relied upon to make plays. Josh Uche will also be in the pass rush mix, he made a fair share of plays this summer. As the coaches get more familiar with the new pieces at their disposal we could start to see a significant shift in the defense at linebacker for the first time in quite a few years.
8. Young corners ready to contribute?
The youth movement appears to be in full effect at the cornerback position. Top options include Jalen Mills, who was around the ball a lot over the summer, Jonathan Jones, who saw extensive snaps outside, and Myles Bryant, who appears to be the top slot option at this point. Behind them are two rookies and second-year player Shaun Wade, who appeared in just three games (seven defensive snaps) during his rookie season. Terrance Mitchell was retained on the practice squad and could be called up in a pinch. There are some intriguing yet unproven traits in the group. Both Jack Jones and Marcus Jones have impressive quickness, while Jack has been jumping routes since the spring. Will Jonathan Jones stay on the outside? Do they have enough size to match up against bigger outside receivers? Will they be forced to tap their depth? Can the rookies make an immediate impact? There are a lot of unknowns. No matter who the Patriots roll out there, they'll be tested early and often by some of the best receivers in the NFL.
9. How to deploy safeties?
Bill Belichick mentioned he thought the safeties were a roster strength and the result bore out in the initial 53-man roster with a group that runs five players deep and has a little of everything the coaches might want, whether it's range, toughness or smarts. Can they expect to get four of them on the field at once? Josh Bledsoe is the youngest member of the group and will likely see his biggest contributions on special teams. But the returning top trio of McCourty, Phillips and Dugger now has another intriguing option to play with in Jabrill Peppers, who could be one of the biggest x-factors on the entire defense, assuming the coaches can figure out how to get him prominently involved with so much depth.
10. Special bounceback?
With all the primary specialists returning, things will look largely the same in the kicking game, however, opportunity has knocked for undrafted rookies Brendan Schooler and DaMarcus Mitchell, which allowed the team to release proven gunner Justin Bethel. With Jake Bailey fully healthy and signing an extension, and Nick Folk continuing his consistent ways through another training camp, the Patriots will look to improve on a disappointing 18th-overall DVOA rating for the 2021 season. The return of more game-changing plays and elimination of blown blocks that got multiple punts blocked last season would be a needed boost from the third phase.