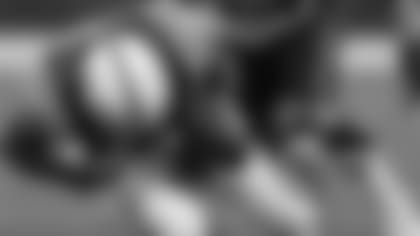 Tedy Bruschi** – The beating heart and signal-caller for the Pats defense, Bruschi did it all from 2002 through 2004, recording 10.0 sacks, eight interceptions and 19 passes defensed over that period. He's still better than average, if not good, leading the team in tackles during both the regular season (124) and the playoffs (25). However, Bruschi made fewer of those tremendous, game-changing plays than Patriots fans were used to seeing after returning from a broken scaphoid bone in his wrist, sustained during training camp. No offense to Bruschi, but during his 11th NFL season, it appeared as though his age and perhaps some of his past injuries (a stroke, hello?) were beginning to catch up with him. He'll be 34 in June, and there's been talk of him retiring. He refused to indicate which direction he was leaning following the AFC Championship loss, but a few of his teammates have recently said they expect him to return.
Mike Vrabel – Vrabel was a rock for the Patriots defense this year. He does his best work on the outside, but this team player bumped inside after Junior Seau was injured in the Week 12 game against the Bears. It was the second time in two years that he saved the squad by moving inside. He was probably the defensive MVP in 2005 for his effort and flexibility, and he finished the 2006 regular season ranked third on the team in total tackles (101), in the postseason he ranked second (20). He's less effective on the inside, and his sack numbers are higher when he plays on the edge, but he uses good leverage and was productive all year, tying for the team-lead in postseason sacks (2.0). His contract isn't up until after the 2009 season, but he'll be 32 in August and entering his 11th year in the NFL.
Junior Seau – Talk about young at heart, Seau held a press conference last August to announce – not his retirement – his "graduation" from the NFL. Needless to say, it didn't last long. The Patriots, preparing to enter the preseason with Monty Beisel inside again (yikes!), picked up the now 38-year-old Seau on a one-year deal. He took over next to Bruschi, and although he's probably lost a step from the days when he was chasing John Elway and Dan Marino all over the field, he was flying around, filling gaps, and taking on lead blockers like a 22-year-old version of himself (sans moustache). He was a big leader for the defense, and was becoming a serious emotional support in the locker room before being placed on season-ending injured reserve with a broken arm. He's said he wants to return for his 18th NFL season, though he'd have to be re-signed. He's no longer the one-man defense he once was, but ol' Double Nickels covered his responsibilities well before he was sidelined.
Rosevelt Colvin – Known as "Rosey" in the Pats locker room, Colvin is charismatic and overtly intelligent. He was plagued by injuries during his early career, and suffered a severe hip fracture during his first year with the Pats in 2003. He's the team's precedent for paying veteran 'backers to join the Pats 3-4 defense, which is generally difficult for rookies to step into. Colvin was excellent rushing from the edge this year, leading the team in sacks for the second year in a row (9.5 in '06 including the postseason). He was a leader for young guys like Pierre Woods this season, and seamlessly made the move from right outside linebacker to left after Seau went down.
Tully Banta-Cain – Although still not the most effective run-stopper, Banta-Cain really stepped up and improved his game this year after being hit with a rash of injuries in his early career. He recorded his first ever start Week 1 against the Bills while Bruschi waited for his wrist to heal, and then moved in as a consistent starter after Seau went down on Nov. 26. Of the five linebackers the Pats have drafted in Bill Belichick's seven years as the Pats head coach, Banta-Cain is the only one still on the team. He was a rush end in college at Cal and has been a consistent presence on special teams since arriving at New England. He did a good job rushing the passer this season, and made a few key plays for the team, recording a career-high 2.5 sacks in the Vikings game on Oct. 30, the same day his son Tavian was born. He finished the season with 7.5 sacks (including postseason play), but he'll be an unrestricted free agent in the beginning of March.
Eric Alexander and Barry Gardner – Both acquired through free agency, Gardner and Alexander are capable special teamers. Gardner suffered a gruesome leg fracture during the preseason after joining the Patriots, his fifth team in an eight-year career. He looked pretty solid back in training camp, but who knows what that could mean for the 2007 season? Alexander made strides on special teams this year and has doubled as an inside linebacker during his 18-game career, though he didn't record his first start until the AFC Championship game last week. He got burned a few times by Colts tight ends Bryan Fletcher andDallas Clark, but the fact that he started over Banta-Cain must mean Belichick feels he's maturing as a linebacker. He's faster than the other inside 'backers, which is why he played last Sunday, and will be an exclusive rights free agent this season. If the Patriots want him, they'll be able to get him.
Larry Izzo and Don Davis – Top contributors on special teams, watching them on the field it's tough to tell these guys both just finished their 11th seasons in the NFL. Izzo was lighting people up well into the postseason, and has been remarkably durable, not missing a game since 1999. He had the second-most special teams tackles during the regular season (14) and tied for the most special teams tackles in the playoffs (6). Izzo is the special teams captain for the Patriots, but probably won't be stepping in to handle full-time linebacking duties. Davis is a spiritual leader in the locker room, and is probably one of the nicest, most humble guys in the NFL. On the field, he's still tough, but he suffered a knee injury in the Nov. 12 game against the Jets. Both of these guys are free agents-to-be, and Davis' return to the NFL will depend on how his knee recovers.
Pierre Woods and Corey Mays – Both of these guys are on the fast track to finding roles on the Patriots defense. That is to say they're both solid special teams tacklers. Neither of them really played much defense, but Belichick likes when players carve out a role for themselves while continuing to improve. Mays is an exclusive rights free agent, which means the Patriots could re-sign him, and Woods is locked in until the end of the 2007 season. They both outlasted 2006 sixth-round draft pick Jeremy Mincey on the roster as undrafted rookie free agents, and both have shown they have the smarts and team mentality required to play for the Pats. Where they are at the beginning of the 2007 season seems largely up to them.
Outlook for 2007: The Patriots are probably going to have to bring the average age in the linebacker group down by adding younger players. Vrabel and Bruschi should still have some gas left in the tank (and that's if Bruschi returns), but these Super Bowl vets can't continue forever. The problem with the Patriots 3-4 defense is that it's tough to ask rookies to step in, because they often don't have the playing strength to compete. As an answer to that problem, the Pats like to transform defensive ends into linebackers, but that often means learning pass coverage from scratch. The Belichick/Scott Pioli combo has never selected a linebacker before the fifth round. Sure, they passed on DeMeco Ryans and a few others in the draft last season, but picking out guys that are going to transition so smoothly is a tall task. Belichick seems to like bringing in seasoned veterans likeRoman Phifer, and he has lauded free agent-in-waiting London Baker-Fletcherfrom the Bills for his rangey, agressive style of play. The ColtsCato June is also going to be a free agent, and the RavensAdalius Thomas is an excellent outside linebacker who'll be on the market, but he could carry a high price tag.