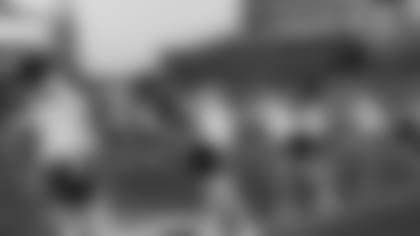 ]()Young girls from all over New England, ages 7-17, participated in the 2009 Junior Patriots Cheerleaders Clinics and Game Day Performance program held this summer. Two weekend clinics were conducted, coached by all 29 members of the Patriots Cheerleading Squad and the sqaud's director. Dances, cheers, stunting, tumbling, leaps, turns, conditioning and team building exercises were taught and perfected over two Sundays, and a full on-field dance routine was created for the first home Patriots game at Gillette Stadium. On game day afternoon, the Junior Cheerleaders arrived wearing their uniforms and carrying their poms, anxiously ready to begin one of the most exciting events of their life!
After a practice on the game field and lunch with the Patriots Cheerleaders, the Junior Cheerleaders lined up and got ready to take the field! They entered from the sidelines to the roar of the appreciative crowd and they danced, kicked, turned, tumbled and smiled their way through one of the best Junior Cheerleader performances ever! When their dance was finished, the youth cheerleaders lined up on the field as the two football teams were announced, and then stood proudly during the National Anthem. Running off the field with smiles on their faces, the junior cheerleaders had just experienced the thrill of a lifetime!
Please email tracys@patriots.com to be placed on the mailing list for our 2010 Junior Patriots Cheerleaders program.