The new NFL league year begins Wednesday, March 18, and with it, the advent of 2020's free agency marketplace. Leading up to that day, we'll examine the landscape from a Patriots perspective. Today we take a look at the running backs.
OTHER NOTABLE FREE AGENTS
Derrick Henry (Tennessee Titans), Melvin Gordon (LA Chargers), Chris Thompson (Washington Redskins), LeSean McCoy (Kansas City Chiefs), Carlos Hyde (Houston Texans)
Fullbacks – Anthony Sherman (Kansas City), Dan Vitale (Green Bay), Derek Watt (LAC)
The Patriots return their full squad of running backs in 2020 but there are still some roster-building questions, starting with Rex Burkhead, who could be cut for nearly $3 million in cap savings. Burkhead's expendability depends on how ready second-year back Damien Harris is to step into a significant role.
The other big question is James Develin's status. The bulldozing fullback's presence was sorely missed this season. The team also lost rookie Jakob Johnson to injury, forcing them to turn to linebacker Elandon Roberts as a makeshift fullback. Will Develin be back? Does Johnson have long-term potential? If the answer to those questions is no then the team could explore some of the fullbacks on the free agent market like Derek Watt or Dan Vitale.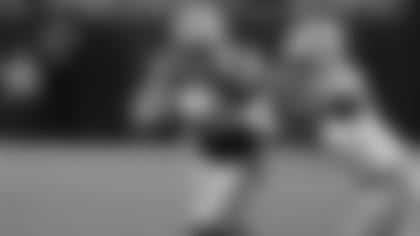 Sony Michel seems to run best behind a fullback and the return of Develin or another competent blocker could help Michel bounce back from a sophomore slump that saw his yards-per-game fall from 71.6 to 57.0.
James White continues to be one of the best receiving backs in the game and on an offense filled with questions is one of the few dependable pieces in their prime. White does enter the last year of his deal so finding a potential replacement in the draft for 2021 could be a priority.
As long as the Patriots are still excited about Damien Harris, they shouldn't be heavily involved in the running back free agent market, though they always seem to overstock the position to prepare for the inevitable injuries that come with it.