The Patriots saw plenty of rookies get valuable experience in 2020. From their draft picks to multiple undrafted players, the team welcomed contributions from many of their youngest faces and that bodes well for the future.
With updated COVID-19 practice squad rules, NFL teams were able to give many new players a chance that might not have gotten one in a regular year. The Patriots certainly took advantage, both by design and due to injuries. Now, they have a fresh collection of rookies who got some NFL game experience and can go into 2021's training camp with confidence.
Here's a breakdown of the Patriots 2020 rookie class, listed by amount of snaps played. It was a needed class of good football players and the team will hope all of them can build on their promising seasons under difficult circumstances.
Snaps played: 91.6 percent
Scouting breakdown: Versatile and dependable, played both guard spots, tackle, 3rd tackle. Strong hands, surprising athleticism for his size. Finisher.
The sixth-round pick was the rookie surprise of the season, playing third-tackle snaps in the season opener and spending time at both guard spots before settling in at right tackle. A college guard, even Onwenu was surprised to find himself playing tackle this season. The Patriots have long-term needs at both guard and tackle, so there's some question where Onwenu's long-term future lies. Regardless, the Patriots have found themselves a strong offensive lineman who was tossing NFL defenders early and often to start his NFL career.
Snaps played: 51.1 percent defense, 46.1 percent special teams
Scouting report: Versatile safety, expanded back-end role as season progressed. Arrives at edge with physicality, showed development in man coverage. Capable at line of scrimmage, as blitzer, spy.
The Patriots immediately worked their top draft pick into their secondary and he looked far more comfortable than you might've expected making the jump from Lenoire-Rhyne to the NFL without any preseason and a limited training camp. Despite the leap in competition, Dugger is a strong athlete and plays with an aggressive edge. He looks on-track to be a starting safety who can play anywhere.
Snaps played: 28.7 on defense and 24.4 on special teams
Jennings was thrust into the fire, playing a season-high 80 percent of the snaps against the 49ers, one of the worst outings of the year for the defense. Jennings was an edge player at Alabama and in that role he looked far more equipped to succeed, but playing inside early in the year made him look like the rookie-playing-out-of-position he was. Jamie Collins had a similar rookie season and made big strides inside in his second season. The defense will need similar strides from Jennings. As experience speeds up his processor, he could emerge as a three-down defender.
Snaps played: 34.7 percent on offense and 7.9 on special teams
Scouting report: Played at both tackle spots before settling in at left tackle, athletic with swing back-up potential.
Snaps played: 17.5 percent on defense and 11.7 percent on special teams
Scouting report: Uche's physical assets are as-advertised, he's thickly built, but noticeably athletic in space, a tough combination for opposing tackles, especially when Uche gets underneath them. His early-down role is still TBD, but he's contributing on special teams as well.
Two separate trips to IR are red flags from an otherwise promising rookie season from the Michigan rookie. If he can stay on the field, he'll be a plus third-down contributor at minimum, something the Patriots very much need after one of their lowest sack outputs in 20 years. The question that remains is the same one that faced Uche coming in, how can he get on the field on first and second down? The Patriots used him a bit as a spy and he was effective. In a matchup defense, Uche should have plenty of value.
Snaps played: 21.1 percent on offense
Scouting report: Asisasi has the size of an NFL tight end and is developing as a blocker. He flashed plus hands, with some impressive red zone catches in training camp that started to show up late in the season.
It was a difficult rookie season for Asiasi, both on and off the field. But he overcame it all to get some valuable experience at the end of the year, playing 132 snaps over the final four games and picking up a touchdown that gave him a positive end to a trying year. The Patriots will need big things from Asiasi in his second season, he has the size and ability, and now some experience to build on.
Snaps played: 19.3 special teams
Maluia had to endure getting cut a couple times in his rookie season, but it was clear the Patriots really liked their sixth-round pick. He never seemed to get much of a look at linebacker, but that doesn't mean Maluia won't fill any important roles.
Snaps: 15.3 percent on defense and 9.9 percent on special teams
Scouting report: A versatile defensive back, Bryant saw initial snaps in the slot but quickly showed back-end safety ability in some third-down packages. Quick and aggressive to the ball.
Bryant was a late riser this season, playing 44 snaps in the finale against the Jets. He showed some growing pains in that game, but those plays can't overshadow an extremely promising rookie season. Bryant looks like the latest undrafted find and he should have a role in the secondary in 2021.
Snaps played: 13.8 percent on offense
Keene got 140 snaps over the course of the season, which mostly came in the final five games of the season. Keene shows surprising quickness for his size and plays with high energy, but it's still not clear how exactly he fits into the offense. With a full offseason for Keene to develop, he has the kind of versatility that cannot be ignored and could be a factor at multiple positions in 2021.
Snaps played: 4.9 percent on offense and 3.3 on special teams
Taylor was a sparkplug for the 2020 Patriots in limited action. He was reliable and made the most of his chances, that's how he was able to stick around a loaded running back room for all of 2020. He had a season-high 11 carries for 43 yards in Week 3 against the Raiders. With James White and Rex Burkhead both due to hit free agency, Taylor could have a big opportunity in 2021.
Snaps played: 3.9 percent on defense and 8.4 on special teams
No one knew for sure if Berry was a tight end or defensive end when the season started, but the undrafted rookie from Ohio State looks to have settled in on the defensive side of the ball. The Patriots showed something when they promoted Berry to the 53-man roster to end the season. With a full offseason to focus on the defensive side of the ball, Berry could find himself in the thick of a positional battle along the edges of the defense next summer.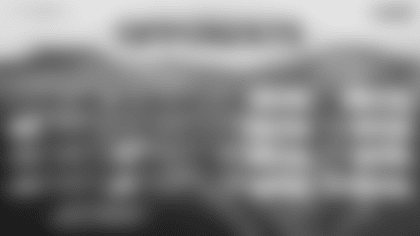 2023 Patriots Opponents
The NFL has announced the Patriots opponents for the 2023 season. Patriots.com breaks them all down.
A season-long member of the practice squad, Zuber showed consistency in training camp. The Patriots rewarded him with some game action, giving him two end-arounds in Weeks 3 and 4. He'd catch passes in two other games against the Broncos and Bills. Zuber will have every chance to make plays next summer.
Wilkerson spent training camp with the Titans but joined the Patriots' practice squad after cutdowns. He'd get promoted and play two snaps against the Jets in Week 9, but most of Wilkerson's first season was spent on the practice squad. Wilkerson has NFL size and will be one to watch in training camp next season.
Murray didn't see any game action in 2020 but was a season-long member of the practice squad. With the Patriots defensive line facing many turnover questions, Murray figures to have every opportunity to again be with the team in 2021.
The Patriots fifth-round kicker spent the season on the practice squad, with Nick Folk putting up a solid season. Folk's a free agent, but the Patriots also signed Roberto Aguayo before the season ended, meaning Rohrwasser already has competition for next year. 2023 Patriots Mock Draft Tracker
Find out what the top 'experts' are predicting the Patriots will do in the first round of the 2023 NFL Draft.