NEW ENGLAND PATRIOTS (12-4)
UNRESTRICTED FREE AGENTS: RB LeGarrette Blount; DE Andre Carter; WRs Austin Collie and Julian Edelman; LBs Brandon Spikes and Dane Fletcher; TEs Michael Hoomanawanui and Matthew Mulligan; OL Will Svitek; CB Aqib Talib; C Ryan Wendell.
RESTRICTED FREE AGENTS: LS Danny Aiken.
NEEDS: Patriots needed help at wide receiver even before Edelman entered free agency after catching career-high 105 passes. They also may need veteran cornerback since best player at that spot, Talib, could walk. Potential loss of Spikes and Fletcher would create need at linebacker, while Hoomanawanui and Mulligan were top two tight ends after Rob Gronkowski's season-ending knee injury in 13th game.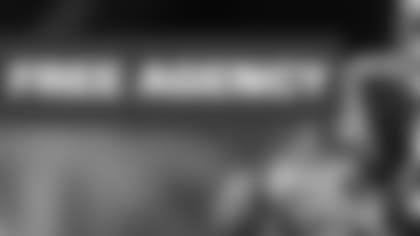 PREPPING FOR FREE AGENCY
The start of free agency is less than a day away. Get caught up on who the Patriots free agents are and the top free agents the team could target.  

RESTRICTED FREE AGENTS: LBs Nick Bellore and LB Garrett McIntyre; CB Isaiah Trufant.
NEEDS: Finding wide receivers top priority this offseason, in free agency and/or draft. Santonio Holmes is likely salary cap casualty, leaving Jeremy Kerley and David Nelson as only experienced WRs. TE also spot Jets will look to upgrade with Winslow not likely back, although they re-signed Jeff Cumberland before he could become free agent. Also could be in market for veteran QB to back up Geno Smith and possibly challenge him for starting job. Mark Sanchez, once considered team's franchise QB, also likely to be cut with hefty $13.1 million salary cap number for this season. CB Antonio Cromartie ($14.98 million cap number) could be released if he doesn't take pay cut, and Jets would need another starter opposite Dee Milliner in secondary if Cromartie not re-signed.
UNRESTRICTED FREE AGENTS: Gs Richie Incognito, John Jerry and David Arkin; OTs Tyson Clabo and Bryant McKinnie; NTs Paul Soliai and Randy Starks; S Chris Clemons; CBs Chris Owens and Nolan Carroll; TE Dustin Keller; WR Marlon Moore; LB Austin Spitler.
RESTRICTED FREE AGENTS: CB R.J. Stanford; T Will Yeatman; OL Danny Watkins;
NEEDS: Tackles, guards, tight end, safety. Incognito and Jerry, both implicated in bullying scandal, are among those on way out as Dolphins hit reset button on offensive line, which endured awful 2013 on and off field. Miami could have five new starters up front. Dolphins hope to keep either Starks or Soliai. They're in market for upgrade at tight end after newcomer Keller missed 2013 season with right knee injury.
UNRESTRICTED FREE AGENTS: S Jairus Byrd and Jim Leonhard; TE Scott Chandler; DL Alex Carrington; PK Dan Carpenter; LB Arthur Moats; OL Thomas Welch.
RESTRICTED FREE AGENTS: TE Mike Caussin.
NEEDS: Bills' inability to negotiate long-term contract with Byrd opens significant hole on defense that showed marked improvement last year. Converted cornerback Aaron Williams capably made switch to safety. Re-signing Leonhard would provide insurance. Landing experienced backup QB is need after veteran Kevin Kolb missed all season because of concussion. Bills had to scramble to add quarterbacks after rookie starter EJ Manuel missed six games with knee injuries. Pass-rushing DE Jerry Hughes emerged as solid complement to Mario Williams, making him candidate for contract extension entering final year of current deal.
AFC SOUTH
INDIANAPOLIS COLTS (11-5)
UNRESTRICTED FREE AGENTS: LBs Pat Angerer and Lawrence Sidbury; S Antoine Bethea and Sergio Brown; RBs Ahmad Bradshaw and Donald Brown; CBs Vontae Davis and Cassius Vaughn; NT Aubrayo Franklin; WR Darrius Heyward-Bey; OT Jeff Linkenbach; DT Ricardo Matthews; DE Fili Moala; OL Mike McGlynn; PK Adam Vinatieri; C Samson Satele.
RESTRICTED FREE AGENTS: LBs Kavell Conner and Scott Lutrus; CB Josh Gordy; DT Jeris Pendleton; G Joe Reitz.
NEEDS: Colts' game plan hasn't changed since last March. They're still trying to solidify Andrew Luck's protection, still looking for another receiver, still trying to find another pass rusher and still trying to improve defense. With roughly $42 million to spend in free agency, Indianapolis could again be major player in market, though GM Ryan Grigson will try to keep enough cap space to start re-signing all those key contributors from Colts' 2012 rookie class when he is allowed to do so. They signed LB D'Qwell Jackson, cut by Cleveland.
UNRESTRICTED FREE AGENTS: CB Alterraun Verner; WRs Kenny Britt, Marc Mariani and Damian Williams; DT Antonio Johnson; KR Leon Washington.
RESTRICTED FREE AGENTS: OL Kevin Matthews.
NEEDS: Verner poised to be biggest loss after he reached first Pro Bowl and had team-high five interceptions. Britt will be allowed to leave after being healthy scratch at times last season. Defense is key area of need with Titans moving to hybrid 3-4 under new coach Ken Whisenhunt and defensive coordinator Ray Horton. Titans already signed S Bernard Pollard to new deal, bringing back their top tackler. Linebacker is top target, and they already have visited with D'Qwell Jackson after he was released by Cleveland. RB could be another target with Chris Johnson due $8 million in 2014 and coming off second-worst season of six-year career.
JACKSONVILLE JAGUARS (4-12)**
UNRESTRICTED FREE AGENTS: RB Maurice Jones-Drew; CB Will Blackmon; DT Brandon Deaderick; WR Taylor Price.
RESTRICTED FREE AGENTS: DT Kyle Love; TE Allen Reisner.
NEEDS: Team has to revamp interior offensive line after releasing veteran G Uche Nwaneri and having C Brad Meester retire after 14 seasons. Jaguars also looking for pass-rushing help as well as potential replacements for Jones-Drew, an unrestricted free agent who will test market, and suspended WR Justin Blackmon. They re-signed QB Chad Henne.
UNRESTRICTED FREE AGENTS: RBs Ben Tate, Jonathan Grimes and Deji Karim; DE Antonio Smith; LBs Joe Mays and Darryl Sharpton; FB Greg Jones; G Wade Smith; TE Garrett Graham; OTs Andrew Gardner and T Ryan Harris; CB Elbert Mack.
RESTRICTED FREE AGENTS: DTs Terrell McClain and Earl Mitchell; WR Lestar Jean; LB Bryan Braman.
NEEDS: Texans are likely to cut ties with QB Matt Schaub after he was benched last season, so Houston could be in market for veteran. Probably won't re-sign Tate so Texans will need RB with Arian Foster's status uncertain after back surgery. Houston could also use upgrade at offensive tackle and will need DE to play opposite J.J. Watt with team unlikely to shell out money to keep 32-year-old Smith.
AFC NORTH
CINCINNATI BENGALS (11-5)
UNRESTRICTED FREE AGENTS: DE Michael Johnson; OTs Dennis Roland and Anthony Collins; S Chris Crocker and Taylor Mays; WR Brandon Tate; CB Brandon Ghee; OL Mike Pollak; TE Alex Smith; LB Michael Boley; P Zoltan Mesko.
RESTRICTED FREE AGENTS: WRs Andrew Hawkins and Dan Sanzenbacker; LB Vincent Rey.
NEEDS: Johnson got team's franchise tag last season, but will most likely be too costly to keep around for another year. Rookie Margus Hunt was his backup and could move into bigger role. Collins played exceptionally well as injury fill-in last season and will be looking for starting job somewhere else. Secondary needs upgrading. CB Terence Newman played well but will be 36. Same goes for CB Adam ''Pacman'' Jones, who turns 31. Top CB Leon Hall turns 30 and is recovering from another torn Achilles tendon. Second-year CB Dre Kirkpatrick was healthy last season but had growing pains. Crocker again was a valuable addition after he was signed during season for second straight year. He's turning 34 and is ready to retire if no team wants him. QB Andy Dalton and WR A.J. Green are entering final years on contracts, so Bengals must decide on offering big-money extensions. Green has quickly blossomed into one of NFL's best receivers. Dalton has been impressive during regular season but gone 0-3 in playoffs.
PITTSBURGH STEELERS (8-8)
UNRESTRICTED FREE AGENTS: WRs Plaxico Burress, WR Jerricho Cotchery and WR Emmanuel Sanders; RBs Jonathan Dwyer, RB LaRod Stephens-Howling and RB Felix Jones; TEs David Johnson and Michael Palmer; C Fernando Velasco; OLs Cody Wallace and OL Guy Whimper; DTs Al Woods and Ziggy Hood; DE Brett Keisel; LBs Sylvester Stevenson and LB Jamal Westerman; S Will Allen and S Ryan Clark; P Mat McBriar; LS Greg Warren.
RESTRICTED FREE AGENTS: None.
NEEDS: Steelers answered one of biggest questions when they tagged LB Jason Worilds as transition player, meaning heavily compensated but rarely healthy LB LaMarr Woodley will either take pay cut or play elsewhere. Salary cap room is at premium, even with cap number bump. New deal for QB Ben Roethlisberger could be in works and at least one of unrestricted free agent linemen could return at discount.
UNRESTRICTED FREE AGENTS: TEs Dallas Clark and Ed Dickson; DL Terrence Cody; CB Corey Graham; S James Ihedigbo and Jeromy Miles; DT Arthur Jones; WR-KR Jacoby Jones; OTs Eugene Monroe and Michael Oher;, RB Bernard Scott;, LB Daryl Smith.
RESTRICTED FREE AGENTS: LBs Josh Bynes and Albert McClellan; WR Tandon Doss; S Omar Brown and Anthony Levine.
NEEDS: Ravens are eager to add WR to provide support for Torrey Smith. This is priority because Jones, who had 37 catches in 2013, might not be back. Team is also intent on improving running game, which means adding RB or shoring up OL that last season lacked size and depth.
UNRESTRICTED FREE AGENTS: S T.J. Ward; RB Willis McGahee; G Oneil Cousins.
RESTRICTED FREE AGENTS: None.
NEEDS: Quarterback remains unresolved issue, but Browns will likely address that position high in draft. Placing transition tag on center Alex Mack, Pro Bowler last season, will impact where team shops in free agency. Browns would like to sign Mack to long-term deal, but he may want to leave and could get big offers. With Ward likely out of plans, Browns could focus on Bills' ball-hawking safety Jairus Byrd, who played under Cleveland coach Mike Pettine last season in Buffalo. Ben Tate could be target at running back and there's new hole at inside linebacker after D'Qwell Jackson was released. Browns are $55 million under salary cap, so there's plenty to spend, and new GM Ray Farmer does inherit roster with six Pro Bowlers and more depth than his predecessors.
AFC WEST
DENVER BRONCOS (13-3) UNRESTRICTED FREE AGENTS: CBs Dominique Rodgers-Cromartie, Quentin Jammer and Marquice Cole; WRs Eric Decker and Bubba Caldwell; DEs Robert Ayers, Jeremy Mincey and Shaun Phillips; RB Knowshon Moreno; LBs Wesley Woodyard, Stewart Bradley and Paris Lenon;, S Mike Adams and Michael Huff; LG Zane Beadles; C Steve Vallos and Dan Koppen; OT Winston Justice.
RESTRICTED FREE AGENTS: CB Chris Harris Jr.; KR Trindon Holliday; DT Mitch Unrein.
NEEDS: Broncos need to shore up secondary and linebacking corps. Harris is coming off ACL surgery and CB Champ Bailey was released after most trying season of 15-year NFL career. OLB Von Miller also recovering from torn ACL and Woodyard had to play in middle last year after Bradley got hurt in preseason. He was undersized and by midseason had lost starting job to journeyman Lenon.
KANSAS CITY CHIEFS (11-5)
UNRESTRICTED FREE AGENTS: OLs Branden Albert, Jon Asamoah, Geoff Schwartz and Ricky Henry; WRs Dexter McCluster and Kyle Williams; DEs Tyson Jackson and Anthony Toribio; LBs Frank Zombo and Akeem Jordan; CB Dunta Robinson; and S Husain Abdullah, Quintin Demps and Kendrick Lewis.
RESTRICTED FREE AGENTS: DL Jerrell Powe; LB Robert James.
NEEDS: Chiefs must shore up OL with franchise LT Albert likely to walk in free agency and RGs Asamoah and Schwartz also free agents. Secondary was exposed by Indianapolis in playoffs, making upgrades at FS and CB priorities. Search continues for playmaking WR to take pressure off Dwayne Bowe. QB Alex Smith is not a free agent until 2015 but Chiefs already discussing extension.
UNRESTRICTED FREE AGENTS: WRs Seyi Ajirotutu, Danario Alexander and Lavelle Hawkins; RB Ronnie Brown; LBs Reggie Walker and Larry English; CB Richard Marshall; OLs Rich Ohrnberger and Chad Rinehart; DL Cam Thomas; QB Charlie Whitehurst.
RESTRICTED FREE AGENTS: LB Bront Bird; T Steve Schilling.
NEEDS: Chargers took care of biggest need by signing ILB Donald Butler, potential unrestricted free agent, to long-term deal. Chargers released CB Derek Cox, biggest free agent acquisition in GM Tom Telesco's first offseason, but who was benched several times. Chargers likely will try to keep OL Ohrnberger, Rinehart. They also might shop for CB, WR, pass rusher. They re-signed S and special-teams ace Darrell Stuckey.
UNRESTRICTED FREE AGENTS: LT Jared Veldheer and RT Tony Pashos; DEs Lamarr Houston and Jason Hunter; RBs Darren McFadden and Rashad Jennings; S Charles Woodson and Usama Young; DTs Vance Walker, Daniel Muir and Pat Sims; CBs Tracy Porter, Mike Jenkins and CB Phillip Adams; TE Jeron Mastrud; WR Jacoby Ford; C Andre Gurode.
RESTRICTED FREE AGENTS: RB Jeremy Stewart.
NEEDS: GM Reggie McKenzie has more than $60 million in salary cap room to find playmakers on both sides of ball. Veldheer and Houston are top priorities to bring back. Team would also like to keep Jennings after career-best season in first year in Oakland. Raiders seek veteran QB either as starter or mentor to possible draft pick. McFadden will likely be allowed to leave after injury-plagued six years with team. Raiders want upgrade at CB but also counting on improvement from 2013 first-rounder D.J. Hayden.