Fighting a cold, he looked exhausted. And who could blame him.
For the past couple of months, Patriots running back Sammy Morris– the team's leading rusher last season – has been perhaps its leading rusher this offseason – rushing off to the Middle East, rushing off to Europe, rushing off to college.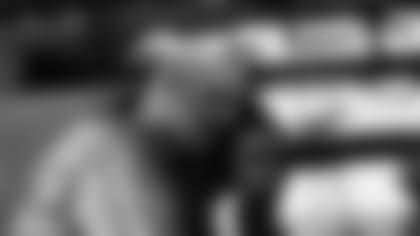 ]()"Been all over the place," he explained with a tired smile. "Spent some time in Kuwait and Iraq with the troops, just a little before the Super Bowl and a little afterwards. Got to go to London with family and doing this Harvard business class here. Going back for that in April. I'm really trying to make the most of my time and enjoy my offseason at the same time."
In late January and early February, Morris continued a Patriots tradition by taking part in the USO-sponsored tour of the war-torn Middle East. Tight end Benjamin Watsonand former special teams captain Larry Izzo have gone on past tours.
"Being with the troops in Kuwait and Iraq," he observed, "it was a really good, informative, kind of emotional time to feel a little bit of the things they go through."
He then returned home to pick up his family for a semi-vacation in England. There was some business to be done on that trip, however, as Morris helped the NFL promote the Patriots-Buccaneers game scheduled to take place at London's Wembley Stadium in October. That game will be a homecoming of sorts for Morris, who was born in Oxford, England when his father was stationed there with the U.S. Air Force.
"I still have family over there. My sister's over there and I have uncles and cousins over there. To get a chance for them to see me play, I think it'll be a good time and definitely good for American football."
Morris noted that while in England, he learned that the passion for American football is growing rapidly.
"It seems to be pretty high. I was told that the Patriots are the most popular team in the U.K., which is definitely good to hear. We'll actually be the away team, but hopefully it'll sound like a home game for us."
Once back stateside, Morris found that his travels weren't done yet. He took a short trip to Baltimore last week to receive the Ed Block Courage Award, an annual honor given to NFL players who, according to the press release, "best exemplify the principles of courage and sportsmanship while also serving as a source of inspiration." Thirty-two players (one from each of the leagues teams) are given the award, which is named after the former Baltimore Colts trainer who was known for his humanitarian efforts off the field.
He was also in Cambridge, Mass. recently for a four-day crash course in business at Harvard. Morris and teammate Mark LeVoirattended the annual NFL-sponsored classes, the second half of which will take place next month.
]()In the meantime, Morris and most of the rest of the Patriots squad are back at Gillette Stadium this week to begin working out in the team's offseason strength and conditioning program. This is when the Patriots, in earnest, begin their preparations for the upcoming season.
For Morris, it seems like an eternity since he last saw his teammates.
"It's always good to see the guys," he said. "Feels like we've been away for years, but it's only been a couple of months. It's always good to start building that camaraderie."
Morris said he's met some of his new teammates, including free agent cornerback Leigh Boddenand returning linebacker Tully Banta-Cain.
He also revealed that he's bumped into quarterback Tom Brady, who's working his way back from a season-ending knee injury. When asked about the QB's condition, Morris laughed … in between sniffles as he searched for a tissue.
"You know, he's looking like Tom ... Doing well."
With a little rest, Morris will soon be able to say the same.