The Patriots couldn't get much going in any phase of the game against the 49ers, who won the battles up front and executed a well-designed offense to near perfection as they controlled the game early on and never left much doubt. The game was decided in the first half, on a number of key plays where San Francisco simply outplayed the Patriots.
Despite the ugly loss, there were still some silver linings to find for the Patriots, who continue to get experience for their younger players. Practice squadders like Nick Thurman (23 snaps) and Tashaun Bower (27 snaps), and rookies like Anfernee Jennings (53 snaps) and Dalton Keene (24 snaps) continue to build on the number of young players seeing significant action. Second-year players Damien Harris and Jakobi Meyers were two bright spots as well.
Still, there was plenty to critique in what was a total team loss. Here are three plays that set the Patriots on a path to defeat and two that might provide some reasons for optimism.
Garoppolo's early 3rd-down scramble sets tone
Situation: 1st quarter, 0-0, SF 3rd-and-3 at SF32
In a blowout like this one, the most meaningful plays come early and this 3rd down conversion scramble by Jimmy Garoppolo set the tone for the day on just the third play of the game. Not only did it keep the first drive from being a three-and-out, but it would also be the last third down San Francisco saw on their way to taking a 7-0 lead.
The Patriots had a good start, containing the first two runs by Jeffrey Wilson to set up the third-down play. The pass-rushing front four got off on the snap of the ball, running an interior stunt that saw Chase Winovich crashing inside around a penetrating rush of Adam Butler. Shilique Calhoun held the edge, doing a good job of taking over and occupying Butler's blocker as he surged forward.
The man coverage behind the front featured Stephon Gilmore inside in man coverage on George Kittle. Garoppolo took one hitch after receiving the snap, looking toward Kittle for a quick throw, but the Patriots combination coverage on the right side, including Jason McCourty over Kendrick Bourne, sorted the bunch.
The pass rush took over from there. As soon as Garoppolo moves to his second read, he can feel the pressure of Winovich and his center slid over to take the oncoming rusher. Butler continued his strong rush, breaking free as the center moved to Winovich, but could only get an arm on Garoppolo, who shook him off. It was a tough play for Butler, who injured that arm last week and has been on the injury report with a shoulder.
Garoppolo tucked the ball and took on Ja'Whaun Bentley, throwing a head fake and powering through Bentley's arm tackle for the first down. Two missed tackles for the Patriots and a determined play by Garoppolo summed up how the game would go just three plays in.
It's hard not to wonder what a tackle and punt there would've meant for the rest of the game.
Enel Powerful Play of the Game: Newton's first interception opens the flood gates
Situation: 2nd quarter, SF 10-3, 1st-and-10 at NE27
Though still just 10-3 midway through the second quarter, the Patriots needed a drive to respond to San Francisco's ball control, where they outnumbered the Patriots in first downs 11-3 to this point. With the defense getting a stop and holding the 49ers to a field goal, the offense had the chance to tie the game up with a touchdown-scoring drive.
But in an instant that chance was gone as Cam Newton would throw his first interception of the game and open the door for the 49ers to add another touchdown to their lead.
The Pats came out in their 2-1 personnel with fullback Jakob Johnson and running back Damien Harris in what is meant to appear as another early-down power run. However, this time the Pats were taking a shot, using play action to target two main receivers out running routes - Damiere Byrd and Jakobi Meyers, while tight end Ryan Izzo stays in to block.
Newton wants Meyers' in-cut first but comes off of it because none of the 49ers second-level defenders bite on the play action. This leaves no clear read and Newton moves up in the pocket, beginning to think about running before pulling up and trying to squeeze one through triple coverage to Meyers. The ball was tipped and intercepted in an athletic play by linebacker Fred Warner. Five plays later the 49ers would make it 16-3.
After stressing ball security last week, the Patriots continued to turn the ball over way too much in this game. Newton was the primary offender, though the team also had two fumbles that they recovered. In all, the Patriots had six times were unsafe with the ball, never a formula for winning football.
This play opened the flood gates for the 49ers and from this point on the Patriots were never really in the game again, making it this week's Enel Powerful Play of the Game.
49ers tack on another before the half
Situation: 2nd quarter, SF 16-3, 1st-and-10 at NE16
After another disappointing three-and-out by the Patriots offense, they gave the ball back to the 49ers with 4:42 left in the first half on their own 16. Already down two scores, the Patriots defense had little margin for error and the last thing they wanted was to allow an 84-yard touchdown scoring drive but that's just what they did, presenting little resistance as the 49ers picked their way down the field.
The eight-play drive featured just two second downs and zero third downs. It was just first down after first down until this play, a 16-yard touchdown scamper that was still only tied for the second-longest play of the scoring drive.
Lawrence Guy bursts upfield and almost has the play snuffed out in the backfield, but when Guy couldn't get a hand on Wilson he had a clear line to the end zone, as Deatrich Wise was sealed off and neither Ja'Whaun Bentley nor Jonathan Jones had the angle to make a play. Overall, it just showed how out of sync the defense was, with seams opening up and being exploited by the 49ers speed.
With this score, the 49ers took a comfortable 23-3 lead into the half.
"We never had control of the game," said Devin McCourty after the game. "Inside runs outside runs, a couple different big plays, the wheel route in the passing game. A lot of the passes were, you know, that kind of missile jet-sweep. It's like a run but it's a pass and a bubble passes, but I mean, you give up 33 points, I don't think we did anything really well today."
Meyers steps up
Situation: 3rd quarter, SF 23-3, 1st-and-10 at NE46
With the game mostly out of reach there were some positives to take away from the second half for the Patriots, starting with the performance by Jakobi Meyers, who finished the game with four catches for 60 yards, the third-most productive game of his young career.
After showing up with a 20-yard catch in the closing moments of the first half, Meyers made this 21-yard catch on the third play of the second half, with the Patriots tacking to a no-huddle attack. This took the Patriots all the way down to the San Fran 33-yard line and, despite a sack just a couple plays later, set up the Patriots second and last score of the game.
Despite the success of the play it still didn't look very smooth, with Newton unsure of his pocket and making a late throw that still found Meyers, who said after the game he's just looking to prove he's reliable.
"Not to prove that I deserve more, just to prove that they can rely on me, if that makes sense," said Meyers. "I just want them to know that I'm a trustworthy guy. No matter how many reps I get in practice, how many reps I get in the game, that I'm always paying attention, I'm always locked in. If they need me to go in for somebody, they can count on me."
With N'Keal Harry leaving the game with a head injury, Meyers could see a significant boost in his role in coming weeks. Newton looked his way multiple times in this contest and they produced some of the only effective passing plays for the Patriots offense. If there's one thing to feel intrigued about with the offense right now, it could be the emergence of a Newton-Meyers connection that should be further explored.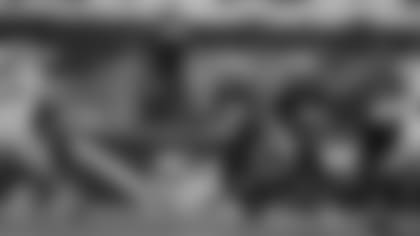 Harris busts off 10 yards
Situation: 4th quarter, SF 33-6, 2nd-and-1 at NE37
Meyers wasn't only young offensive weapon to show a little promise in this game, as Damien Harris had 10 carries for 58 yards and might have deserved an even heavier load.
This 2nd-and-1 came as Jarrett Stidham had been inserted into the game and it was a perfectly executed run right up the middle that picked up another 10 yards for Harris. Lead blocker Jakob Johnson took on the outside linebacker, while pulling guard Michael Onwenu kicked out the edge player and tight end Dalton Keene managed to get across on the middle linebacker to seal him off.
Harris showed good explosiveness following the blocks and picking up a nice gain. There weren't enough plays like this on Sunday, but this one showed that this offense is capable of high-level execution. It's also notable that all rookies or second-year players were involved with the play.
"When I look at our football team right now, obviously we are in a very tough position, a position that we are not excited about but if there is anything that sees us through this, it is going to be our character and commitment to one another and then our commitment to our game," said Matthew Slater on how the team moves forward from here. "I certainly have a lot of faith in the men in that locker room. We are going to have to demand a lot of one another and at the end of the day we have to continue to believe in what we are doing and continue to believe in who we are."