Wide receiver Danny Amendola toughed it out, at least for as long as the media were allowed to watch, at today's Patriots practice.
Amendola (right groin) looked anything but fully fit, however. He was in uniform along with most of the rest of the squad (in helmets, shells, and shorts), but he could barely pick his feet off the ground as he ran through drills. The best term to describe how he was moving about might be "shuffling."
The veteran receiver missed the Jets game last Thursday night and there have been conflicting media reports about how long he might be out of commission – anywhere from a week or two to several weeks.
Meanwhile, tight end Rob Gronkowski (back/left forearm) continued practicing even though he has yet to appear in a game this season.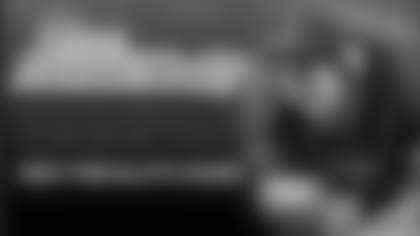 ](/fan-zone/patriots-football-weekly.html)On the down side, three Patriots were not at the start of today's session: WR Matthew Slater, and cornerbacks Aqib Talib and Alfonzo Dennard. The latter was making a previously scheduled court appearance in Nebraska, stemming from his arrest this summer on suspicion of drunken driving.
As for the other two absentees, according to The Boston Globe, Slater broke a bone in one of his hands during the Jets game. And Talib may have been injured on the final play for the Patriots defense, when he picked off a Jets pass and ran it to the Patriots sideline. As Talib was hopping out of bounds, Jets center Nick Mangold ran into Talib's legs and he appeared to go down awkwardly as he fell into the arms of defensive coordinator Matt Patricia. Talib continued hopping around on the sideline in celebration of his interception, but it's possible he could have sustained an injury on the play, but didn't realize it until later.
Elsewhere today, it's that time of year again when the Patriots hand out black practice jerseys for their "Practice Player of the Week" honors. This is to recognize the players (generally backups) who did the most in practice the previous week to help the team prepare for the game. These jerseys are only given out after victories.
This week, three players donned the black shirts: QB Ryan Mallett, and practice squad rookie defensive backs Kanorris Davis and Justin Green.
Media interviews with players are scheduled to take place after practice.