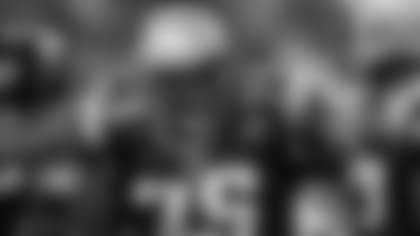 ]()Bill Belichick's team has several improvements to make if it is to contend for the American Football Conference's best record in 2005. The schedule turns tough now, with seven straight games against teams that either made or just missed the playoffs in 2004. Next up is a road game against the Carolina Panthers on Sunday, Sept. 18.
"It was a nice way to start out the season, with a victory," said Belichick. "We kind of stumbled around on a few things tonight that are going to catch up with us if we don't get them fixed."
The Patriots beat the Raiders quite handily, taking a nine-point lead with 5:05 remaining in the third period and maintaining a comfortable cushion the rest of the way.
While a 10-point victory would be celebrated at most stadiums, the margin seemed a little thin at Gillette, where success is measured these days in Super Bowl championships. Having committed nearly as many penalties (16) as they had pass completions (18), the Raiders had no business being within 10 points of the two-time defending NFL champions.
Overall, though, the Patriots played well, and they looked particularly strong when passing, as quarterback Tom Brady got solid protection all night. He was never sacked, and he usually had plenty of time to find an open man. Brady completed 24 of 38 passes for 306 yards and two touchdowns and no interceptions.
Eight receivers caught passes, led by Deion Branch with seven grabs for 99 yards and a touchdown. Troy Brown, who endured being cut then re-signed this offseason at age 34, looked great, catching six balls for 51 yards. Brown had only 17 catches in 2004.
"We'll continue to spread around the offense," said Brady. "The great part is, we can. Spreading the ball around puts a lot of pressure on the defense when you can find the open guy.''
Second-year tight end Benjamin Watson showed he might be equal to the hype that surrounds him when he made two nice third-down catches on New England's first drive. He gained 20 yards on a 3rd-and-10 on the Patriots' third play from scrimmage then got some nice yards after the catch for a nine-yard gain on 3rd-and-six.
New wideout Tim Dwight scored his first points as a Patriot on a 5-yard touchdown catch from Brady with 4:42 left in the first half.
In contrast to the spectacular aerial attack, New England's ground game was a struggle all night, especially in the first half, when Oakland held Patriots star RB Corey Dillon to three yards on six attempts. Dillon carried the ball only twice for a combined one yard on the Patriots' 10-play opening drive.
The Patriots relied heavily on their passing game in the first half, attempting 20 passes to only eight rushes. Brady took 14 snaps in shotgun before halftime, as the Patriots used a lot of five-receiver sets.
In the second half, Dillon carried 17 times for 60 yards. On the game, he also scored two rushing touchdowns and caught two passes for 30 yards.
On defense, the Patriots started badly but settled down as the game went on. The Raiders gained a combined 191 yards on their first four possessions while completing seven plays of seven yards or more. The Patriots then clamped down, holding Oakland to a combined 43 yards and three first downs on their next seven possessions.
The low point for New England was a 73-yard completion from QB Kerry Collins to WR Randy Moss at 9:04 of the second period. Patriots CB Tyrone Poole had Moss in single coverage down the left sideline and fell trying to deflect the pass. Safety Rodney Harrison was nearby when Moss made the catch, but the 6'4" Moss eluded him with a nice move.
The run defense also looked shaky early, as Oakland RB LaMont Jordan had four 7-yard carries in the first quarter. The Patriots seemed willing to surrender a few rushing yards in order to keep Oakland's dangerous passing game in check. New England safeties Harrison and Eugene Wilson played deep for most of the game, staying close to Moss and Jerry Porter. The strategy worked for the most part, as Collins completed only 18 of 40 passes. Moss caught five passes for 130 yards. Porter had three catches for 48 yards.
Collins struggled all night to find receivers. He was sacked only once but was under constant pressure that often led him to throw inaccurately off his back foot. Poole and Asante Samuel started at cornerback, with Chad Scott and Randall Gay both seeing lots of action in nickel and dime packages. Newcomer Duane Starks was inactive for the game.
Patriots nose tackle Vincent Wilfork collected his first career interception in the third quarter when DE Richard Seymour bull-rushed and knocked center Jake Grove into Collins. The ball popped into the air as Collins' arm was going forward, and Wilfork alertly grabbed it, showing good agility in the process.
The Patriots played a lot of 4-3 defense to control the run while dropping the safeties into coverage. Jarvis Green collected three tackles while serving as the fourth lineman for much of the night. DT Marquise Hill was inactive for the game. Nose tackle Mike Wright dressed but did not play.
New middle linebacker Monty Beisel played well, recording seven tackles, including a nice stuff of Jordan for a 1-yard loss on a second-and-9 in the second quarter. Chad Brown, the Patriots' other new inside backer, had five tackles but saw less playing time than Beisel once the defense shifted to the 4-3 formation.
One area where the Patriots struggled all night was special teams. The Raiders blocked an extra point attempt and a punt and averaged 30 yards per return on six kickoffs.
Belichick had placed a strong emphasis on kick coverage throughout the preseason after New England gave up an average of 23.3 yards per return in 2004. Last night, Raiders return man Chris Carr gained 25 yards or more on every return. The Patriots were far more effective covering punt returns, holding the Raiders to 15 yards on three returns.
On their own returns, the Patriots were up and down. Dwight had two nice punt returns, including one for 27 yards in the first quarter. Kevin Faulk returned two kicks for a combined 42 yards, while rookie Ellis Hobbs had one return for 37 yards.
New England punter Josh Miller dropped two punts inside the Raiders' 5-yard line but also had a punt blocked in the fourth quarter.