BALTIMORE – Even before kickoff, the Patriots had wrapped up yet another AFC East title, their fifth straight, and in so doing, guaranteed themselves at least a Wild Card Weekend spot in the playoffs next month. Miami's shutout defeat in Buffalo earlier in the day secured that safety net for New England.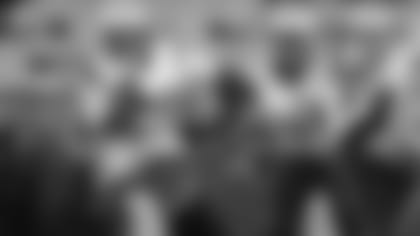 ](/node/47056)But they still came out and played perhaps their best football of the season in all three phases of the game, and that made the post-game locker room a much happier place. "It's my favorite hat right now. Feels great," rookie cornerback Logan Ryan said as he pulled down on his AFC East Champions ball cap. Ryan played a key role in the victory, grabbing a pair of interceptions and making a nice pass breakup on a Ravens fourth-down.
"This is our goal, from Day 1, the day I was drafted, they told us they wanted to win the division. I'm happy we were able to accomplish that today. We want to control our own destiny. We know if we keep winning, things will be looking up for us. We weren't paying much attention to that [Dolphins-Bills] game. We wanted to come out here and make a statement like we did.
"I feel great. I feel proud of the team as a whole, I feel proud about being part of the defense. We had a great showing."
"It feels good. Great actually," echoed defensive end Chandler Jones, who chipped in with a touchdown – his first in the NFL – on a fumble recovery in the Baltimore end zone.
"It was a good team effort. I'm so proud of our team. We played hard on offense, defense, and special teams. We just played all together and played well. Whenever we play the Ravens, it's a tough game. Getting a chance to beat these guys on their home turf is a great feeling."
Offensively, the Patriots controlled the game from the get-go, giving the ball early and often to LeGarrette Blount on the ground. He averaged just shy of five yards per carry and found the end zone twice.
"We came in the game with the mindset to run the football and that's what we did. We ran as much and as effectively as possible," Blount remarked.
"It was big for us," special teams captain Matthew Slater said of the win. "You never want to back into the playoffs. It was big to come in here in a hostile environment against a good team and perform well. We have a tremendous amount of respect for them. I know the game kind of got out of hand at the end, but they played hard. Fortunately, we were able to come out on top."
A win next week at home against Buffalo would give New England at least the second seed in the AFC playoffs and a much-needed bye on Wild Card Weekend.
"It was an amazing feeling. I haven't been part of a team that has been this successful," added Blount. "It just drives you to do more to make sure the success continues.
"We're not going to go out there to lose the game, even though we clinched. We wanted to win. A big part of that was the defense getting two touchdowns and our offense being productive. It felt like one of our better wins, yeah. There are still things we have to work on and get ready for Buffalo."
Other observations from M&T Bank Stadium Sunday evening:
…LeGarrette Blount continues to emerge as a force at running back for New England. He's been running with power and shiftiness these past few weeks, since Steven Ridley's fumbling has reduced him to a backup role.
…LB Dont'a Hightower made a nice play dropping back in pass coverage midway through the first quarter, was stout against the run, and got some pressure on Ravens QB Joe Flacco. Overall, he had a very good game again. He's been playing much better in recent weeks.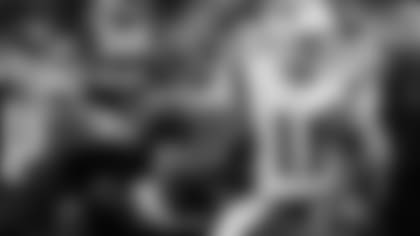 ](/node/47056)…Julian Edelman's precise route-running drew two penalties from Baltimore's secondary in the first quarter. He sold his fakes so well that the Ravens defenders inadvertently made contact with him as they tried to recover. Along with his pass-catching, Edelman has made great strides this season as an overall receiving threat.
…As well as they played in the first half, the Patriots' secondary dropped three would-be INTs.
…Cornerback Kyle Arrington had a sack on a corner blitz for the second straight week.
…In the first half, the reshuffled left side of the o-line did a fairly good job of protecting Tom Brady. Logan Mankins started at left tackle in place of concussed Nate Solder, and rookie Josh Kline filled in at guard beside Mankins.
…Rookie CB Logan Ryan continues to impress. He had an INT in each half and a pass breakup on 4th down.
…The Patriots coaching staff showed some solid trust in Ridley late in the game, giving him the ball several times while the team clung to a 20-7 lead. That's the kind of confidence boost that the struggling Ridley needs as the Patriots prepare for the playoffs.
…This just might be the best game the Patriots have played, in all phases of the game, this season. The offense started strong, the defense held and nearly pitched a shutout, and special teams units did their jobs. Good overall team effort on a day when New England clinched its latest AFC East title.