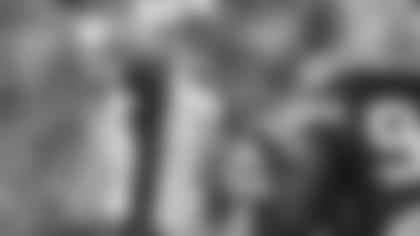 ]()The Patriots' performance was reminiscent of the triumphant 2004 season, with Corey Dillon slashing his way to 70 yards and two touchdowns on 14 carries and Tom Brady completing 12 of 21 passes for 127 yards and a touchdown.
Strong performances by young veterans such as Asante Samuel, Vincent Wilfork and Ty Warren as well as by newcomers Benjamin Watson, Ellis Hobbs and Logan Mankins served to remind opponents that despite three Super Bowl wins in four years the Patriots might field their strongest team yet in 2005.
New England also made good progress in two problem areas by limiting Green Bay to 38 percent efficiency on third-down conversions and holding the rushing attack led by Ahman Green to 96 yards and a 3.3-yards-per-carry average.
''I thought overall we had a better effort than we had in the first two games," said Head Coach Bill Belichick. ''The emphasis is on improving, and that's the emphasis every week, but our execution was a little bit better, we were better on third down, better overall running the ball and on run defense, and our coverage units were a little bit better."
Belichick's team struck quickly. Rookie third-round pick Hobbs provided an immediate field-position edge by returning the opening kickoff 43 yards up the right side. After a penalty against the Packers, the Patriots began their first series at the Green Bay 46.
From there, Dillon took over, carrying three times for 28 yards, including a 12-yard scoring strike down the left side on which he showed tremendous quickness. Less than two minutes into the game, New England had a lead that was never threatened.
The Patriots' defense also delivered right out of the gate. Wilfork busted through the line on the Packers' first play and dropped Green for a one-yard loss. After New England allowed Green Bay two first downs, Wilfork simply shoved Packers' center Mike Flanagan aside and closed quickly on Packers QB Brett Favre for an eight-yard sack. Then on the 11th play of the drive, Samuel picked off a Favre pass intended for Javon Walker on a third-and-35 and returned it 29 yards.
The New England defense tightened the screws further as the first half progressed, allowing only three more first downs and limiting Green Bay to 112 first-half yards. For the game, the Patriots held the Packers to 199 yards and 12 first downs.
New England's best defensive stand started with 11:11 left in the first half, when the Packers got the ball first-and-goal at the New England 8-yard line after a punt by Green Bay's B.J Sander had bounced off Tyrone Poole's back and been recovered by the Packers. CB Chad Scott made a fine tackle after a completion on first down, then LBs Chad Brown and Rosevelt Colvin stuffed Green for a three-yard loss before Favre threw incomplete on third down when Robert Ferguson failed to handle a pass in the end zone. Green Bay had to settle for a Ryan Longwell field goal—the only score the Patriots would allow.
The New England defense set the tone again at the start of the second half when Brown knocked the ball out of Green's hands behind the line of scrimmage, forcing a fumble that LB Willie McGinest recovered for New England.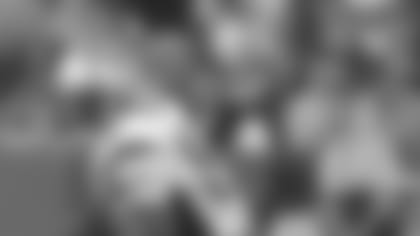 ]()Meanwhile on offense, Watson, the second-year tight end who missed nearly all of the 2004 season with a knee injury, showed why he might become a favorite target of Brady's by catching six balls for 49 yards. Watson also threw some good trap blocks on running plays.
The game posed a test for the Patriots' offensive line, and the results were more good than bad. With Matt Light on the shelf with a leg injury and Brandon Gorin also sitting out, veteran Tom Ashworth switched to Light's spot on the left and rookie third-round pick Nick Kaczur started at right tackle.
Ashworth's performance was a mixed bag. He opened good holes for Dillon and handled Green Bay's star defensive end Kabeer Gbaja-Biamila on most plays, but he also let Gbaja-Biamila by for an eight-yard sack on Brady in the first quarter. The Patriots then started sending tight ends to help Ashworth.
Kaczur, meanwhile, did a nice job of keeping Green Bay's other defensive end, Aaron Kampman, away from Brady.
New England's other rookie lineman, first-round pick Mankins, continued to impress while starting at left guard. On Dillon's 12-yard TD run in the first quarter, Mankins sealed the hole by burying Green Bay defensive end Cullen Jenkins.
The rookie class also represented itself well on defense. Rookie safety James Sanders intercepted an Aaron Rodgers pass in the fourth quarter, while Hobbs also saw a lot of backfield action and had more good plays than bad.
But the strongest messages were delivered by some of New England's second- and third- year players. Samuel, who looks like a lock to start at cornerback in his third year, recorded one official interception and had another called back early in the second quarter on a Don Davis holding penalty.
Wilfork, the starting nose tackle in his second season out of Miami, was a terror, registering a sack, clogging the middle of the defense and getting a lot of pressure on the quarterback. Wilfork is pushing to be an every-down defender after playing primarily on run defense as a rookie.
Warren, playing for the first time this preseason, made his presence felt early, standing up blockers and shutting off the offensive right side.
On the New England offense, free agent WR Tim Dwight showed up a lot with mixed results. He caught two passes for 23 yards and showcased his speed and instincts on an impressive 44-yard punt return in the first quarter. The return was called back on a Matt Chatham holding penalty. Dwight was both hero and goat on one play when he gained 10 yards on an end-around but saw the play negated because of his own illegal motion penalty. It was Dwight's second infraction in a four-minute span.
The game did very little to separate players battling for positions at some key spots. At wide receiver, second-year man P.K. Sam caught two balls for 22 yards but also missed at least one catchable throw.
Wide receiver Andre Davis, acquired six days ago in a trade with the Cleveland Browns, did little to distinguish himself in his first Patriots action, catching no passes and getting called on a holding penalty in the second quarter. Davis has as advantage over the competition in that he is an experienced kick returner, but he did not return kicks on Friday night.
Another wide receiver making his Patriots preseason debut was David Terrell, but he was barely visible, making no receptions and having only one ball thrown his way.
Two reserve running backs who are thought to be fighting for a roster spot, Cedric Cobbs and Kory Chapman, barely played last night. Cobbs can't have helped his chances, gaining only nine yards on three attempts and losing a fumble on his last try. Chapman had two carries for five yards. Meanwhile, rookie FB Kyle Eckel outperformed Cobbs and Chapman, gaining 33 yards on four carries.
In the defensive backfield, Scott got a long look and played a strong game, logging four tackles and providing consistently tight coverage. Scott has been mentioned often as a bubble player, but his performance will make it hard for the team to let him go.
CB Randall Gay, seeing his first preseason game action, picked off Favre with 1:25 remaining in the first half on a pass intended for Andrae Thurman.
Packers receiver Antonio Chatman was taken from the field on a stretcher after a Rodney Harrison hit to the helmet in the second quarter. Chatman suffered a sprained neck.