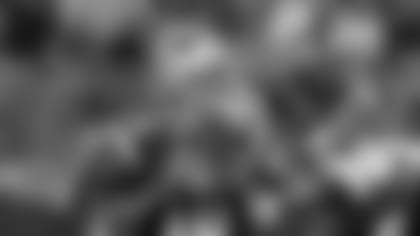 ]()Patriots Head Coach Bill Belichick has decisions to make at wide receiver, linebacker, running back and offensive line, but the performances he saw in last night's dismal 27-3 loss to the New York Giants might serve only to pique his interest in the ranks of free agents released by other NFL teams.
The NFL requires teams to trim their rosters to 53 on Sunday. The regular season opens next Thursday when the Patriots host the Oakland Raiders at Gillette Stadium.
Last night's game was bound to be a little dull, what with 32 Patriots, including all likely starters, sitting out. But Belichick had set the stage for a spirited battle among the wideouts battling it out for the final position or two in the Patriots' receiver corps.
The stakes were particularly high for Bethel Johnson. The third-year kick returner/receiver out of Texas A&M had been activated off the preseason physically unable to perform list just in time for the game and was sent on to the field, perhaps to try to save his job.
Johnson, who has averaged a solid 26.2 yards on 71 career kick returns, did not return kicks last night. Instead, Belichick sent him out with the offense, apparently to see if Johnson is ready to step up as a wide receiver after catching only 10 passes for 174 yards in 2004.
Johnson responded with all of two catches for 17 yards. Both passes came from Matt Cassell in the third quarter, a seven-yarder and a 10-yarder. Cassell went to Johnson on two longer passes as well, including a bomb down the right sideline that was a foot or two out of Johnson's reach.
If Johnson survives Sunday's cuts, it will be because the team still believes in his potential and because no one else stepped up and stole the job.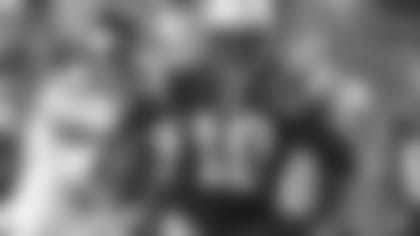 ]()David Terrell entered preseason as a likely roster lock. He joined New England this offseason after QB and former Michigan teammate Tom Brady recommended him to Belichick. He was the No. 8 pick in the 2001 NFL draft and has good speed to go with his excellent size (6'3", 212 pounds).
Terrell could have sealed the deal with a big performance last night. Instead, he had another quiet game, catching three balls for 21 yards. He showed good quickness catching a nine-yard pass from Doug Flutie on the final play of the first period. He also caught a seven-yarder from Cassell in the third quarter and five-yarder in the fourth. Cassell also threw incomplete to Terrell twice.
Andre Davis, a fourth-year player acquired last week from the Cleveland Browns for a fifth-round draft pick, also played most of the game below the radar screen, catching only two balls for 10 yards.
The receiver who appeared to help himself the most was P.K. Sam. The second-year player (fifth-round pick as a junior out of Florida State) caught only two balls for 19 yards but was open regularly and had five more balls thrown his way, including four misses by Cassell in the second half.
The Patriots will likely open the season with six receivers. Deion Branch and David Givens are locks, and Troy Brown and Tim Dwight appear secure. After last night, Johnson looks like the odd man out, leaving Terrell, Davis and Sam vying for two spots. Terrell ought to be the favorite, given his size, experience and the confidence of Brady, but this one will be a tough call with no obvious winner.
Last night's quarterbacks, Flutie and Cassell, were off target a lot, which didn't help the auditioning receivers and also didn't erase the perpetual doubt in these parts that an injury to Brady would ground the Belichick juggernaut.
Flutie, who started and played nearly all of the first half, had his moments during a drive that spanned the first and second quarters. He completed six consecutive attempts for 47 yards, but the series ended with an end-zone interception by New York's Shaun Williams on a pass that was intended for Davis but missed badly.
Cassell, meanwhile, managed to look both great and awful, with the bad definitively outweighing the good. He started the second half looking alert and decisive on back-to-back seven-yard completions to Terrell and Johnson. Then the wheels fell off and stayed off. Cassell missed on four of his next five passes, and the promising 17-play, 65-yard drive ended with a Vinatieri field goal.
The next Patriots possession was one Cassell would like to forget: two incompletions followed by an eight-yard sack with a lost fumble. Cassell's lack of game experience was evident as he seemed completely unaware of CB Frank Walker streaking towards him from the blind side and then failed to protect the ball, enabling Walker to jar it loose with a generic hit.
Cassell missed on all four of his passes on New England's next possession, then minutes later wasted a New England takeaway (Randall Gay interception) by throwing a pick on the first play of the possession.
On the night, Cassell was 6-of-21 for 45 yards. Flutie, meanwhile, was 8-of-13 for 69 yards.
While the Patriots' offense was consistently misfiring, the defense was having an up-and-down night, with two linebackers making strong bids for roster spots.
LB Eric Alexander was all over the field, making eight solo tackles and three assists and always showing up near the ball. Alexander is a long shot, but he did spend nearly all of last season on the practice squad before playing in the final three regular season games. He converted from strong safety to linebacker at LSU, and at 6'2", 240 would seem to have the makings of a passing-downs specialist at middle linebacker.
Also playing well last night was Wesley Mallard, a free agent linebacker and special teams ace signed in the offseason from the Giants. Mallard was very active last night, logging a sack, three solo tackles and two assists.
Belichick is taking a long look at his backup linebackers at the end of preseason, and he gave plenty of time last night to Don Davis, a veteran of the last two Super Bowl campaigns. Mallard, 26, and Davis, 32, seem to be in direct competition as special team specialists each trying to show that they can be effective on the regular defense. Davis had one tackle and one assist last night.
The Patriots last year broke camp with nine linebackers. Eight players (Willie McGinest, Mike Vrabel, Rosevelt Colvin, Monty Beisel, Chad Brown, Matt Chatham, Tully Banta-Cain and Larry Izzo) appeared to have positions locked up before last night. Banta-Cain suffered an injury, which might create a temporary opening. The team also could carry 10 linebackers.
There was also some action last night at running back, where there might be a job opening. Free agents Kory Chapman and Kyle Eckel have a shot at the practice squad and even at the roster, should the team choose to carry four running backs.
Chapman, a 2004 rookie free agent who spent much of last season on the New England practice squad, had another solid game (10 rushes for 39 yards, one catch for 14 yards) and ends his preseason with 29 rushes for 130 yards and four catches for 40 yards.
Eckel, a 247-pound fullback out of Navy, rushed 10 times for 34 yards last night and caught one pass for four yards. He finishes the preseason with 20 rushes for 80 yards and two catches for 11 yards.
Two other players were injured last night, in addition to Banta-Cain. Rookie safety James Sanders and receiver Davis both left with undisclosed injuries and did not return.
Rookie Ellis Hobbs got the night off from kick return duties but saw extensive action at cornerback, where he struggled against the Giants reserve quarterbacks and was victimized a few times. Hobbs was covering New York's Jamaar Taylor when Taylor caught a 46-yard pass from third-string QB Jesse Palmer in the fourth quarter.
Tight end Jed Weaver caught two passes for 25 yards last night. Weaver appears to have lost the battle for the third tight-end position to Christian Fauria, who was among the players selected to watch last night's game. Weaver has a shot if the team goes with four tight ends. Otherwise, he'll probably be snapped up immediately by another team once the Patriots announce their cuts.
Rookie free agent receiver Bam Childress returned punts throughout the game but averaged only five yards on three returns.