FOXBOROUGH – Once is an accident.
Last week in Miami, New England's defense gave up eye-popping yardage totals, but also came up with a goal-line stand and big plays in the fourth quarter to seal a win. Tom Brady and the mechanical offense also helped.
Once is an accident. Twice is a trend.
In their home opener against the Chargers, the Patriots defense again surrendered obscene chunks of yardage, mostly to wide receiver Vincent Jackson (10 catches, 172 yards, 2 TDs), and were pathetic on third downs (stopping San Diego just twice in 12 tries). However, when the situations looked at their most desperate, the Patriots defenders came up with huge plays at the most opportune times, including another goal-line stand.
"We stepped up to the plate today," linebacker and co-captain Jerod Mayo declared afterward.
"They have a very explosive offense, a lot of weapons. It was a great challenge for us. We'll go study the tape tomorrow. We'll enjoy the win tonight, but we still have a lot of work to do."
"I'm happy with the victory," echoed linebacker Rob Ninkovich, who had a fumble recovery in the fourth quarter, "but there are still little things we need to work on as a team and keep improving. The season is 16 games and every week you have to get better."
And that's the thing about this new-look Patriots defense right now. It's deceptively productive. It appears to be handling itself against the run. In both games this season, New England has held its opponent to just 98 yards total on the ground. And on the goal-line stand, McCourty shot through an opening on the right side of the Chargers o-line, gobbling up a would-be blocker, which allowed Mayo to leap over them and take down running back Mike Tolbert just short of the end zone.
Conversely, the defense is yielding unacceptable real estate through the air. Even more surprisingly, much of that is coming against last year's big-play corner, McCourty.
"Made a couple of good stops," cornerback and co-captain Devin McCourty lamented, "but then there are other plays where I got beat on two touchdowns. So, I think right now, it's just trying to be consistent, not just making great plays sometimes, but keeping that going and stringing them together."
On the stat sheet, this year's version of the Patriots defense looks a lot like last year's group. But so far, there's something different about the 2011 squad.
The potential exists, it seems, for anyone to make a big play. Which is precisely what happened Sunday evening.
Interceptions by safety Sergio Brown and nose tackle Vince Wilfork, each the first of their careers, came when the Chargers appeared headed for tying or potentially go-ahead scores. A forced fumble by Mayo and a strip-sack by Mark Anderson, his second QB sack in as many weeks, rounded out the defensive highlights.
Plays like these are buoying the confidence of the players, even as they struggle to find a cure for what ails them in between.
"That's key, when you play defense, your job is not to let them score," McCourty continued. "That goal-line stand, Sergio's interception, Vince's interception, the sack-fumble, those are game-changing plays. Of course, as a defense, we want to be more consistent and keep those yards down. But no matter what, we need to continue to make those game-changing plays. That's our goal: keep making plays and create turnovers."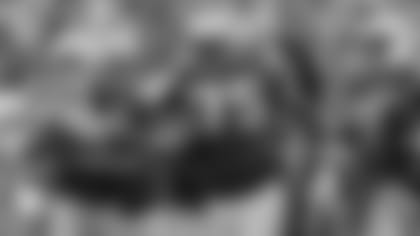 "You know, we've said ever since training camp that the goal line has to be ours, and that mental toughness really showed up down there," Mayo added.
It has also helped that this defense has been playing predominantly with the lead over these first two contests. For the second week in a row, the offense scored five TDs in methodical, pitch-and-catch fashion.
"We still have to work on the yardage and third-down defense," conceded Mayo. "But we showed great mental toughness, coming up with huge turnovers and playing complementary football."
And if you think next week at Buffalo is a gimme, think again. The Patriots may have beaten the Bills every time since 2003, but, like Tom Brady, Buffalo's Ryan Fitzpatrick has thrown seven touchdowns to just one interception. With Fitzy leading the way, Buffalo is a team that can score points just as often as New England.
Once is an accident. Twice is a trend.
If the Patriots can't fix what's dogging their defense before heading to Buffalo next weekend, three times could be a problem.