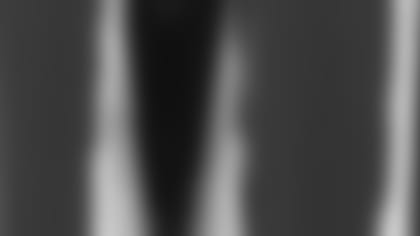 ]()
            As the Patriots got back to work Wednesday in preparation for this weekend's trip to play the Jets in New York, the team took time to acknowledge today's one-year anniversary of the Sept. 11 terrorist attacks. One of the players most closely affected by the terrible day a year ago, guard Joe Andruzzi, took time to address the media. As he had done a year ago on the day after the attacks, Andruzzi answered questions in regards to the effect the events have had on his family.  

A native of Staten Island, N.Y., Andruzzi comes from a family of firefighters in the New York city area. A year ago at this time he wasn't even sure of the status of his three brothers, Jimmy, Mark and Billy, who are firefighters, and the rest of his family. His younger brother Jimmy had been in one of the World Trade Center towers, but got out just before it collapsed. Billy was also at the scene aiding in rescue efforts, while Mark did his part in relieving other firefighters later in the night. Andruzzi said that today was difficult for him, simply reliving the events of last Sept. 11 in his mind on both personal and more large-scale levels.
"Today you just want to remember and think about your family and loved ones and what happened, what changed us and how everything came about," Anduzzi said. "It was a sad day that a tragedy did that, but it did that for all of us. Me personally, I was involved, I have three brothers who have been involved since day one out there and it's just one of those things where…you know we were already a close family, it just brought us closer."
"It was just hard getting up this morning and thinking, last year at this time I was at the dentist and that's when I first heard about it," Andruzzi said. "By the time I got home I was just thinking about, it was about five hours, just sitting there and not knowing anything. Just struggling for a couple hours there and finally getting a call. My dad got a call from stranger on the street that my brother had handed a phone number to. He just said, 'Tell my parents I'm okay' and my father got hold of me and that's when I got the message."
While Andruzzi said that he wouldn't call it celebrating, he and his family are extremely appreciative for their own good fortune and realize that many others weren't as fortunate.
"I'm thankful that my brother is back with us," Andruzzi said of his brother Jimmy. "My family is fortunate enough to have him back. A lot of other people out there are not as fortunate as we were and that's something you look back at and something our whole family is trying to help out with in any which way we can."
Looking back on the last year as a whole, Andruzzi has had an up and down time both personally and professionally. On the field the team went from an 0-2 start to Super Bowl champions. Off the field he dealt with Sept. 11, he and his wife had a miscarriage and he had a strange off-season virus that brought him extreme pain and disrupted his entire life. But he has bounced back from the virus to play in this season's opener and just before training camp his wife gave birth to a new son. Andruzzi says he will look back on all of it as a growing experience that will make him stronger.
"It was a long year, and you think about the good and the bad," Andruzzi said. "I don't focus on one thing. Just look at the good versus the bad of course, but in the back of your mind you've still got those flashes and you've still got those things to look at…I believe that deep down that that's going to make you stronger."
Andruzzi also looks back with extreme fondness on the end of last season and the fact that he was able to enjoy the wave of winning that the Patriots went through with his entire family.
"We came back and had an incredible run at the end of the season," Andruzzi said. "I had my family there at every game, including that last one. To just be able to celebrate with them on the field and just have something that was accomplished by myself and my teammates, that is something that not many guys have gone through."
Without a doubt it has been an extreme roller coaster of a ride over the last year for Joe Andruzzi. He has been through more, both good and bad, than most will go through in an entire lifetime. But he hasn't let that sour him on life or his approach to it.
"It's been up and down and it's been a struggle over the past year, but you go out and there are a couple of curves in your life and you have to take them.