FOXBOROUGH, Mass. - The opening of the free agency period in the National Football League Wednesday also signaled the departure of a key veteran player for the Patriots, as unrestricted free agent Joe Andruzzi signed with the Cleveland Browns.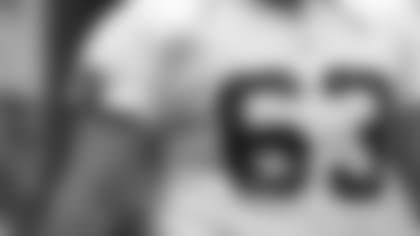 ]()Andruzzi, an eight-year veteran who played the last five seasons in New England, signed a four-year, $9 million contract with Cleveland according to published reports citing his agent, Joe Linta.
The contract represents a significant raise for Andruzzi, who made $1.2 million last season.
Andruzzi, 29, has been a cornerstone of the offensive line in his five seasons with the Patriots, starting all 72 games in which he appeared. The 6-foot-3, 312-pound veteran of eight NFL seasons was also the most experienced member of the unit, playing in 95 career regular season games and nine career playoff contests. He played in all 16 games in 2004 for the third time in four seasons and was also a starter on all three of the Patriots Super Bowl teams.
The signing reunites Andruzzi with two former members of the New England coaching staff. Former defensive coordinator Romeo Crennel was named head coach of the Browns on Feb. 8, while Jeff Davidson, the former tight ends and assistant offensive line coach, now works with the offensive line in Cleveland.
"Joe [Andruzzi] is a tough, hard-nosed, blue-collar football player who started every game for the Patriots last season," said Crennel in a statement released by the team. "He gives us flexibility by being able to play both left and right guard, and he will add stability to our offensive line. Aside from Joe's contributions on the football field, he will be an asset to the Cleveland community."
Andruzzi endured a challenging route into the NFL, signing with the Green Bay Packers in 1997 as an undrafted free agent after a career at Southern Connecticut State. He was released by Green Bay after three seasons, signing with the Patriots during the 2000 season.
While Andruzzi is the first unrestricted free agent to leave this offseason, he isn't the first veteran who has parted ways with the Patriots since the end of the season. The Patriots declined to pick up a team option on the contract of wide receiver Troy Brown for the 2005 season, and also released veteran cornerback Ty Law and linebacker Roman Phifer in the last week.
The Patriots remaining guards include restricted free agent Stephen Neal and reserves Russ Hochstein and Billy Yates. Neal, who was offered a $1.43 million tender on Tuesday, started 14 games at right guard this season. Hochstein played in all 16 games this season and started the first two games of the season at left guard, while Yates was a member of the Patriots practice squad since early September.