Earlier Monday, ESPN reported that Patriots rookie QB Jimmy Garoppolo would start the team's preseason finale at the New York Giants Thursday, and that he would see significant time – possibly the entire game. The report had the added cachet of confirmation by head coach Bill Belichick (via a team spokesperson).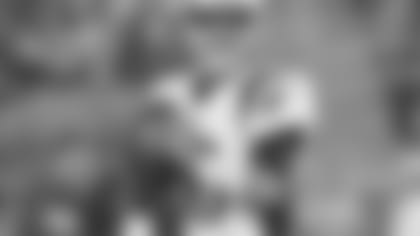 Additionally, the report stated that New England has not yet decided whether Garoppolo or veteran Ryan Mallett will be the team's No. 2 passer behind Tom Brady.
"I'm excited about it," Garoppolo admitted Monday. "It's a good opportunity to get out there and get some quality reps. It's going to be fun."
The 22-year-old has been having a lot of fun in the team's first three preseason contests. His numbers bear that out: 24 completions in 37 attempts, 334 yards, four touchdowns, and perhaps most importantly, no interceptions or sacks.
His play thus far seems to have made it difficult for the Patriots coaching staff to decide on who the clear-cut backup to Brady will be come Week 1 at Miami.
"I came in with the mindset that I'm going to practice and study as if I was the starter. If you want to be a successful player in this league," asserted the youngster, "you have to take the mental reps, the physical reps, and take advantage of your opportunities.
"You always want to come in with a good attitude, thinking that you're going to succeed. Having that mindset really helped out a lot. It's the opportunity that matters. As long as you get an opportunity, that advantage of that. Just showcase what you can do with the players around you."
During the first couple of weeks of training camp, Garoppolo was playing like a rookie – that is to say, inconsistently. Since then, he's reached a much more stable level of solid play, beginning with his debut at Washington in the preseason opener. He acknowledged that having success in his first outing was a confidence booster.
"[Washington] was a big building block," he continued. "Just getting in a rhythm with the offense. I've got a great group of guys around me, who've really made my job a lot easier. Week in, week out, I'm improving. If you do that, it makes your job a lot easier.
"I'm still a rookie. I have long way to go, a lot to learn still," he was quick to conclude. "That playbook's pretty thick. If you keep learning day in and day out, you're on the right track."
One of Garoppolo's prime beneficiaries this summer has been second-year wideout Brian Tyms, whose job, unlike the rookie quarterback's, is anything but guaranteed.
Tyms is one of those so-called "on-the-bubble" players fighting for a spot on the 53-man active roster, with two cut-down dates looming this week: from 90 to 75 on Tuesday, and to the final 53 on Saturday (practice squads are made up on Sunday). He seems to have done his best to impress, with nine catches in three games for 163 yards and a pair of touchdown catches.
"For the most part, yeah, but I also left a lot of plays out there," he lamented. "I have to do a better job of reading coverages. There's always work to be done, but I feel, for the most part, I've done pretty well."
Even if the 25-year-old receiver makes the team this week, he must serve a four-game league suspension to start the season – something he called "ridiculous" because he was approved to take the medicine that got him in trouble, but the approval was not retroactive. With that in mind, he maintained he was more excited than usual to take the field this Thursday in New York, because it's another chance for him to prove himself.
"I love it here. They actually gave me a chance to show what I can do," he declared. "And they keep coming back to me, no matter what quarterback is in there. And I really appreciate everybody for that.
"I approach every day like I have something to prove. I'm very competitive."
Despite the cuts that are certain to come, Tyms insisted that he hadn't felt any sense of nervousness among his teammates. However, he laughed when asked if he would sleep well this week.
"I mean… maybe? It's difficult to say. It's always in the back of your mind.
"It's not the end of the world if you get cut," he mused. "I've been cut three times… And you never know, you could be back in the same place."
The Patriots didn't wait till Tuesday to begin cutting players. Monday morning, the club made a surprising move to cut erstwhile starting defensive lineman Tommy Kelly, along with veteran defensive end Will Smith, linebacker James Anderson, and rookie tight end Justin Jones (for the second time this summer).
Kelly's dismissal would seem to reinforce the idea that no job is entirely safe in the NFL. But without Kelly, Smith, and Anderson in the mix anymore, younger players like d-end Michael Buchanan and linebacker Steve Beauharnais live to play another day – at least.
"That was surprising," Buchanan said of Kelly's release. "But that's up to the coaches."
He admitted he's feeling the sense of accompanying pressure and nervousness this week in preparation for the preseason finale.
"I would say so. Obviously a lot of guys aren't going to be here anymore. It's a lot of motivation, knowing cuts are coming. It's a big game for me, and a lot of the younger guys here. It's the last test to prove ourselves. It's definitely going to be a big challenge. I'm looking forward to it."
"I don't think anybody should be nervous," remarked Beauharnais. "Just control what you can control, really."
Health-wise, the Patriots welcomed two key players back from injury Monday when right tackle Sebastian Vollmer (unknown) and defensive tackle Sealver Siliga (left hand) suited up for the full-pads workout. Rookie linebacker Cameron Gordon (unknown) also came back after missing several practices.
Siliga did not appear to have any cast or noticeably wrapping on his damaged left hand, but after team stretching period, he went with a handful of other teammates down to the lower practice field for conditioning work.
Not seen in uniform were D-linemen Chris Jones (left ankle) and Ben Bass (unknown), rookie running back Tyler Gaffney (left knee), and rookie OL Chris Martin (NFI/unknown).