In Bill I trust, but he is causing me to develop a heart condition this year. Taking a loss on Sunday [to the Jets] would have been brutal. I know we have lost to some really good teams, but it just feels we are not playing up to our potential. We have great weapons on offense and defensively we have upgraded so where is the hold up? Is it a maturity thing, guys not fully understanding the game plan or does our strategy stink? Again I don't want to get too negative but wondering what you guys think of this teams potential and have we lived up to it so far this season? Seems like we are making a lot more mental mistakes than we have in the past.Mike Anderson
Why can't the Pats close out games anymore?Jaime Garcia
We're asking the players and coaches that every week, and here's what we're getting for answers: lack of execution by the offense in crucial moments, and an insufficient number of plays by the defense. Sound simplistic? Maybe, but it also happens to be true.
The offense clearly has talent to score points, but it often seems like when the game is on the line, some of the play-calling leaves you scratching your head (for instance, why abandon the running game for stretches when it seems to be working so effectively?). And the players sometimes look like they're playing not to lose, rather than playing to win. In large part, it appears to be an attitude problem on offense. Defensively, the front seven is playing better than last season, but the secondary is still a shambles. That area remains the Achilles heel of this team. The DBs are giving up too many big plays which allow opponents to extend drives.
It's kind of funny how this latest win against the Jets still feels like a loss in many ways because of the way the game unfolded in the second half. Erik Scalavino
How much worse can this Patriots secondary get? I would even dare to say it's worse than last year's! Given there have been injuries but honestly it hasn't been much better even with Chung and Gregory. The way I look at it is there are two possibilities left. One is to trade for an elite cornerback and/or safety to try to fix this thing. The other is to give up on the season and hope we can pick up someone in next year's draft/Free agency because honestly, we're not going anywhere as far as playoffs are concerned with the secondary we have now.Matthew Winkelman
Actually, Matthew, there is some hope that this secondary can be slightly better than last year's. Not much better, mind you, but slightly. I like what I'm seeing in the emergence of rookie Alfonzo Dennard at corner… but that's about it. And remember, the Patriots went to the Super Bowl last year with sub-par play in the secondary. Besides, aside from Houston, there don't seem to be many other teams that can boast that they're better than New England overall. So, keep hope alive, my friend. Erik Scalavino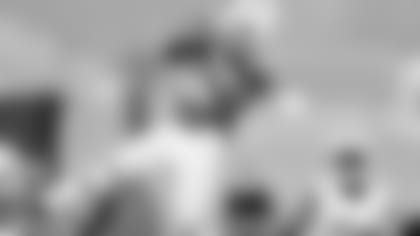 Hi guys… Do you think that the problems in the secondary have more to do with football intelligence than talent?Monty Borrowman
Nope. There's just not a whole lot of talent back there. Erik Scalavino
What has happened to Brady's ability, or should I say inability, to accurately throw the long ball? Years ago he was one of the best, but I can't remember the last time that he hit a receiver in stride on the hands to complete a bomb.Gary Goldstein
First of all, the long ball is the toughest pass to complete in football, and Brady, like so many QBs, was never a great long-ball passer. His best moments in that department came in 2007, when he had Randy Moss on the other end of those tosses. Think for a moment what's missing from that equation today and you'll find your answer, Gary. Erik Scalavino
What became of the situation in the Seahawks game when Brady took the vicious helmet to helmet hit? Was Brady hurt? Did the guy get suspended? Fined? This was over the top.Lee Ann Betz
Actually, the Seahawks defender in question, Jason Jones, was fined $15,750 by the NFL for that particular hit. Erik Scalavino
I recall seeing on the NFL channel a story about the Dallas Cowboys and their coach. It was many years ago and the gist of the story was that they had good players but were not winning. Anyway the coach decided that the problem was that his system was so sophisticated that his defenders were spending too much time in their heads with the 1-2-3s, Xs and Os, and not using their natural abilities. In the interview that coach stated that he had to simplify the schemes for his team and he did so. They started to win games consistently from that point on. Could this be part of the Patriots problem? I find it difficult to believe that every guy (DBs) the Patriots either draft or pick up in free agency over the last several years is inept. Should BB and his coaches loosen the harness? Dana Sullenberry
There is something to be said for simplifying the playbook terminology. New England's offense has done this to accommodate its high-speed no-huddle offense, using one-word play calls that all 11 players can use to identify what they need to do on a particular play (The Boston Globe's Greg Bedard wrote an interesting piece about this following the Broncos game). It seems to me the defense might want to tear a page from the offense's playbook and maybe try a similar approach. Football has become far too complex, you're right, Dana. Hey, at this point, anything's worth a try to help fix this ailing secondary.* Erik Scalavino*
Sergio Kindle was waived by the Ravens. He was one of the "why did we not draft him, he is an edge rusher" candidates in 2010. Now that the Pats have switched to a 4-3 base, is he worth a workout look? We could use another edge rusher. Michael S.
The Ravens have re-signed Kindle to their practice squad. He is no longer on the market. Of course, New England could sign Kindle off the practice squad, but I don't foresee that happening. *Erik Scalavino