What is wrong with TB12? Is it aBill O'Brienproblem? Finally, the defense comes out with a stellar performance in the 1st half and Brady throws it away. I didn't blame all the picks in Buffalo and Pitt on him, but these two fall squarely on his shoulders. Plus, it seemed like he was missing some pretty open throws (noticeably toChad Ochocinco). Also, what is wrong with Logan Mankins? Too much pressure now that he got his money? It seems like he's on roller skates way too often and he's making way too many dumb mistakes.
Pascal Rawls-Philippe
It's pretty evident that Tom Brady hasn't been his usual sharp self in the past couple of games. At least not for a full 60 minutes. Against Pittsburgh, for instance, he was overshooting his intended receivers (he had seven in that game … I track each of his incompletions for PFW each week); versus the Giants, he had eight overthrows, five passes defensed, and two interceptions. And in those latter two categories, the misfires were often a result of poorly underthrown balls by Brady.
That's a personal issue – physical or psychological – that you can't blame on his QB coach and offensive coordinator, O'Brien. Brady just seems to be having a normal experience with which any athlete can identify: a slump. They're not easily explained, equally difficult to diagnose and remedy. It happens to every player at one point or another.
The good news, if you can look at it as such, is that he has had flashes of brilliance late amidst this slump. Which tells me the problem is not too far gone.
Mankins is another mystery. He has more penalties than any individual Patriot heading into Week 10 (he has five, four of which are false starts; team penalties, such as delay of game, lead the way with six). I wouldn't blame his issues on money, either. He made a point of telling us back in August that he wasn't going to let the big bucks go to his head. Something's clearly affecting his brain, though, before the snap. Next time I talk to him, I'll ask him about it and see what he says.
Erik Scalavino
Was it just me or did Sunday's game seem like the season rolled into one game? At the beginning the defense played well and made all the stops. Then down the stretch with a couple of untimely penalties couldn't shut them down. The offense couldn't do anything in the first half and then looked great. I am worried if they continue like this down the stretch and especially this coming weekend that it will doom them. Where do you guys see the Pats finishing up? I looked at the upcoming schedule and I think best case they finish with 11 wins, but more likely with 10. Games with KC, and even Miami and Indy scare me.
Shawn Flanagan
Twelve wins, which I predicted before the season, are still within reach, but only barely so, I'm afraid. Problem is, with so many AFC teams bunched in the four-to-five-win area right now, winning fewer than 12 games might cost a team a playoff spot. Even an 11-5 record, as we saw with this team in 2008, isn't always a guarantee of a position appearance.
Seasons are like games, though. There are four quarters, and one half can be completely different from the next. New England is 5-3 heading into the second half of 2011. Simply equaling that mark in the next eight games might not be good enough for a postseason berth. The way teams on their remaining schedule are currently playing (including the Patriots themselves), I think 6-2 is a reasonable expectation, putting them at 11-5 and likely playing on Wild Card Weekend.   
Erik Scalavino
For the first few games, the Patriots were running the no-huddle offense all throughout the game and were pretty much unstoppable. As I was listening to the [Giants] game, I noticed that they had not been, so I went back and looked at the previous few games and found that they have not been [going no-huddle] lately (except for the usual times, end of half and end of game). Do you know why they stopped running it? Thanks from Ohio.
Patrick Connolly
Great observation and question, Patrick. The Patriots seem to have the most success offensively when they put defenses on their heels and force them to substitute frantically between plays. And they've done that late in games, as you indicated, when they've desperately needed to put points on the board. That all-out approach may not be best for every situation throughout the course of a game, but, like you, I'm a little surprised we're not seeing it more frequently before the fourth quarter.
I asked Belichick about this on Monday and he gave me quite a detailed response. Essentially, he said it's not always advantageous for the offense to go no-huddle, because they're restricted to the players that are on the field. As a result, not every play in the playbook is at your disposal, and that could actually hurt the offense more than it helps.
Erik Scalavino
Hey guys, great job. I love the column. My question is how come Patriots defensive backs are always lined up seven-to-10 yards away from the receivers? They never press or play bump-and-run. I'd imagine some off that is to not get beat deep, but the way it's going now, these guys are getting a free release, running five, seven, 10 yards or more and getting easy catches. What's the deal with it? It is painful to watch. Thank you. Keep up the good work.
David Riberdy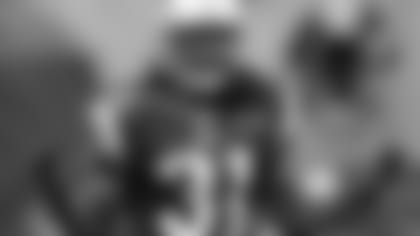 I have been a fan of the Patriots since 2000 and I have never seen a Patriots team this bad. Our defense can't do anything. We play too far off the receivers. Why not press the receivers? We can't tackle. Why doesn't BB do something about this? Instead he keeps playing the same guys over and over again and they aren't producing. What happened to McCourty? Last year as a ROOKIE he rocked. He got interception, he could cover. Now this year they all are playing just horrible. This sport isn't based on offensive play, BB, so make some well needed changes in the next offseason and get this defense producing!!
Logan Willow
I'm guessing, if they had their way, the defenders would prefer to be more physical and aggressive more often with the receivers they face, but they're coached to do something different, based on the philosophies of Belichick's scheme. One reason for this could be the communication issues that have often been mentioned by players in media interviews this season. With so many moving parts back there in the secondary – from new players to injuries forcing reshuffling in the lineup – being on the same page is imperative.
For instance, if a corner is pressing and gets beaten, he should expect help from his nearest safety. However, if that safety is reading the offensive formation differently and not communicating this to the corner, the results could be disastrous for the defense. Consequently, you might see corners backing up more to guard against the deep ball, because they're not sure they have the help.
Not saying this is definitely what's going on with New England, but there's not much experience in the Patriots secondary these days, so, it's something to consider.
Ask any corner, though, and he'll tell you he'd rather be pressing than sitting back giving a receiver a cushion … especially a cushion that's greater than the yardage needed for a first down, as has happened so often this season against the New England secondary.
Erik Scalavino
Hey guys. Well, the offense got into a groove a little too late and the defense couldn't hold up in the end although they played a lot better than anyone expected. I know a ton of people are going to email you describing the falling sky, how Brady is somehow becoming a regular Joe, and the defense is the worst in the history of the NFL. However, its only three games (yes, I realize the last two we played we have lost) and we are still in a three-way tie for the division lead. Beat the Jets Sunday night and we are in control of the division again. On a side note, the facemask/visor combo that [Giants defensive lineman Chris] Canty wears is intimidating! That thing looks evil and sadistic! Perhaps the offense was intimidated by it at first?
Michael Maxey
Good to see some of you haven't lost your sense of humor about all this. The NFL is supposed to be entertainment for its fans, after all, not life-or-death.
Erik Scalavino
When was the last time the Patriots lost three in a row?
Bruce Timbie
It was during a four-game losing stretch back in 2002.
Erik Scalavino
I have for months been hearing all types of rumors of transactions (i.e., Jared Allen or Dominique Rodgers-Cromartie). We do have a weak secondary that lacks a veteran presence that is reliable. Has there been any discussion in possibly acquiring safety Darren Sharper or cornerback Asante Samuel? Any thoughts whether this is a good deal and is there any chance it could happen, because I think it's time to upgrade are secondary.
Anthony Gallipoli
Doesn't matter if it's a good deal or not, Anthony. The NFL trade deadline for this season has come and gone. There'll be no more dealing again until the offseason.
Erik Scalavino