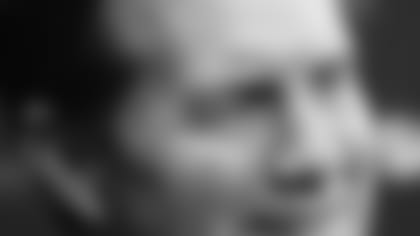 ]()Why is Bill B such a hard [butt]. He must be one the most grouchiest, pessimistic coaches around. Bill, I don't know if you read the paper, but you are 12-1 and won your division.... lighten up. His press conferences are like listening to C-SPAN. "You would have to ask him", and "When I have some information, I'll let you know" are typical responses. There is nothing wrong with striving to be the best, and looking to improve, but this guy takes it past the extreme. Even after the Super Bowl, you had to hit him with a cattle prod to get him to smile. Hey, Bill...RELAX! You are the head coach of the world champions.... enjoy it!*
*Shane Griffin
You really want him to relax Shane? I think he goes with his style and it seems to work. He doesn't look at himself as the coach of the world champions anymore. That was last year. I understand what you mean since he appeared miserable last week, but I think that's because, while 12-1 is nice, he knows that if his team plays the way it did against Cincy, his stay in the playoffs will be short-lived. He expects his team to be improving in December, not declining. His team allowed a punter to run 11 yards for a touchdown and barely got in the way of the Bengals offense. That's why he was so miserable. His team was "bailed out" by three takeaways last week or they would have lost. He is not satisfied with 12-1. I think the way he manages the team and his approach contributes to its success to whatever extent that can have an impact. He's always thinking about what will happen next, not what just happened. So he is not happy until that goal is reached. I've seen him happy plenty of times after wins. Last week was not one of them. He's never going to be giving celebratory cat calls in the press conferences.
Do the Patriots ever play a 4 3 defense? Why did the Patriots sign Marquise Hill with a 2nd round pick? Was he just an insurance policy on Ty Warren or do you think the Pats have plans to move him to LB?
Eric Carroll
The Pats play some 4-3 defense in just about every game. They are a multiple front team who mixes and matches personnel. Their base D is a 3-4, but they certainly line up with four linemen at times as well. Hill is a guy they drafted on potential, apparently. I find it strange that a second round pick hasn't even smelled the field, but they drafted him with next year in mind and by all accounts, he came out too early. Belichick certainly had enough info on him since he played for Nick Saban at LSU, but I have to question spending a 2 on a guy with no chance to contribute as a rookie even if he is a defensive lineman. I've heard that he would have been a top 15 pick this year if he stayed in school so take that for what it's worth. P.K. Sam came out too early, but didn't get picked until the 5th round. Perhaps they view Hill as a 2005 first round pick and if they are right I will say I was wrong. But I want my second round picks on the field as rookies. He will never play linebacker. He's a freakin' giant.
How many safeties make the Pro Bowl for each conference? As it is right now both Rodney Harrison and Ed Reed are playing great football and both deserve to be in. It would be a travesty if 1 of them didn't make it. Also, do you think Eugene Wilson has a chance to make the pro bowl at free safety?
Steven Andrew
Three safeties make it to the Pro Bowl and last year it was two free safeties and one strong from each conference. If that's the case again this year then Harrison has no chance because he plays Ed Reed's position and Reed is a hands down lock to make it. He might be the league's defensive MVP. I would also say that Wilson is a long shot.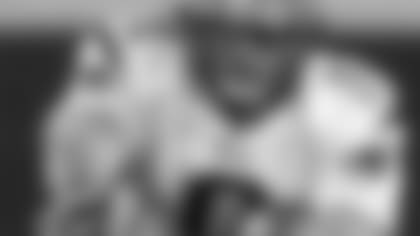 ]()I was at the Bengals Game and I watched as Josh Miller booted the ball from the back of our end zone to the Cincy 30. Probably the longest in air punt I have ever seen. With the addition of Dillon to the team and the fact that punting is not a glorious profession it seems like Miller is being overlooked when people talk of the things that have helped make this year's team have the best start in team history.*
*Mike
I think with the exception of a game or two, Miller has punted very well this season. His statistics were badly impacted by one terrible game against Baltimore when he punted 8 times for a 32.1-yard average that ended with a woeful 25.6-yard net average. Through 10 games, Miller was second in the AFC with a 45.3-yard gross average and third in the conference with a 37.6-yard net average. Immediately after his performance against Baltimore, he fell to eighth in the conference in gross punting (42.5) and 12th in net punting (35.1). Then he went to Cleveland punted twice from the Browns 35-yard line, landing one on the 8 and the other in the end zone for a touchback. That game further hurt his averages and his rank. But overall, you are right. He has been excellent this season and has helped the Patriots gain some field position. His 13 punts downed inside the 20 against 5 touchbacks is not a great ratio. His 69-yard bomb against Cincy was impressive.
With Weis headed for Indiana, and Belichick and Pioli's contract slated to end in 2006, what do you think will happen with the Patriots? Will Belichick return? And who do see as a possible replacement for Weis? Will they look outside the organization or hire within?
Thanks, Andres Ochoa
I'm not worried about Belichick's contract. He's here as long as he wants to be and the contract will not get in the way of that. As far as Pioli goes, I'm less sure about that beyond 2006. When his contract expires, it's obvious that he will have some suitors. As far as Weis goes, there is no true indication of what Belichick will do to replace him. On the inside, it would seem Jeff Davidson, Ivan Fears or Dante Scarnecchia could get the nod. Davidson called plays when Charlie was sick a couple of years ago and that has led to speculation that Jeff will be promoted. But it could just as easily come from outside. Bill has many connections in the coaching world and my guess is that he has someone in mind already. He also could elect to handle the chores himself while delegating some of his work to Scarnecchia, who is the assistant head coach. Davidson coaches tight ends now and works a lot with the running and passing game, which is good experience. On the outside, how about a guy like Mike Sheppard? Who's that you ask? I don't really know, but if we're just looking for names to throw out and try to piece together, why not Sheppard. He was a college head coach at New Mexico and then the offensive coordinator at Cal before joining Bill Belichick's Cleveland staff in 1993. He coached tight ends and then receivers for the Browns. He stayed with the club when it moved to Baltimore in 1996 and called plays for the Ravens under Ted Marchibroda. In 1997 and 1998, he was Kevin Gilbride's offensive coordinator in San Diego and in 1999 and 2000 he was Mike Holmgren's QB coach in Seattle. He was Gregg Williams offensive coordinator in 2001 in Buffalo and has spent the least two seasons coaching quarterbacks in New Orleans. Get used to this type of stuff linking anybody with a Belichick connection to the job. I don't know Mike Sheppard from a hole in the wall, but he is experienced. Maybe Pat Hill, who is the head coach at Fresno State and a former Belichick assistant, would like to come back to the NFL as a coordinator. We'll keep guessing until a hire is made.
With Cincy making good yardage in their run game, I kept looking for Ted Johnson to be paired up with Teddy B, but didn't see him in at LB that often. Was he hurt or just a bad defensive plan? Also, I know that Cincy has been scoring of late, but they seemed to be moving the ball at will as they did in the preseason game. Is there a major flaw in the D (other than the loss of the two Tys) that other teams will now pick-up and exploit?Otis Hill
Ted Johnson was dinged up a little in that game. I believe he had his bell rung. Or as the team might say, he had the wind knocked out of him. That said, the defense was terrible against Cincy. I know they are strong on offense and have plenty of weapons and they get paid too, but the Patriots are supposed to be strong on defense and were anything but in that game. The Bengals offense was balanced and diverse enough to attack a secondary that's playing without the Tys, as you said. So don't discount that, but it was more than that, which is why Belichick was unhappy after the game. Defense like that will mean an early playoff exit.
If the Pats lose the rest of their games and the Jets win all theirs, they would be 12-4 while splitting head to head. Who gets the division? I can't see that ever happening but stranger things have happened.
Larry Chicoine
It's over Larry. The Patriots already clinched the division.
Do you think Corey Dillon has a good chance to win the NFL Comeback Player of the Year award?
Nathan Graf
I would say he has a chance, but what about Mark Fields, the Panthers linebacker? He returned from cancer to play this season. I'd say he has a better chance at it and would certainly get my vote.
I pretty much plan my life around the PATS, and so when I sent my application for early admission to NYU while we were getting clobbered by the Steelers and ending the streak, I freaked out. I was sure that it meant that I wasn't going to get in because if the Pats weren't winning how was I going to? But it looks like it's good news all around! I just learned that I was accepted and that I'll be starting as a freshman in the fall and the PATS are 12-1.... Just wanted to let you know!Emily Distel
Congratulations Emily. Now you be careful down there. Don't stay out until 4 a.m. and stay away from all of my friends that live in the area. But have fun in the Village at the theater and at the museums. Grocery shop at Zabars and eat bagels from H&H. In fact, make sure you eat well. I love the family style Italian - Carmine's or Tony DiNappoli's. Make way your way up to EJs Diner on the Upper West Side for a well worth-it chocolate milk shake. And don't coast through your final semester of high school. Keep working.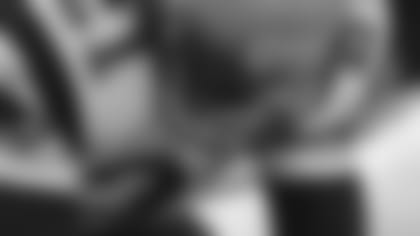 ]()I have heard Willie McGinest refer to Randall Gay as 'Blue' when he talked about the fumble return for a TD against Cleveland. Tom Brady also called him Blue. Is that a nickname or something? Please respond. A lonely diehard Patriot fan in Maryland.*
*Kenneth
It's a nickname he's had since he was kid and there are different theories on why it came about, but he's not positive where it started.
I know injury reports have been a big issue this year, especially when & how much the Patriots disclose. My question is, don't the league requirements which compel teams to disclose the specific body parts that are injured actually increase the risk of injury? I mean, if you're a defensive end who knows that Tom Brady's right shoulder is injured, wouldn't you be willing to risk one or two roughing the passer penalties if the potential reward is getting Brady out of the game? Why does the league require that teams disclose these injuries so they can be picked on?Haris H.
Well, I suppose a player could do that, but I'm not sure that's what guys are thinking about during a game? I mean they all appear on the injury report at one time or another and what goes around comes around. A guy who takes that approach would get his eventually. I hope guys aren't purposely trying to injure fellow players in a league where anybody is one play away from their career ending or worse. I believe the league's rules on injury reporting are designed to prevent the information from becoming valuable to people who might have a financial interest in it. It eliminates the probability of improprieties (i.e. helping illegal bettors and bookies). Why the actual body part has to be specified is beyond me. To me, it should be is the guy playing? If you don't know, is he probable, questionable, doubtful or is he just out? I don't care why he's out other than the fact that it's my job to report the information. If I was a fantasy football player, do I care why Michael Vick might miss eight weeks? No. I care that he will miss the time. Relax, Michael Vick is not hurt; I'm just using him as an example. I don't know how specific injury information helps the gamblers, but I'm ignorant to that stuff. I guess if a running back is questionable with shoulder or questionable with an ankle, there might be a difference there since the ankle might have a more direct impact on his performance.
Tom Brady is a real trooper. It is obvious his arm is not right. How many times have you seen Tom Brady underthrow a receiver who waits on the ball, makes a catch and is tackled for a 40-something yard gain? He has underthrown Johnson, Patten, Givens and Branch at least once each. If his shoulder was healthy, he would have about 10 more TDs. He has to do a better job of leading them. Brady is a great QB, but if he is on the same team with Peyton Manning- Brady sits. If Manning were on the Pats he would have won just as many games, if not more. Brady benefits from having a better defense, just like Montana did.
Griff Thomas
Thanks Griff. I will add you to the infinite list of people that thinks it requires a good team to win the Super Bowl more so than a good player. Brady is a good player on a good team just as Manning would be if he were in New England just as Montana was in San Francisco and Elway was in Denver. Tom has underthrown some balls. Sometimes when he throws a deep ball to a covered receiver, he underthrows it to give his guy a chance to come back and make the catch or maybe draw a penalty. He had a play recently where he overthrew a wide-open David Givens down the field for a touchdown. His 48-yard bomb to Patten last week was pretty well thrown. So I think he has a little bit of everything. Is his shoulder hurting? It might be. He's not saying. It's obviously not 100 percent healthy, but how much it has affected his throws, I can't speculate on that.
Hi, Which position(s) do you see the Patriots will go after in this upcoming NFL draft? Who do you see are potential picks in the 1st round? Do you see them going up the board in the 1st round?
Nelson Kong?
Nelson, why do we have to talk about the draft when the team just clinched a division title and will be playing football until at least Jan. 15 and maybe beyond? I have no idea which players they might target or covet. I would like to see them go after an inside linebacker, a corner and another receiver on Day One. How's that? I have not really begun looking too hard at the college players as of yet so the names to plug into those positions, I'm not sure of.
Looking at most of the inside linebackers this year, I honestly think that Bruschi should get a look for the Pro Bowl, if he keeps producing. Ray Lewis, lots of tackles, but that is it. Same with Zach Thomas. Meanwhile all Bruschi does is make plays. Bruschi: 3 sacks, 2 ints, Sugar Ray: zippo. Am I wrong in saying that James Farrior and Bruschi should have the edge here?
Dave Isaacson
I thought Bruschi should have gone last year so I will lobby for him again. How can Thomas go from a 2-11 team? That's not to say he didn't have a strong season. He did, but Bruschi has played well enough to go and when you factor in the team's success, I think he belongs. My guess is that Lewis goes and probably deserves it. But the Ravens haven't been as strong against the run as in years past so maybe he is slipping. Bruschi to Hawaii. Start the campaign now. Do your part and vote at NFL.com.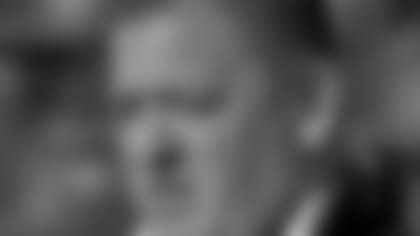 ]()How many years does Tom Brady have left on his contract with the Patriots? Do you see the Patriots making any big moves in the offseason? Is Cobbs ever going to get any running time this year and what is the status of Ty Law's injury and his contract?*
*Jason Downs
Guys, the Patriots are 12-1 and headed to the playoffs. They are not 1-12 and headed to early draft prep. Why are we so concerned about the offseason? Brady is signed through 2006. I haven't yet thought about what they might do in the offseason, but if hiring a new offensive coordinator counts, that's a big move they'll make. I'm still in in-season mode. Cobbs will not play much this year as long as Dillon is healthy nor should he. Law will be back in a couple of weeks and is signed through next season, although with an exorbitant cap number of more than $12 million. I think that number will have to come down for him to stay, but that was the prevailing thought last season and he stuck around.
I have seen many quarterbacks make a signal with the fingers on their hands that looks sort of like a sideways steeple with their fingers moving back and forth. What does that signal mean? I see it when the clock is running down. It does not mean a short distance for a first down. Also, I have never seen it done but if a ball carrier that needs to stop the clock is aware that he will be tackled in bounds is he allowed to lateral the ball out of bounds to stop the clock? I assume not but I have not aware of any rule.
John M.
Boca Raton, Fla.
The gesture you're talking about is a signal during a two-minute situation to huddle up. Perhaps the clock has stopped and while the team might have had a play called, they can take advantage of an incompletion or a run out of bounds to slow down and get back in the huddle. I think a player could throw it out of bounds to stop the clock, but that's more risky than you make it sound. How close to the sideline is he? Is he alone there? There are too many variables that fumbling on purpose could present? What if he doesn't see another player and flips it toward the sideline, but a guy inadvertently jumps in the way and gets struck with the ball, which then stays in the field of play and is recovered by the defense? If he was close to the sideline, he could just step out or reach out of bounds. If not, that sounds like too risky a move to me especially with defenders trying to tackle him and keep him in bounds.
Hey PFW, Love the site by the way. My question is the way that the Colts have been scoring so fast here lately and the way that the Patriots have been beating teams with a banged up secondary (which I think that they are doing a fantastic job of doing). What kind of chance do the Patriots have of beating them this year and going back to the Super Bowl? P.S. Keep up the great work PATRIOTS!!!!!!!!
Josh Miley
I'm just worried about the Dolphins. They are at home on Monday night. The Pats are 9-30 all-time in Miami. My focus is on Miami.
How's that for sounding like Bill? I think that anybody the Patriots play in the second round of the playoffs will be tough, the Colts included. The Patriots can beat any of those teams and have beaten Indy this year. Don't get me wrong, there are teams I might rather face than the Colts, especially after watching the Bengals move through the Patriots defense like they were running seven-on-seven drills in practice, but the conference championship is truly up for grabs. The team with home field will have the edge as far as going to Jacksonville. Since there are three weeks still left to decide this, I wouldn't worry about the Colts yet. Follow Belichick's advice and just focus on Miami. Any possible matchup with the Colts is still a month away.