]()I personally think that the WR and DB positions are the deepest positions on the team but you can only keep so many corners and receivers. From what you guys can tell, who looks like the most likely to be cut? I feel that there's no need to keep Tim Dwight with Bethel, Chad Morton and Troy Brown around for Special Teams duty plus we haven't really seen what P.K. Sam is capable of. Plus, with draft pick Ellis Hobbs on board I think that means either Randall Gay or Chad Scott could be on their way out. I think Randall did a great job stepping up big time last season but he was beaten on a lot of deep balls last season, and Scott is terrific tackler but he is slower than the corners the Pats have and is also beaten deep. Can I get your takes on this?*Mark*
If I had to pick a guy in the secondary that could/will get left out it would be Chad Scott. He's had a very good camp and plays a physical style, but I think he loses out in the numbers game in the end. And a long shot to get cut would be Duane Starks. I still think he's on the team, but he hasn't done much in camp and his injury situation doesn't help matters. In terms of wide receiver, I think it is completely up in the air at the bottom half of the position. I think David Givens, Deion Branch and Brown are all locks at this point. I would have said the same thing about Terrell before he missed a bunch of time with an undisclosed injury. Now, I am not sure and the addition of Andre' Davis to the mix adds more competition for roster spots because I think he is going to be on the 53-man roster. So if you take both Terrell and Davis that would leave Sam and Dwight on the outside looking in and Johnson would probably start the year on PUP. There is also the chance that the team will go with six wide receivers as it did to start the season a year ago, but I think the numbers games at other positions like tight end, linebacker and the secondary could make that more difficult in 2005.
Andy Hart
We are so bad! I couldn't help laughing and agreeing with you Paul [Perillo] when I read your response to a question regarding the Colts and Peyton Manning. Although I respect Peyton as a man and a player of awesome talent I can't help but get giddy every time he comes to town. Watching all his gesticulations gradually grow more frantic as the game wears on is just, well, hysterical. Just wanted you to know that although we may not always agree with your analysis, this time you were dead on.Robyn Opacki
Big shock, Paul writes something that is pro Patriots, takes a shot at Peyton Manning and the Colts and he has the full support of Patriots Nation. I am stunned.
Andy Hart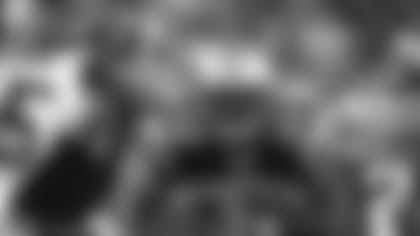 ]()Of what I saw in preseason game #1, Kory Chapman looked to have decent instincts and power. He ran behind his blockers well and had a strong burst through traffic. I'm not putting the guy on the roster yet but do you sense he has a decent opportunity to stick around and should we expect to see him even more? Thanks!*
*Brian Moran
Chapman has looked good in his opportunities this preseason in both game and practice action. After an impressive spring in NFL Europe I think Chapman is battling for a roster spot but still has plenty to prove. He still has a year of eligibility on the practice squad and I wouldn't be surprised if he ends up there again for 2005 with an eye on earning the right to back up Corey Dillon in New England in 2006.
Andy Hart
So, lets say I wanted to be Scott Pioli when I grew up. How exactly does one go about getting a job like that? I thought it was real interesting when I heard Charlie Weis started out as an intern of sorts, but I doubt Pioli was collecting towels. He's probably a trust fund baby, huh?
Morgan Van Lent
I don't think there is any set path, although a love of football and a willingness to work ridiculously hard are certainly prerequisites. Pioli is not a trust fund baby by any means. He started his journey in the league by getting to know Bill Parcells and Belichick at Giants training camp. Later he spent some time coaching in the college ranks before joining Belichick's personnel department in Cleveland in 1992. For your purposes, I would tell you take any job in football you can and try to build as many relationships and as large a network as you can in an attempt to move up the ladder.
Andy Hart
OK guys, I was open fodder for e-bashing with my "mediocre" 11-5 reference. But lost in this atrocity was an answer to my initial question; which, incidentally, I asked a similar one this time last year, in response to a similar PFW analyst prediction. And, with all due respect, I received a similar non-answer. Soooo, just what is that you guys (or Andy, with whom I started this), see in the 2005 Pats that indicates they can't get over the hump, with the (auuurrggh) prediction of a post-season defeat by the Steelers? I mean, if you're gonna tell the Patriots faithfuls their team will fall short, at least justify the comment with some insight (especially when asked). Many sports pundits call this year's team the best Bill Belichick has assembled since his arrival. And hopefully you'll agree any of absolute axioms in professional sports (i.e., "nobody has ever done it before") has no practical application with a team which is widely regarded as the new standard of excellence in professional sports. Is 11-5 mediocre? Of course not...certainly a bad choice. But all I've asked--this year and last--is some insight/justification for the downhill slide (i.e., no post season glory). And for the emailer, who assumed I was a bandwagoner, you' re assumption falls about 40 years short. Enjoy your fond memories of the Rod Rust years, I prefer to relish an amazing team who has the potential for much, much more. Think big folks...there's every reason to predict a truly historical ride here, or at least more than a post-season loss by Pittsburgh. Thanks for the equal time...
Tom From Virginia
Boy what a whirlwind of controversy you started, Tom. I can respect your blind faith in the team, that's what a fan should do. But I have to look at the entire picture and can't use your rose-colored glasses. This team lost both its coordinators, something we can't just assume it will overcome. Next, it's lost a Pro Bowl inside linebacker, a Pro Bowl cornerback, a linebacker who recorded more than 100 tackles in 2004, a nose tackle who started 10 games, an offensive linemen who started all 16 games in each of the last two seasons and a reliable third wide receiver. As the team works to replace those players, especially in the run defense, two opposing teams have run with alarming ease this preseason. Beyond that, Brown admits that he continues to struggle in learning the defense and isn't playing well, while another option, Mike Vrabel, is hurt. Offensively, you don't have a sure backup quarterback or running back, and what was supposed to be a deep core of receivers is already riddled with injuries. Is that a long enough list of challenges that the team faces to validate an 11-5 predication and possible playoff exit? I know Patriots fans always resort to – "In Bill we trust" – but I have to look at it objectively. And if other "experts" think this is the best Belichick team yet, maybe they are right. Time will tell, but right now I have my doubts. Although I certainly do enjoy the discussions that your emails have elicited.
Andy Hart
]()What's wrong with Deion Branch? I can buy that one game a guy wouldn't play, but not the first two games of training camp. Also noticed Vrabel wasn't dressed. Does anybody know anything about these guys' conditions? As a side note, I definitely noticed the absence of Bruschi in stopping the run tonight.*
*Nathan F.
As far as I can tell, Branch is healthy. Belichick said he could have played last week against the Saints and the Super Bowl MVP hasn't missed any practice time. As for Vrabel, he is recovering from the lower leg injury he suffered against the Bengals. He's been in the locker room this week with no brace or wrap on the leg, although he hasn't practiced. I don't think it is anything serious and, baring a setback, would expect him to be back for the regular season.
Andy Hart
This may sound insane, but any thought on trying Jarvis Green at middle linebacker? Watching last year's Super Bowl numerous times, I'm impressed by how quick Jarvis was, and how fast he was in getting back into the passing lanes - which he did a lot that game. With his quickness, size and strength, he seems like he could fill the role Ted Johnson had - something which Chad Brown and Monty Beisel so far haven't shown. Just hoping this is something BB is considering. Other than MLB, this team has never looked deeper or stronger.Dave Zeltserman
Z-man, it does sound insane but so did playing Troy Brown at cornerback. I don't think Green at linebacker is anything on the horizon right now, but who knows. I don't think his size and skills would necessarily translate at the spot. I think, and his contract extension backs this up, he's solidified in his role as a defensive end/pass rusher. He's a guy that has always played with his hand down and asking him to play up on two feet would be a huge transition. Dan Klecko is probably an even better athlete than Green and the team scrapped Klecko's attempted transition to ILB after one year. It's not as easy to switch positions as we might make it out to be, or as easy as Troy Brown made it seem.
Andy Hart
What's going on with Roman Phifer? I heard a rumor a while ago that his locker still had his name on it in the locker room.. We can't afford to lose him after losing Bruschi for a year (at least) and Ted Johnson.. Fill me in. GO PATSAmanda Mastroberti
Phifer's locker remains intact in the Gillette Stadium locker room. He remains a free agent as he recovers from offseason shoulder surgery. I wouldn't rule him out as a potential Patriot for 2005, even at this late date. I wouldn't even be surprised if he joined the team during the year. Belichick was asked about the locker situation late last week and responded with surprise. "I wasn't even aware of it, honestly," Belichick said. "I wasn't even aware of it. I don't know whether it is or it isn't. If you're asking me to confirm it or deny it, I couldn't even do that. I don't know."
Andy Hart
From what we've seen in the first two preseason games, the loss of the two Ted's (Johnson / Bruschi) is evident in relation to stopping the run. The middle of the field is clearly the weakest point on defense. Monty Beisel and Chad Brown appear slow to react when reading the play. I understand that it will take time for them to develop a comfort level with playing inside versus outside. But with the depth and quality of the DL and WR positions, would it not behoove the Patriots to explore trade possibilities for help at ILB? I know that trades are rare in the NFL, particularly during preseason. Two teams that appear to matchup for such a trade are Tampa and Dallas. What do you guys think? Thanks.John Farrell
The Patriots defense looked TERRIBLE tonight. Was it just that we needed Mike Vrabel and Ty Warren? Or was there more to it. I know some of the big runs were on draw plays and on trick 3rd down plays, but that doesn't account for 180 yards on the ground. Is this going to be a repeat of the 2002 season? A lot of Patriots fans have forgotten about that, but I haven't. What went wrong tonight?James C.
Is there a way to do a Bethel Johnson and Rohan Davey trade for a top notch Inside LB? The Pats need help to stop the run and those players have not been playing very much. I really don't want to see Bethel leave, but I don't want for the Pats to have another team dominate their running game either. Also, are there any 345 DTs available to be picked up?Grant Sevigny
I know players try as hard as they can, but it seems like the Pats defense was soft against the run when they played New Orleans. Each year things change, but the obvious differences on defense are - there's a slightly smaller NT than the last 2 seasons AND the Middle LBs are a bit smaller AND New to the Patriots defensive system. Do the Patriots suspect that there are any players becoming available over the next 2 weeks that can help in either of these areas?Paul Wright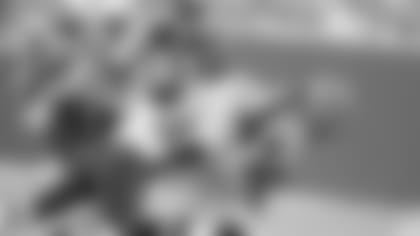 ]()As this sampling of emails from fans points out, the questions surrounding the New England run defense right now far outnumber the answers. An optimist would say that the unit is a work in progress as the new faces acclimate themselves to the system and the injured players work back into the mix. But to me, living up to my label as a pessimist in these parts, the ability of the unit as it is currently consisted to stop the run is very much in doubt. I, too, have visions of a replay of the 2002 season when teams ran all over the Patriots, sometimes to the tune of more than 200 yards. Unless Vince Wilfork, Brown, Beisel, Vrabel and others can prove they can play stout up the middle, they may be in trouble. And looking to fill the void with some player cut by another team is unlikely to improve the mix much. The likelihood of trading Johnson and Davey for a "top notch" inside linebacker are even less likely. The guys that are here need to figure out the defense and begin making plays or it is going to be a long season facing the likes of Jerome Bettis, LaDainian Tomlinson, Willis McGahee and the other top runners the Patriots will have to stop to be successful in 2005.
Andy Hart
I don't normally get annoyed at others' comments, but I'm starting to get annoyed at all the calls for Davey's Doom. First of all, are folks seriously considering leaving the backup position to Doug Flutie, who while great in some senses, is 42 and has never played in our system? Or to Matt Cassel, who didn't start a game in college and also, has never played in our system? Second of all, you're not going to get anything for Davey -- and shame on me for earlier thinking we might -- he's a fourth-round pick who hasn't started an NFL game and is being challenged by a 7th round rookie without college experience and a guy old enough to be most player's dad. Third, wouldn't everyone rather have at least ONE quarterback who has been here, knows the system and expectations, even if he isn't wildly consistent? Brett Favre isn't consistent, and he does alright. I'm not saying Davey is Favre, but I'm saying he's not the loser everyone acts like he is just because we've got an untried rookie running around and a 42-year-old running around more. In that regard, why did we ever Damon Huard go? This is "the AFC Championship Game MVP" from two years ago for so adroitly replicating Peyton Manning. We need a quality, veteran backup quarterback who isn't a circus show. Even if it can't be Huard or Jon Kitna or Kelly Holcomb, at least we could give Tim Couch a call. Anything but fire Davey, the only guy who can backup Brady who has actually DONE it before for "never played for the pats the Elder and the Younger."Jason Jarvis
I know that its probably premature to begin thinking about where Rohan Davey might go, but since he didn't play at all vs. the Saints, it is not unreasonable to think that BB has finally figured that Rohan's intuitive, broken-play type of style no longer fits with the Precise Pats. With Rex Grossman injured (again) do The Bears figure as a possible destination given Belichick's past relationship with the GM there? If so, how much might the Pats get in picks or ILB?Pete Clark
First off, I agree with much of what Jason wrote. Davey isn't "wildly consistent," more accurately he seems to be consistently wild, but he still knows the system better than the other two and can actually drop back and be a "traditional" quarterback. I haven't seen Flutie do anything special in camp (yes, I saw the 3-of-4 performance with two scoring drives and a long touchdown against the Saints, A.K.A. the great catch by Jason Anderson), in fact I think he has looked as bad or worse than Davey at times. It's a tough call right now; there isn't a strong option to backup Brady, that's just the reality of the situation. And if we are going to get rid of Davey, I think the trade scenario to Chicago is the first realistic proposal I have seen. It can't hurt to ask and the trade history and relationship between the Patriots and Jerry Angelo can't hurt either. In the end, my perspective (and this may be obvious) is that once again Tom Brady just can't get hurt if this team hopes to win consistently this season.
Andy Hart
]()Like many other Pats fans, I think the writing is on the wall for Rohan Davey, and like others suggested I think he may find his way to Miami. That got me to thinking, do players have their own copies of the playbook that they could just take with them to their new team? Could I buy a Pats playbook on eBay? (just checked, turns out you can, but it's from 2003) Or are teams very protective of the playbook, and only let players look at them while at Gillette? Just curious, are playbooks top secret? PS - I can't wait to see how you make fun of my name.*Michael Coffey*
Make fun of your name? What do you think this forum is some kind of joke? We don't do that kind of stuff around here. As far as your question goes, teams are very protective of their playbooks. Players have to turn them in when the leave a team. Weekly game plans that are given out to the players are shredded when that week is over. So while one or two playbooks might accidentally fall into the wrong hands or "be out there", for the most part organization's do a very good job of keeping track of what is a very key part of the team's success and/or failure.
Andy Hart
Easy question for you guys...what are the two dates when the team needs to make cuts of the players. Thanks.Shane Behrle
Teams must cut down to 65 players (although NFLEL roster exemptions remain in place) on Aug. 30. Teams must cut down to 53 players, and all NFLEL exemptions expire on Sept. 4. That was an easy one, it Behrle took me 30 seconds to answer.
Andy Hart
Oh mighty writers of PFW, your knowledge of all things Patriot is unequalled on this planet! Thank you for your sage writings on this forum for devout fans! And now, if I may be so bold to ask, my question -- What's on tap for pre-game entertainment on opening night? Last year's lineup was stellar, but lets face it, the show is for TV! From my vantage point in Sec.304 I could barely see or hear a thing. The new banner unveiling and fireworks were the only thing worthwhile, as I expect, this year will be the same. Should I stay outside and tailgate longer or will the show be worth the extra hour in my seat?? Thank, from a long time PFW subscriber and fan!
Gary Abrams
The NFL once again has a one-hour pregame show that will include entertainment for the ABC TV audience emanating from Gillette Stadium, the Los Angeles Coliseum (site of the first Super Bowl) and a taped segment from a Rolling Stones' concert in Detroit, host of this winter's Super Bowl XL. The entire show will be hosted by Freddie Prinze Jr. The performers at Gillette will be Green Day and Santana, while Mar0on 5 and Kanye West will perform at the free concert in L.A. As far as deciding whether to watch the music in the stadium or stay in the parking lot, I would say the draw of seeing your favorite team's third Super Bowl banner unveiled would be enough to entice you to your seats. The lights, music and entertainment are just a bonus.
Andy Hart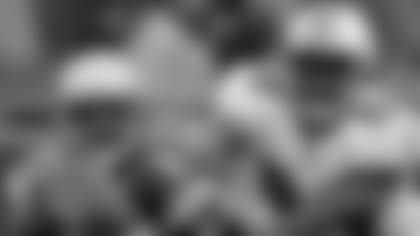 ]()I personally think that the WR and DB positions are the deepest positions on the team but you can only keep so many corners and receivers. From what you guys can tell, who looks like the most likely to be cut? I feel that there's no need to keep Tim Dwight with Bethel, Chad Morton and Troy Brown around for Special Teams duty plus we haven't really seen what P.K. Sam is capable of. Plus, with draft pick Ellis Hobbs on board I think that means either Randall Gay or Chad Scott could be on their way out. I think Randall did a great job stepping up big time last season but he was beaten on a lot of deep balls last season, and Scott is terrific tackler but he is slower than the corners the Pats have and is also beaten deep. Can I get your takes on this?*Mark*
If I had to pick a guy in the secondary that could/will get left out it would be Chad Scott. He's had a very good camp and plays a physical style, but I think he loses out in the numbers game in the end. And a long shot to get cut would be Duane Starks. I still think he's on the team, but he hasn't done much in camp and his injury situation doesn't help matters. In terms of wide receiver, I think it is completely up in the air at the bottom half of the position. I think David Givens, Deion Branch and Brown are all locks at this point. I would have said the same thing about Terrell before he missed a bunch of time with an undisclosed injury. Now, I am not sure and the addition of Andre' Davis to the mix adds more competition for roster spots because I think he is going to be on the 53-man roster. So if you take both Terrell and Davis that would leave Sam and Dwight on the outside looking in and Johnson would probably start the year on PUP. There is also the chance that the team will go with six wide receivers as it did to start the season a year ago, but I think the numbers games at other positions like tight end, linebacker and the secondary could make that more difficult in 2005.
Andy Hart
We are so bad! I couldn't help laughing and agreeing with you Paul [Perillo] when I read your response to a question regarding the Colts and Peyton Manning. Although I respect Peyton as a man and a player of awesome talent I can't help but get giddy every time he comes to town. Watching all his gesticulations gradually grow more frantic as the game wears on is just, well, hysterical. Just wanted you to know that although we may not always agree with your analysis, this time you were dead on.Robyn Opacki
Big shock, Paul writes something that is pro Patriots, takes a shot at Peyton Manning and the Colts and he has the full support of Patriots Nation. I am stunned.
Andy Hart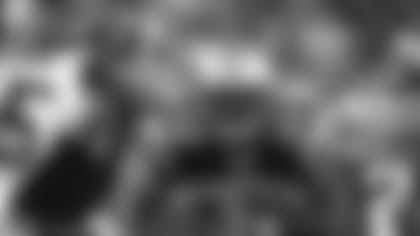 ]()Of what I saw in preseason game #1, Kory Chapman looked to have decent instincts and power. He ran behind his blockers well and had a strong burst through traffic. I'm not putting the guy on the roster yet but do you sense he has a decent opportunity to stick around and should we expect to see him even more? Thanks!*
*Brian Moran
Chapman has looked good in his opportunities this preseason in both game and practice action. After an impressive spring in NFL Europe I think Chapman is battling for a roster spot but still has plenty to prove. He still has a year of eligibility on the practice squad and I wouldn't be surprised if he ends up there again for 2005 with an eye on earning the right to back up Corey Dillon in New England in 2006.
Andy Hart
So, lets say I wanted to be Scott Pioli when I grew up. How exactly does one go about getting a job like that? I thought it was real interesting when I heard Charlie Weis started out as an intern of sorts, but I doubt Pioli was collecting towels. He's probably a trust fund baby, huh?
Morgan Van Lent
I don't think there is any set path, although a love of football and a willingness to work ridiculously hard are certainly prerequisites. Pioli is not a trust fund baby by any means. He started his journey in the league by getting to know Bill Parcells and Belichick at Giants training camp. Later he spent some time coaching in the college ranks before joining Belichick's personnel department in Cleveland in 1992. For your purposes, I would tell you take any job in football you can and try to build as many relationships and as large a network as you can in an attempt to move up the ladder.
Andy Hart
OK guys, I was open fodder for e-bashing with my "mediocre" 11-5 reference. But lost in this atrocity was an answer to my initial question; which, incidentally, I asked a similar one this time last year, in response to a similar PFW analyst prediction. And, with all due respect, I received a similar non-answer. Soooo, just what is that you guys (or Andy, with whom I started this), see in the 2005 Pats that indicates they can't get over the hump, with the (auuurrggh) prediction of a post-season defeat by the Steelers? I mean, if you're gonna tell the Patriots faithfuls their team will fall short, at least justify the comment with some insight (especially when asked). Many sports pundits call this year's team the best Bill Belichick has assembled since his arrival. And hopefully you'll agree any of absolute axioms in professional sports (i.e., "nobody has ever done it before") has no practical application with a team which is widely regarded as the new standard of excellence in professional sports. Is 11-5 mediocre? Of course not...certainly a bad choice. But all I've asked--this year and last--is some insight/justification for the downhill slide (i.e., no post season glory). And for the emailer, who assumed I was a bandwagoner, you' re assumption falls about 40 years short. Enjoy your fond memories of the Rod Rust years, I prefer to relish an amazing team who has the potential for much, much more. Think big folks...there's every reason to predict a truly historical ride here, or at least more than a post-season loss by Pittsburgh. Thanks for the equal time...
Tom From Virginia
Boy what a whirlwind of controversy you started, Tom. I can respect your blind faith in the team, that's what a fan should do. But I have to look at the entire picture and can't use your rose-colored glasses. This team lost both its coordinators, something we can't just assume it will overcome. Next, it's lost a Pro Bowl inside linebacker, a Pro Bowl cornerback, a linebacker who recorded more than 100 tackles in 2004, a nose tackle who started 10 games, an offensive linemen who started all 16 games in each of the last two seasons and a reliable third wide receiver. As the team works to replace those players, especially in the run defense, two opposing teams have run with alarming ease this preseason. Beyond that, Brown admits that he continues to struggle in learning the defense and isn't playing well, while another option, Mike Vrabel, is hurt. Offensively, you don't have a sure backup quarterback or running back, and what was supposed to be a deep core of receivers is already riddled with injuries. Is that a long enough list of challenges that the team faces to validate an 11-5 predication and possible playoff exit? I know Patriots fans always resort to – "In Bill we trust" – but I have to look at it objectively. And if other "experts" think this is the best Belichick team yet, maybe they are right. Time will tell, but right now I have my doubts. Although I certainly do enjoy the discussions that your emails have elicited.
Andy Hart
]()What's wrong with Deion Branch? I can buy that one game a guy wouldn't play, but not the first two games of training camp. Also noticed Vrabel wasn't dressed. Does anybody know anything about these guys' conditions? As a side note, I definitely noticed the absence of Bruschi in stopping the run tonight.*
*Nathan F.
As far as I can tell, Branch is healthy. Belichick said he could have played last week against the Saints and the Super Bowl MVP hasn't missed any practice time. As for Vrabel, he is recovering from the lower leg injury he suffered against the Bengals. He's been in the locker room this week with no brace or wrap on the leg, although he hasn't practiced. I don't think it is anything serious and, baring a setback, would expect him to be back for the regular season.
Andy Hart
This may sound insane, but any thought on trying Jarvis Green at middle linebacker? Watching last year's Super Bowl numerous times, I'm impressed by how quick Jarvis was, and how fast he was in getting back into the passing lanes - which he did a lot that game. With his quickness, size and strength, he seems like he could fill the role Ted Johnson had - something which Chad Brown and Monty Beisel so far haven't shown. Just hoping this is something BB is considering. Other than MLB, this team has never looked deeper or stronger.Dave Zeltserman
Z-man, it does sound insane but so did playing Troy Brown at cornerback. I don't think Green at linebacker is anything on the horizon right now, but who knows. I don't think his size and skills would necessarily translate at the spot. I think, and his contract extension backs this up, he's solidified in his role as a defensive end/pass rusher. He's a guy that has always played with his hand down and asking him to play up on two feet would be a huge transition. Dan Klecko is probably an even better athlete than Green and the team scrapped Klecko's attempted transition to ILB after one year. It's not as easy to switch positions as we might make it out to be, or as easy as Troy Brown made it seem.
Andy Hart
What's going on with Roman Phifer? I heard a rumor a while ago that his locker still had his name on it in the locker room.. We can't afford to lose him after losing Bruschi for a year (at least) and Ted Johnson.. Fill me in. GO PATSAmanda Mastroberti
Phifer's locker remains intact in the Gillette Stadium locker room. He remains a free agent as he recovers from offseason shoulder surgery. I wouldn't rule him out as a potential Patriot for 2005, even at this late date. I wouldn't even be surprised if he joined the team during the year. Belichick was asked about the locker situation late last week and responded with surprise. "I wasn't even aware of it, honestly," Belichick said. "I wasn't even aware of it. I don't know whether it is or it isn't. If you're asking me to confirm it or deny it, I couldn't even do that. I don't know."
Andy Hart