Couple of questions. 1. After watching Aqib Talib for a couple weeks how do you think he is playing? 2.With Chandler Jones out and Jermaine Cunningham suspended do you think Jake Bequette will start?
Kevin Messinger
I'll admit that it does seem that Talib has been a little shaky in his coverage in his first two games in a Patriots uniform. But I think that has to be understood given that he's learning a new team/system midseason and is coming off a month away from the game. No matter how hard he worked out during that time, and he's said he kept in shape, it isn't the same as practicing every day with an NFL team and playing games on Sunday. There is clearly some rust he's knocking off right now. But there is no better time to knock off rust than in blowout victories! Ideally Talib will be at his best in the coming weeks as the Patriots may need to lean on him more to be a key contributor in the back end of the defense. As for the situation at defensive end, it's clearly a tenuous one. While it didn't look like Jones suffered a serious injury to his ankle at the time, he wasn't able to practice or play last week. That said, given the unique nature of the short week that's probably not surprising. If he's out for any more time, or even limited in his production or reps, that's a major blow to the front and the pass rush. He's been a three-down player all year and a productive force, even if that production seems to have taken a dip a bit in recent weeks. With Cunningham now out of the mix for four games, that means we'll likely see more of Trevor Scott, who got extra reps on Thanksgiving night. Based on playing time this season, the next guy in line after that might be undrafted rookie Justin Francis. The Rutgers product has essentially been ahead of Bequette dating all the way back to the spring. I don't see Bequette getting a starting nod any time soon after being a healthy inactive for nine of the first 11 games of the season, but he certainly could be in line to be on the game day roster and maybe get some reserve reps if Jones remains sidelined moving forward.
Andy Hart
Did Aqib Talib play lights out defense this past week against the Jets? I watched the entire game and feel like I saw him on the screen only once. That seems to mean he either didn't let Sanchez throw to his receiver at all or he was getting burned for some of those 300 passing yards.
Lucas White
As I said above, I think Talib is working his way into shape and back up to his playing capabilities on the fly. He's admitted his technique needs cleaning up. He's given up touchdowns and plays in his first two games as the Patriots have allowed more 331 and 286 yards passing, respectively, in Talib's first days on the job in New England. So there is clearly room for improvement for Talib and the rest of the new-look secondary, even if the overall results for the team have been pretty impressive in the last two contests.
Andy Hart
Hey guys, love the job you all do on keeping us European fans up to speed. My question is...with Brian Hoyer going to the Steelers, do you think this could give them some advantages if a potential playoff meeting occurs because he knows our system so well? Keep up the great work.
James from Ireland
Short answer: yes, I do. Hoyer knows the Patriots offense as well as any quarterback not named Brady. He's run it in practice for four years. Though he may lack the physical tools, he's a heady guy. That means he's could help the Pittsburgh defenders prepare for a meeting with the Patriots, and could give a very good look leading the scout team on the practice field if a playoff meeting were to come to fruition. Do I think his landing in Pittsburgh is a possible game changer for the Steelers? No. But it could help on some immeasurable level. Of course right now the Steelers just need to worry about getting to the postseason. Based on last week and with Ben Roethlisberger's health an unknown, that's not a sure-thing.
Andy Hart
Hi Guys - great job as usual. I am beginning to feel this season resembles past with regards to our turnover disparity. We pull out victories all season long by capitalizing on turnovers, while giving up tons of yardage. However, when playoff time comes around, teams tighten up and if Brady slips up and throws a pick or two, most likely were done. How do you foresee the defense holding up in a tight game where they can't force any turnovers? Thanks.
Graham Smith
While I am very happy to see us be first in creating turnovers, our offensive production would be 10 points less per game and ranked 6th in the league which is good, but not as impressive. I wonder what happens when we play very disciplined teams come the playoffs?
Ted K.
This topic of turnover success and whether it will continue into January was a popular one this week. I think it's a fair question to ask, and we've seen it play out both ways for teams over the years. The New Orleans Saints were a high-flying turnover team that continued to ride that success to a Lombardi Trophy. Remember Tracy Porter's interception of Peyton Manning? But closer to home the 2010 Patriots led the NFL with a plus-28 turnover ratio thanks to an impressive 38 takeaways and just 10 giveaways, both of which led the NFL. But in the divisional round of the playoffs that January New England didn't force a single turnover against the Jets, and New York pulled off the 28-21 road upset. It wasn't like the Jets put up huge numbers on offense, but they did rush for 120 yards (4.1 avg.) while Mark Sanchez threw for 194 yards with three touchdowns for a 127.3 rating. Without the big plays on defense, and with a few mistakes on offense, the Patriots were bumped from the postseason. Turnovers generally don't come as easy in January as better teams with better QBs are usually the opposition. That's a test the Patriots will need to master when the time comes. Predicting right now whether it will happen or not isn't really feasible or productive. It's the great unknown that only time will answer. As for the scoring offense, the Patriots have scored on seven returns this season, including five in the last two games. While it's no guarantee, there is a good chance the offense would have also scored on at least some of those possessions. So while your numbers may be correct, we don't really know how those five (or seven) possessions, would have played out. Maybe it would still have been seven touchdowns. Regardless, I'm not really worried about the Patriots offense right now. And I don't think I will be in January assuming that injuries don't ravage the depth chart.
Andy Hart
OK, here is a two-part question about the defense. First, we keep hearing that the Pats defense gives up a ton of yards and isn't very good. Well what does that say for the rest of the league's defenses when pretty much every team we play gives up 30 or more points? Second, since our offense is so powerful why hasn't the defense become much better over the last few years for having to practice against the leagues best offense week in and week out??
Tommy Raymond
First, the other teams' defenses face Brady and the NFL's top offense every week against the Patriots. New England's defense has struggled at times against both good and bad offenses. And, I do think there are a lot of bad defenses in the NFL right now. There just doesn't seem to be enough talent, especially in pass defense, to go around. The second part of your question is interesting. On one hand, you would think that practicing against the best offense in football on a daily basis would make the action on Sunday much easier to deal with; kind of like warming up with a weighted bat in baseball. But I've also heard some theorize that maybe getting beat up on the practice field every day is a detriment to the collective confidence of the defense and that's hurt its development in recent years. In pure theory, I think I'd be more likely to believe the former rather than the latter. But, the evidence on the field certainly doesn't back it up. Also, there has been a decent amount of personnel turnover on the defense, so that also plays a factor in the development of the unit, or lack thereof.
Andy Hart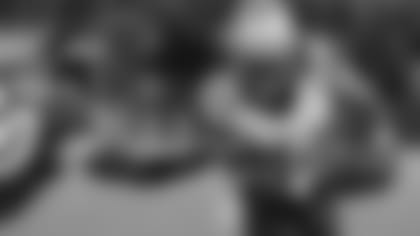 What's up with Deion Branch being cut again? I know he hasn't been that productive but he really hasn't been targeted or involved that much. Will they bring him back? I still think he's good and valuable, just needs more opportunities. Plus we only have 4 receivers, although Matt Slater doesn't really count.
Erik L.
I do think there is a chance that Branch could be brought back at some point. I think the biggest reason he was released was that he came up with a hamstring injury. With the other injuries that the offense was dealing with, apparently the good health of Greg Salas was a better option at that time. Now, Salas has been released and landed in Philly on waivers. Julian Edelman has joined the wounded players at the receiver position. Both Wes Welker and Brandon Lloyd have also been on the injury report of late. So there could definitely be a depth issue at the position right now. The good news is that a couple guys who were with New England in training camp – Donte Stallworth and Jabar Gaffney – remain options on the open market and probably could be brought aboard at any time. And if Branch's hamstring is healed, he certainly could also be brought back. I wouldn't be surprised to see a roster move involving the wide receiver position this week.
Andy Hart
Hey guys - great job! I have a rules question that hopefully you can answer or maybe BB can weigh in. If a scoring play or turnover occurs, which is automatically reviewed, and it is called in New England's favor on the field but it is definitely questionable to whether it will remain in New England's favor after an official review. Can BB throw the challenge flag, knowingly taking a 15 yard unsportsmanlike penalty but thus rendering the play unreviewable?
Tim Cullen
My understanding out of how the rule works is that the team that is illegally challenging the play cannot benefit in any way after throwing the illegal red flag. In your scenario the Patriots would benefit from the play not being reviewed, so therefore part of the penalty of BB throwing flag would be actually having the play reviewed, as it would have been regardless. At least that's my understanding of the rule, which sounds like it is going to be changed at some point moving forward.
Andy Hart
With the win against the 'Phins, do Patriots win the division? Then the question becomes, would you try very hard to get to higher seeding or nurture the team's health, or somehow try both?
Alex Contour
Yes, with a win on Sunday in Miami the Patriots would clinch the AFC East. After that, the ideal scenario would be to acquire a No. 1 or No. 2 seed while also managing the team's health heading into the postseason. Within reason, though, the most important thing is going after one of those top seeds to secure a bye and a home playoff game. That week off goes a long way toward helping a team's health, while playing at home is a good first ingredient in a recipe for playoff success.
Andy Hart
I'm watching the Falcons vs Bucs game and I'm seeing Tiquan Underwood being an impact playmaker on the Bucs offense. Greg Salas just got picked up by the Eagles. Taylor Price never panned out for the Pats. Why is it that young receivers struggle to break into the Patriots roster?
Jason Chong
Underwood is the only one of those three who's done anything this year. Price is hurt again and Salas hasn't had a chance to get a footing in Philly. And Underwood was a young journeyman player when he passed through New England. He made some plays in the preseason but also dropped enough balls to hinder his chances here. He now has 20 catches, a 15-yard average and a couple scores in Tampa Bay. I don't really consider him a loss. But your bigger question is fair. While the team has developed pass catchers like Gronkowski and Hernandez, nothing has really come about with any consistency at receiver since Deion Branch and David Givens way back when. Some of it is probably a misread of talent and potential when drafting. Maybe Bethel Johnson wasn't as good as they thought. Or maybe the jump from Ohio to the pros was too much for Price. Another theory I've heard is that Brady and Welker and others are so entrenched in the offense and so heady in what they do, that it's hard for a young player to catch up and develop. There isn't a lot of room to make mistakes and learn on the fly. But, that doesn't explain how Gronk and Hernandez became such key factors so quickly. Like so many things, the inability to develop a young receiver probably has a lot of factors at play. For example, almost every time Edelman has looked like he's taking the next step in his development, he misses time to injury. That's just one of the many factors that have hindered the position behind the big-name veterans that have been here through recent years.
Andy Hart
What is the story on Edelman? He left with an injury and we have heard nothing further.
Christopher Salvo
Edelman left the game with a head injury after a big hit from Jets safety LaRon Landry on Thanksgiving night. Edelman did not return to the game and was clearly shaken up immediately after the play, on which he lost the ball. The team doesn't generally issue any injury information until it is required to do so on the league's practice participation report, which will come out on Wednesday. That will be the first official update we'll get on Edelman's status since Thursday night.
Andy Hart
The Patriots get Brandon Bolden back from his suspension next week. Bolden was a major contributor on the ground in the first half of the season. Shane Vereen has also looked like a great complement to Ridley in the running game the last couple of weeks. Will there be a place for Bolden in the game plans going forward? How do you think the Patriots will deal with their embarrassment of riches in the backfield the rest of the season? Thanks.
Keith Fitzgerald
I do think there will be a place for Bolden, assuming he's now healthy (he had a knee injury he was already dealing with when he was suspended) and is in game shape. Given that he hasn't had any contact with the team in nearly a month, that is something the coaches don't know until he returns to Gillette next week. If he's healthy, though, we know that the Patriots love to use different personnel groups and take advantage of all their offensive weapons. While I think Stevan Ridley will remain the main back, and Vereen is starting to show what he can do as the top change-of-pace guy, I still think there is room for Bolden to get some touches in the committee. He's made the most of nearly all his chances dating back to when he arrived in New England this spring. And that's usually a way to get more chances with the team.
Andy Hart
Let me say I appreciate all you do to put information about our beloved football team out there for consumption! Thank you. Do you really have to print the ten thousand questions about the Patriots defense? Couldn't you just post how much of the salary cap is spent on offense/defense. Shouldn't that be enough for anyone with a cerebral cortex? Love you guys. Please stop picking on Andy, it upsets me that he is so angry all the time:)
Ryan Pierce
I don't have the exact salary cap numbers, but I assume you think that all the money with this team is spent on offense? I don't completely agree with that idea. Sure Brady makes a lot of money. And Welker is making a lot this year on the franchise tag. After that the only real big contract on offense belongs to Logan Mankins, at around $50 million. Vince Wilfork is a $40-plus million nose tackle. Jerod Mayo is a $50 million player. And let's not confuse the tight end extensions with current money, as both Gronkowski and Hernandez signed true extensions that kick in the big money moving forward, although both got decent bonus money. So it's not as simple as to say that all the money is on offense and that's why the defense isn't good. It may be a part of it, but not nearly the whole story. And thanks for defending me, I do feel picked on sometimes! (Insert ironic chuckle!)
Andy Hart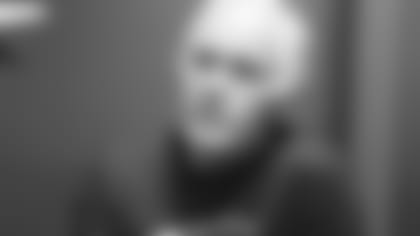 I see the Patriots offensive line, and it looks like they have a new guy in there every week and there isn't that big of a drop off in production. Then I change the channel to see the Bears, the Cowboys and the Eagles putting in new guys and then getting their QB smeared all over the field. How much of the Patriots offensive line production would you attribute to the front office finding talent vs. the coaching of the players?
Joe Cho
I think the bulk of it has to do with coaching. I know I write this in this column a lot, but I don't think Dante Scarnecchia gets enough credit as the game's best offensive line coach. He builds a program that holds all the guys accountable and to the same high standard. He rotates the guys throughout the offseason so they are ready to fill in during the season. He also plays a part in picking the guys that he sees as good fits for his scheme, system and program. In my opinion it's about developing the right guys with the right coaching, and letting the ones go who don't fit the next-man-up mold. Scar is the unheralded key to all of that.
Andy Hart
A few weeks ago in PFW's "Point Counterpoint" you asked an interesting question, "which offense is better, this year's team or the '07 team?" At the time I thought that the answer was clearly the 2007 team. However, this year's team has a better running game and better tight ends while the '07 team had better receivers with Moss, Welker and Stallworth which brings it down to the o-line. Now that the Pats are 11 games into the season averaging 37 points per game, which offense do you think is better?
Gary Goldstein
I have been on the fence on this all along. I argued that this year's group has a chance to be better in the long run for the simple reason of the running game. The passing games are different, but almost as equally productive. But this year's squad has an established running attack that could be a huge factor in the postseason. As for the lines, I think both are good but not great, and do enough to get the job done more often than not, especially in pass protection. So I'll stick with this year's squad, and assume that it's going to collect something that the 2007 unit could not – a Super Bowl ring. Let's be honest, though, both groups are pretty impressive and a pleasure to watch play the game in their own unique way.
Andy hart
Will we re-sign Kellen Winslow in Gronk's absence?
Dave Cullinan
I try never to flat out say no. That said, no.
Andy Hart