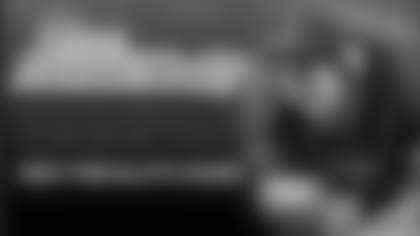 ](/fan-zone/patriots-football-weekly.html)Note: This feature originally appeared in the July 24, 2013 issue of Patriots Football Weekly.  To learn more about how to subscribe to the Official Newspaper of the New England Patriots, click here.
From the moment Wes Welker officially left for Denver this has been a strange and trying offseason. As more serious events later clouded the picture even further, it made our thirst to return to the field even greater.
Training camp is upon us and as has been the case for years PFW is here with your easy-to-read primer. What better way to get prepared for the summer than with our quick hitters, predictions and observations of New England's favorite football team? Enjoy!
Most competitive positions
Wide receiver - Wes Welker is gone and Danny Amendola is here, but how the other slots will be filled is anyone's guess. Michael Jenkins, Aaron Dobson, Josh Boyce … take your pick.
Tight end - The deepest and most skilled group of tight ends in the league quickly took a turn for the worse. Until Rob Gronkowski gets back the pressure will be on Daniel Fells, Jake Ballard, Michael Hoomanawanui and some rookies to fill the void.
Sub pass rushers - The starters are set with Chandler Jones and Rob Ninkovich but is there a role for rookie Jamie Collins? How about Jake Bequette? Justin Francis? Jermaine Cunningham? Not sure there's room for everybody.
Safety - Devin McCourty appears to be locked into one spot with veteran Adrian Wilson battling incumbent Steve Gregory and second-year man Tavon Wilson for the other. Should be an interesting battle.
Veterans looking over their shoulder
Jermaine Cunningham -** Cunningham was just starting to make some plays when he was suspended last season. Entering the final year of his rookie deal, time could be up on the former second-rounder.
Steve Gregory - Gregory was solid in his first year in New England but his salary and added competition may make him expendable in 2013.
Ryan Mallett - Bill Belichick isn't afraid to keep two quarterbacks and with Tim Tebow on board perhaps Mallett's time in New England is coming to an end.
Potential first-time Pro Bowlers
Danny Amendola - Welker made the Pro Bowl in his first season with Tom Brady. Could Amendola do the same?
Chandler Jones - The Year 2 jump is huge for all youngsters but pass rushers especially seem to benefit from it.
Stevan Ridley - The Patriots offense may rely more on the running game this season and if Ridley can improve on his already solid numbers from a year ago he could be headed to Hawaii.
Nate Solder - Protecting Brady's blindside as well as Solder does could earn him a Pro Bowl berth.
Players who must shine
Danny Amendola - He's the lone receiver with a track record of success, albeit elsewhere. He must be a huge factor in the passing game.
Shane Vereen - With a dearth of weapons on offense, Vereen's versatility provides Brady with a valuable option.
Chandler Jones - An increased pass rush can help a defense in many ways. Jones becoming a legitimate pass rushing threat will go a long way toward improving the unit as a whole.
Aqib Talib - Bill Belichick rolled the dice on Talib for a reason and he has to prove worthy of No. 1 cornerback status.
On the rise
Chandler Jones -** Sensing a trend here with Jones? We're all in on the former first-round pick.
Shane Vereen - Similar to Jones, Vereen's play-making ability has caught the PFW eye.
Dont'a Hightower - After an uneven rookie season Hightower is ready to showcase is various skills.
Camp sleepers
Armond Armstead - The Canadian import could provide a push inside and open some eyes in the process.
Zach Sudfeld - The undrafted rookie impressed with his hands and athleticism this spring. Now it's time to do it with pads on.
George Winn - Winn has the reputation of a physical back who was tough to tackle. Could he be the latest undrafted back to stick around?
Cory Grissom/Joe Vellano - There are some depth issues at defensive tackle and these two will get some opportunities. Gil Brandt loved Grissom after the draft.
Mark Harrison/Kenbrell Thompkins - Harrison's been hurt but has interesting size at 6-3, 235. Thompkins had some moments during the spring. And there's an obvious need at the position.
Must stay healthy (other than Brady)
Nate Solder - Losing his steady play on the left side would necessitate a lot of movement up front.
Danny Amendola - Not many proven options beyond the slot receiver, and health is a concern.
Rob Gronkowski - OK, we know he's already hurt. But we've already seen life without him in the playoffs, and it isn't good.
Aqib Talib - Having a top corner allows Belichick the flexibility to do different things. Losing him was key in the AFC title game.
Chandler Jones - The most important player in the front seven and the team's top pass rusher.
Newcomers to watch
Danny Amendola -** Offers some added speed and athleticism to the slot. He'll be productive if he stays healthy.
Tommy Kelly - Penciled in as the starter next to Vince Wilfork. Kelly is a proven pro who will be an upgrade on the inside.
Adrian Wilson - Another seasoned pro who has enjoyed a ton of success. Physical style will be a welcomed sight for Patriots fans.
Aaron Dobson - Good size and hands, coupled with a lack of depth, will give Dobson chances to make plays.
Jamie Collins - Very athletic edge player who has the potential to be used in a variety of ways, assuming he's ready.
Veterans who'll be missed
Wes Welker - He always answered the bell and more often than not caught the ball. No further explanation needed.
Danny Woodhead - The undersized third-down back was a steady contributor for three years in New England.
Teams on the rise
Miami - Obviously this is almost entirely dependent on Ryan Tannehill's development, but the Dolphins are improved.
Detroit - No one lost more tight games than the Lions last year. They'll be back in playoff contention in 2013.
Pittsburgh - The Steelers are a solid team as long as Ben Roethlisberger is playing. His injury last season derailed a promising season.
Teams on the decline
Chicago - The Bears went 10-6 last year and we're still not sure how. New coach Marc Trestman has a tough job on his hands.
Buffalo - The Bills weren't very good last year and now they'll be starting over with a new coach and quarterback.
Washington - The Redskins were left for dead by their own coach last year only to be resurrected by RG3. Now the quarterback is trying to rush back from a serious knee injury. They seem poised for the proverbial step back.
Coaches on the hot seat
Rex Ryan - The Jets canned Mike Tannenbaum after the season and now Ryan is living on borrowed time without the talent to do much about it.
Gary Kubiak - The Texans are a good football team but didn't appear mentally prepared to go at it with the big boys last year. That's on the coach.
Mike Shanahan - The permanently tanned one botched the RG3 situation last year and if the reigning rookie of the year falters folks will know who to blame.
Jason Garrett - Garrett is always on the hot seat and now has officially lost his play calling duties. Could his job be next?
Dennis Allen - He coaches the Raiders … enough said.
Three reasons the Patriots will win the Super Bowl
Tom Brady -** Annual reason No. 1 for why the team has a chance.
Bill Belichick - Annual reason No. 2 for why the team has a chance.
Maturing defense - A newcomer to this discussion, Belichick has worked hard to improve this group and if he's succeeded it could be what the team needs to get over the hump.
Three reasons the Patriots won't win the Super Bowl
Lack of weapons/offensive deterioration - The receivers are either gone or injured, leaving Brady as the lone playmaker of the group.
Defense fails to develop - There's a difference between youth and talented youth. If the young guys don't come together the defense will remain a work in progress.
Bad karma - It's possible the ugliness of the offseason will end when the season begins but sometimes it's hard to stop the ball from rolling once it picks up steam.