Opening statement: "Good to see everybody here.  Thanks for coming out.  [We've] got a nice new banner.  That's pretty cool - and brighter lights, too.  Injury-wise, everybody's been working hard the last couple of days.  Looks like we're in pretty good shape.  There will be one or two guys who will be close, but I feel pretty good about where we are with that.  [We] had a good start to the week, even off the tilt today, but especially with meetings and our walk-through thus far.  That's what you like about Wednesday.  When Wednesday comes, you're on your way.  So, we're on our way."
This group is known to be loose and fun-loving. Do you see any more grim faces or a little more outward intensity for championship week?  (Joe Platania) "No.  I haven't seen that.  I've seen our usual demeanor.  Our guys are very professional.  Our guys are very focused.  Our guys work really hard.  And, that's what I saw.  I also saw them laughing, smiling and enjoying each other.  That's what we do."
John, what did you make of Ed Reed's comments earlier in the week on Sirius Radio? (Aaron Wilson) "I don't make anything of them, other than the fact that he and I had a chance to have a conversation.  And I had a chance to talk to some of the other guys about it and I understand where we are.  [We're] getting ready for Sunday."
Could the timing of it maybe have been better? (Aaron Wilson) "I understand where Ed's heart is.  All of our guys, when they say things and you get a chance to talk about it … We're together all the time.  We know each other.  We understand where each other is coming from.  I'm sure there are some things he would have like to have said a little better.  If you look at the whole context and hear the tone of his voice and the message he was trying to communicate, it's a good message.  But obviously, things could have been [said differently]. The way you read them and stuff like that, I'm sure he's not really happy about that."
Do you have a problem in the entire interview with what Reed said? (Steve Davis) "No.  I'm not going to describe it in any way.  I understand what he's talking about.  We all try to get better.  No one has been more critical of himself than that guy over the years.  And, we all take a very critical approach to what we do and a very humble heart to our job and to the challenges ahead, and we try to make each other better the best way we can and we move on.  And that's what we're doing.  You just move on.  We know each other; we understand each other."
Do you like the mix of youth and veteran leadership on this team?  With players like Ray Lewis and Lardarius Webb, does it seem like a team that can stand the test of time?  (Dave Ginsburg) "I do.  It's a great mix.  It's always good not to be a bunch of young guys or a bunch of old guys, or whatever.  It's good to have a nice mix of experience.  Some guys can train some younger guys into a certain way of doing things.  It begins to permeate everything that you are.  And then those young guys, in turn, [will teach others].  I look at some guys like Lardarius, and some of those guys who have been there for three or four years now, as being those guys - Haruki [Nakamura].  They start to train the younger group, and it just becomes a perpetuating type of situation."
With your combined experiences, you have probably experienced more Championship games than anyone in the organization.  Is there something about the Championship that is different, or is it just like any other game? (Nestor Aparicio) "Once the game starts, it's probably, in some ways, another football game.  But, there's an underlying understanding that the next opportunity is there.  It's the AFC Championship game - it's a championship game.  In that sense, we understand that, and it's meaningful for that reason, no doubt."
Is there a value to you, as a coach, having gone through the Championship experience so many times that is an advantage to you over other coaches?  (Nestor Aparicio) "I don't know.  Everybody has their own experience.  That's my experience, and I feel good about the fact that we've been down this road a number of times as a coach in this league, but especially here.  That's probably the bigger value - the fact that most of our guys have been through this already once, four years ago.  So, it's a positive."
What are some of the things you've taken away from the experience of the AFC title game your first year as a head coach that you can bring to this game?  (Pete Gilbert) "I don't really have that list in front of me right now."
Tom Brady is a QB who is able to move around in the pocket effectively and be accurate.  What about his ability sets him apart from other NFL quarterbacks?  (Aaron Wilson) "What makes Tom Brady such a good player?  Maybe one of the elite quarterbacks that ever played the game?  The thing is he has total control of what they're doing offensively, first of all.  That's where it starts. They've definitely built an offense around [Brady].  They built an offense together over a long period of time, and all that stuff expresses itself in what they do. And they do a lot of really clever things that really challenge a defense.  And the more you study that, the more respect you have for it.  And he's been a part of that from the beginning, so it's a very nice assimilation.  On top of that, he's big, he's accurate.  He throws the ball hard. He throws a catchable ball at the same time.  He moves around fairly well in the pocket.  So, all those things."
This is the 18th game of the season.  How far back do you go when you study film to come up with your game plan in a limited time frame? (Steve Davis) "Everybody dives into their area, so we have a lot of people working on it.  So, we've seen everything.  And then you also bring to bear past experience and past knowledge that you have on a team."
So, you will be looking at 17 games worth of film in your preparation for Sunday's game? (Steve Davis) "We've seen everything that they do."
The weather for this weekend is unpredictable.  Do you prepare for the contingency of wet or dry weather? (Peter Schmuck) "Over time we do.  We do things like, we practice with wet balls; we go outside in the rain.  We do different things.  We practice in the cold and stuff like that.  But specifically, we think we're an all-weather team.  We think we're built for any kind of conditions.  That's the idea."
What can you take from your playoff experience in 2009 and the overtime game last year versus the Patriots?  Or, do you look at it as a new season, new team, new game? (Glenn Younes) "We take whatever we learned from those games.  Football-wise, we learned plenty from those games.  So, we'll apply them to this game."
Jarret Johnson said the Patriots are one of the toughest offenses to defend because they can disguise what they are running in their various personnel sets.  Do you feel that the Patriots are very multiple in what they do? (Dan Kolko) "They're very multiple in what they do.  And, they are a very [good] self-scout team.  They understand their tendencies, they build them, and then they rank them.  Like I said, it's a very clever offense.  It's well put together."
Can you describe what works well in your relationship with Steve Bisciotti and if you've seen an increase in urgency over winning a Super Bowl in your tenure as head coach of the Ravens? (Childs Walker) "It would be hard for me to describe all the things that work well.  I think he's a great leader, and whatever works well is probably a credit to Steve Bisciotti, as it relates to his head coach or as it relates to anybody in the organization. The guy is the best I've ever been around.  And, the quality of the organization reflects that.  There's an increased sense of urgency in the sense that, yeah, we're closer, and we're looking at 60 minutes of football."
Can you describe the evolution of the Ravens' offense this year?  Do you feel you like where the offense is now?  (Gary Graves) "I like where it is.  Yeah, absolutely."
Is there anything specific that you like about where the offense has evolved to over the season? (Gary Graves) "Not that I really feel I need to share."
How well has Chuck Pagano fit in as defensive coordinator this season? (Jeff Zrebiec) "Chuck has done a great job.  Chuck is a great coach.  The rest of the staff has done a great job.  It's always a group effort.  The players and the coaches have worked really well together.  We've got a good dynamic with all of our coaches - all three phases - and our players respect our coaches a great deal.  And our coaches respect our players.  It's more of a peer relationship in a lot of ways at this level, and they've done a great job working together.  Chuck is a great example of that.  Obviously, it's been reflected in the way those guys have played.  So, I'm really proud of him and I'm proud of all our coaches."
Do you have a better sense of confidence this time around having played in the AFC Championship game before?  Is that experience helpful to you?  (Jerry Coleman) "The experience factor helps.  It's good to have that under your belt, so you've got an understanding of being in that situation. That's about as far as you can take it."
The Patriots' defense has been criticized a lot this season, but appears to be playing better over the last few weeks.  What do you see in the way their defense is playing?  (Craig Heist) "With regards to what?"
They were criticized for giving up a lot of yardage and touchdowns.  What do you see out of the Patriots, defensively, heading into the Championship game?  (Craig Heist) "Well, the first of it I don't have any comment on.  The second part of it, I see a very capable defense.  I see a lot of talented players who play very hard.  [They have] a very big, physical front, talented back end, [and are] obviously well-coached with a good scheme.  So, I see a big obstacle in front of us."
Patriots tight ends [Rob] Gronkowski and [Aaron] Hernandez have evolved into a big part of the Patriots' offense this year.  Have you seen things open up for Wes Welker because of that, and how crucial will it be to watch him on Sunday? (Dan Kolko) "They've always had somebody to open up for Wes, it seems like.  Whether it was all of the receivers … Randy Moss comes to mind.  But, they've always had guys to push the coverage up field and clear out space for Wes.  That's part of their plan all the time.  They've got another guy in there, Hernandez, who they do the same thing with now.  He runs some of those same routes underneath.  Of course, between Danny Woodhead and just all their guys, it's just amazing.  They all do the same things underneath, and they all are built that way. But Wes Welker is the guy that leads the charge. Gronkowski is pushing the ball up the field, it seems.  Hernandez is pushing the ball up the field, it seems.  And then they've got good receivers outside that can get over top.  It's pretty much the same formula.  There are a couple of different faces, but pretty much the same idea."
Do you feel you have to make this more of a Ravens-type game than a Patriots-type game to be able to win? (Geoff Mosher) "You have to give those definitions to me first before I could answer."
The Patriots are known to put up a lot of points, and the Ravens are more known for their dominating defensive presence.  Do you feel you need to play more of a defensive-type game to win? (Geoff Mosher) "Well, yeah, you've got to stop them.  You've got to find a way to stop them and control them, and you can't just let them go up and down the field on you.  That's true for any game.  And, we're going to have to play good offense against their defense.  So, what we're going to have to do is score more points than they do.  That's what we're going to have to do.  That's the plan.  Whatever that means, that's what we'll try to do."
On if he has spoken to S Ed Reed about his comments: "I talked to Ed [Reed] about it. It was a little funny to me. I was a little caught off guard. It is what it is. We talked about it. It's really not that big of a deal."
On if he was offended at all by Reed's comments: "When I first saw it, I was like, 'What's going on?' Like I said, we talked about it. We are a team around here. It's not really that big of an issue. I don't really take things that bad. It is Ed. It is what it is."
On how he became aware of Reed's comments: "I would not have seen it, but I was out eating dinner and happened to see [Terrell] Suggs on TV and then saw it right after that."
On OLB Terrell Suggs and LB Ray Lewis coming to his defense often when he faces criticism: "I think that is the team we are. I wish those guys didn't have to come to my defense on all kinds of things. I don't really think they have to. The way things are talked about, it just makes it that someone has to come out and say something. Terrell, all along, knows how to go out there and stick up for all of us."
On the challenges the crowd presents for the Ravens in Foxborough: "Anytime you go into a road playoff game, you know it is going to present its challenges in dealing with the crowd noise and things like that. We have faced it all year long. Every road game we go in - we play a lot of good teams that have great crowds - it definitely prepares us for something like this. I think 95 percent of the game, I have said it before, you are not really affected by it.  If you let something happen, then that is when you can get yourself in trouble. You can let that have a positive affect for the home team. I think you have to do something mentally that was not very sharp in order to let that be a factor."
On if winning a Super Bowl in the future would change the perception of him and the team: "I don't care. I will be wearing a ring, and we will be holding a trophy. The perception probably won't change, but it does not really matter."
On how tough it is to play in New England: "I think anytime you get a team that plays really well at home, they are in a lot of games and they are winning a lot of games. If you give [fans] something to cheer about, they are going to be loud and they are going to be positive for that team. That is the biggest thing with playing there. They have a good football team. They win a lot of games. They are in a lot of games. There is never really a point in the game where they are not excited about what is going on with their team. I think it is our job to go in there and play the way we can play and try and play well so we can take them out of it as much as we can."
On if he believes offenses or defenses win football games: "I think offense does. Look at who has won Super Bowls the last handful of years - great offenses. Yes, defenses can step up and you can be a really good team with good defenses, but the bottom line is you have to have both. You have to be able to score points. You have to be able to stop teams. You really have to be able to do it in tough games on the road in a lot of different situations.  I think you can win both ways. It is an offensive game now. It really is. It is tough to argue that. Like I said, in can be both sides. A defensive team can win it and an offensive team can win it. If you were to bet, I would definitely bet in the next 10 years more than five teams are going to win it because they have good offenses, not good defenses."
On if balance is the strength of the Ravens: "Yeah, definitely. Obviously we are not very good, statistically, on offense. If you look at the statistics, you can say, 'Hey we don't score a ton of points. We don't put up a ton of yards.' But the bottom line is we get the job done. We score points when we need to. We are really good in situational football. If we need to be really good in two-minute [situations] - which we don't have a lot of chances at - we are a really good two-minute team. I think that has been proven over the year. If we need to run the ball, we usually run the ball. If we need to throw the ball, we usually throw the ball. We don't do a ton of things to be really explosive - in the top of the league statistically - but we have the ability to be a really good offense."
On if at the end of the Houston game featured pass plays or were they runs audibled to pass plays: "The third down was a pass play. The second down was a run play. They brought an all-out blitz. We had a little thing with Anquan [Boldin] out there for that. Having looked back at it, I probably would have handed the ball off. Hey, I honestly was not thinking about it that much. I was thinking, 'Hey, let's go score a touchdown here and put the game out of reach.' It did not work out that way, but we still won the football game."
On if he has spoken to owner Steve Bisciotti about being the face of this franchise: "Not really. You talk about it with people within the organization every now and then, but I never really brought up that. I think this offseason, we probably talked about it a little bit just because we had a great year, we ended up coming a little bit short, and some things were said, so you present that question."
On if this group of Ravens needs to at least get to the Super Bowl to be considered special: "In order to be a special team, you have to win a Super Bowl. You can't get to the playoffs and lose every year and expect to be considered a special team. We are definitely a good football team. That is without question. To be a special team, you have to win championships. We are working towards that. That is why we are here right now. That is why we put ourselves in this position every year. If you are here every year, you give yourself a way higher percentage of getting to the Super Bowl and winning it. I don't think it is a 'now or never' feeling. I don't think you ever want to feel that way. The bottom line is that getting to the playoffs and getting to this position is a rare thing. We have been spoiled around here, but that is because we are a good football team. You say teams are not in this position a lot or young guys don't get used to this - you always hear that. Well, shoot! We should get used to it! We are a good freakin' football team! Why shouldn't we be here every year? On my part, yeah, right now, as far as this season goes, we better get the job done, because this is all we got. But as far as the future goes, it is tough to look at this as a 'now or never.' This is my fourth year, and I hope to play 15 years or so. If this is the only chance I am going to get, that is kind of crazy to think about. I would like to hope I am going to get this chance [again], we are going to win, we are going to win in Indianapolis, and then we are going to be here every other year and put ourselves in a position to go play in the Super Bowl every year."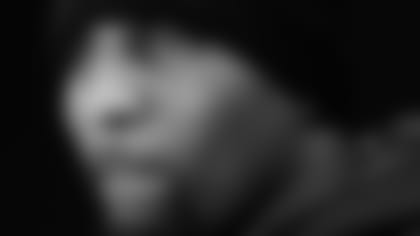 On whether S Ed Reed's comments regarding QB Joe Flacco have caused an issue on the team: "It's not an issue. I haven't heard clearly what he said, but it's not an issue. The only issue we have, as a team, is going up and trying to get a victory in Foxborough. Anything else that anybody else wants to bring up is irrelevant at this time. Every person in our locker room is thinking of it the same way."
On how the team can draw on past experiences in the AFC Championship Game: "I think every new step is a new learning experience, every year it's another stepping stone. Joe [Flacco] gets older, Ray [Rice] gets older, and everybody gets more and more mature and understands how huge these opportunities are and, most importantly, how few they are. I think for our team, we have the right chemistry right now. We have the guys that have been in the playoffs, who have had the disappointments and things like that. We have a certain sense of things that we want to do personally and as a team. I think everything we went through we definitely learned from."
On preparing to play an intelligent quarterback like QB Tom Brady: "When you speak about Tom [Brady], you're talking about arguably one of the best two quarterbacks of all time. You've got your hands full from Day One, before you even step on the field with him, because it's a film study game with him. He wants to [identify] everything that's coming out and know what you're in. Your job is to disguise and not show him all of that. It's a chess match, almost. Like Peyton Manning, anytime you play Peyton Manning, it's the same type of chess match. So we've got our hands full this week. You watched what they did last week against Denver. Just the way they came out and ran their offense - how efficient he was, how many different receivers he hit with the ball. I think their offense, period, is playing at a very high level."
On how the defense is going to match the pace of the Patriots' offense: "It's always a challenge. I think the challenge is getting lined up and really being able to do what you want to do and not let everything that they've done … When you watch film, the thing that you do see is that they have a lot of people out of place, a lot of people scrambling, trying to do this, trying to do that. If you can slow that down and let the game take care of itself, then you have a better chance of trying to get it done. But like I said, you watch the numerous games with him going back and forth. He has a lot of defenses scrambling around, and that's something we're going to have to be very aware of this week."
On whether the feeling is different now than it was going into the 2008 AFC Championship? "I think the feeling is totally different. You talk about those AFC Championships that you went to - that's me speaking to a first- or second-year Ray Rice, first- or second-year Joe Flacco. [Those were] very talented teams but, at the same time, I truly believe that an experienced team will outweigh a talented team any day. That's what we have now. We have total experience on what it's supposed to feel like, what you're supposed to do to prepare and what the mentality is going into it. I think our confidence is definitely very high just because we have been through those bumps and bruises."
On whether he is shocked by the criticism that QB Joe Flacco has received: "I think I'm more shocked with how people can speak about somebody who is just a flat-out winner. There is no one side to anything. There is no one player that makes the team great. It takes a team effort. For Joe, who came in here and did what he's done for us … I've told people from Day One when I first saw that kid throw the football, I said, 'That kid is special,' You watch all of these guys who went in the top, first draft picks, and they aren't even in football anymore. You're talking about a guy who came into this league, has been to the playoffs all four years and has given his team the opportunity to win games. Joe doesn't play defense. So, when we gave up touchdowns on defense, that wasn't Joe's fault. When people beat us on defense or scheme something against us, that's not Joe's fault. The times that Pittsburgh was scrambling and made a big play on us, that wasn't Joe's fault. So, a lot of things that people always try to put on the quarterback, I understand that, but it isn't about that. It's about the Baltimore Ravens. We are a complete team. We go into games and we win as a team, we lose as a team."
On who wins championships, the offense or the defense: "Come on now. You got a little trick question. (laughter) You know what? I've been doing it for so long, when you do watch how the games are played, nine times out of 10, I just truly believe defense is going to find a way to win the championship. You can go back however many years you want to go back, and defenses have a way to come out to make a play that changes the outcome of games."
On his style of leadership versus QB Tom Brady's style of leadership: "I think when you talk about Brady, you have to definitely add [Patriots head coach Bill] Belichick to that. I think that chemistry, and what they believe their leadership tactic should be, comes hand in hand with each other. I think Brady leads in a totally different way than I lead. He is his own man in how he leads, and Belichick does a good job of keeping him on the route. But, as you can see, they're very fiery and they go at each other a lot. My leadership style is totally different. I think everybody has different styles of leadership, but I think what they've been able to do has been very effective."
On what makes Ravens owner Steve Bisciotti such an effective leader: "Wow. Probably one of the most important things is that when we speak to each other, we don't speak as boss or worker, we speak as friends - as men. From Day One, when he first came in the league, from the first handshake that we ever shared and the times that we've spent after that, the conversations that we have are about being better men and being better friends - how we can really just make this team better and make our city better and things like that. He's not the pushy type to try and always control this, control that. Steve is a very open guy; he is a very open-minded guy when it comes to what works and what doesn't work. He understands his strengths, and I understand mine. So, I think we get along really well."
On how much LB Ray Lewis has reminded the team that he's the only one in the locker room with a Super Bowl ring: "It's not much of a reminder, but you share the stories that Ray Lewis is telling us about his Super Bowl experience. It's like he preaches: These moments don't come by too often, and you have to embrace every moment that you have with this team. Every team that I've been on has been different. Guys come and go, but this opportunity is different. It's been a great ride, and it just feels like the story has to continue. With that being said, we know we're facing a great opponent this weekend."
On how much he personally can take away from his last performance against New England during the 2009 playoffs: "If you want to ask me if that was my fondest moment in my NFL career, yes it was. Obviously, stats matter, but when you can do something that special in a playoff game in another team's stadium, that was huge. And that's something that I'll cherish for the rest of my life. And obviously, we didn't go on and win the Big Dance, but playoffs are … It separates everybody. There's a reason why there's only four teams, and there's only one true champion at the end of the year. But when you can do something special in the playoffs, it's definitely remembered.  And, that's something that I'll definitely take with me for the rest of my life."
On how many times he thinks the Patriots have been shown that run this week: "I'm not sure. I think they've gotten over it. Obviously, they're back in the AFC Championship game, and if I'm not mistaken, besides the playoffs, the last time we faced them we didn't win that game. And they did a great job of containing me. [I have] tremendous respect for coach [Bill] Belichick and his staff up there, because … We could talk about how great their offense is - obviously that's what Tom Brady and everybody does - but for me, I've got to face their defense, and they've always done a great job of coming in with a game plan and executing it. Whether that's limiting the big run, or making us march the ball down the field and limit us to three points, that's been the kind of games I've been in with them since I've been playing. But we have to come in with a game plan and execute it. The key to championship football - everybody knows - is execution."
On how hard it has been to keep getting to the playoffs but falling short of the Super Bowl: "Oh, man. No. 1, it's hard getting there. It's hard getting to the playoffs. I'm not going to say it's been easy; it's been very hard every year. For me, I've been spoiled. I've been in the playoffs and played in every single game but one, and that's the Super Bowl. So, with that being said, the playoffs every year is a nail-biter, because we've had a winning record and we'd still end up like the fifth seed. This year we end up the second seed. Obviously, we took care of business, but we would have 10, 11, 12 wins and ended up the fifth seed and had to be on the road every game. So, every year has been tough."
On his collision with LB Jerod Mayo in his first-ever preseason game and on struggling in short-yardage situations last weekend: "I wouldn't say it's a whole lot in the seams, but as a running back, you don't want to miss an opportunity. First off, we're playing two different defenses. My first preseason game as a rookie, I actually wore No. 39, so it's been a while back, but obviously, [I have] tremendous respect for Jerod Mayo and the linebacker he's become in this league. [He's] one of the best that we'll see all year. But as a running back, you want to live for the big situation. Against Cincinnati [in Week 17], I had the third-and-one that went for a [51-yard] touchdown; you've just got to buckle up in those situations. Every running back will tell you, if it's a yard, don't matter if a guy is unblocked, we want to have that opportunity. So, yes, as a running back, I would have loved to have that opportunity back. With that being said, we got to the next week. And I don't care how we win the game; we're back into next week. So, it's just a great opportunity for us to do it all over again."
On whether he's thought at all about people saying Ray Rice controls the game by keeping the Patriots' offense off the field: "You know what? To a certain extent, that's very true. Anybody will tell you, when you can keep a quick-striking offense off the field, it limits the game. But with that being said, I think we have a great balance on this team. I think when we run it effectively, it sets up the pass. When we pass it effectively, it sets up the run. So, in order to keep Tom Brady off the field, I'm just going to say we have to simply execute at a high level. We have to play championship football. In championship football, it doesn't matter how you win it. You just have to execute effectively, and I know I'll be a major part in this game plan. Sometimes the amount of carries over the amount of touches I get is overlooked. I think if I touch the ball 20-25 times, it's a fair chance. I don't care if I've got to catch it 10 and run it 15; it doesn't matter. And with Joe [Flacco] doing his thing, we executing at a high level, whether he's got to throw a hitch or a long ball to somebody, we've just got to execute. And obviously, [we must] score points when our defense does get them a three-and-out."
On sticking up for QB Joe Flacco: "I don't have to stick up for Joe [Flacco]. His reputation speaks for itself. I just say what people seem to forget sometimes. That's all that it's about. I ain't even going to get into that anymore."
On why Flacco draws so much criticism: "I don't know. This team as a whole, we've never been kind of like anybody's favorite. I think he fits right in with us, kind of with our persona, kind of the flashy, flamboyant persona. He is right there in the locker room with us. We are just us. We're a different kind of group with some special cats around here. It is what it is."
On S Ed Reed's comments on Flacco earlier in the week and why the comments are not an issue: "I think we all just kind of comment on the things we need to do better as a team. I believe Ed [Reed] opened the whole thing with saying he [Reed] didn't play well. We just know what we have to do to get it done, to play better as a unit. And that goes across all of us - not just one person."
On what his "beef" is with Patriots QB Tom Brady: "What?! No, there's no beef. I guess genesis of that, it was the incident in '09, where I almost hit him below the waist. I've gotten over it. That's where it all started, but you grow and mature. As you all can clearly see, I am not the same guy I was back in '09. I am definitely 20 pounds lighter, too. (laughter) We had a lot going on. We had a lot going on that year. Like I said, I am pretty much over it. I respect him. Like I said before, I said it [Sunday], when it is all said and done, they are going to speak about three quarterbacks: Johnny [Unitas], Peyton [Manning] and him. There's really no beef."
On if he has heard the "Suggs vs. UGGs" slogan for the game: "Yeah, I have. What's that mean? He wears UGG boots? I heard they are really comfortable. Maybe he can get me some. I'll take some. I'll send him some Ball So Hard gear, Ball So Hard T-shirts."
On Patriots head coach Bill Belichick saying that Reed is the best player he has ever coached against: "He has said that to us before, and then constantly threw the ball back there at him. I don't know how much that holds weight. We've heard that before, but I agree. I definitely think, when it's all said and done, he's going to be one of the best safeties. We just have to see how he fares on Sunday."
On defending Patriots TEs Rob Gronkowski and Aaron Hernandez: "It kind of reminds you of Minnesota in '98. With their two tight ends, it's really special. You really can't. You really just have to try and contain it. I think Hernandez, he is a phenomenal talent. Gronkowski, the only thing I really don't like about him is that he went to the U-of-A [University of Arizona]. (Laughter, as Suggs attended Arizona State.) Other than that, he is still a really good tight end, too. They are really good. We definitely have our hands full. This will probably be the best offense we'll see all year. We just are going to have to see how we do. As my boy S.P. says, let it play out."
On the importance of sacking Brady and making him move his feet: "You all say that every week. How important is it to get pressure on the quarterback? Well, you don't want, particularly this guy, to get into a seven-on-seven matchup with your defensive backs, especially when they have a 6-12, 260-pound tight end that runs about a 4.5 [40-yard dash]. You don't want him back there just like, 'Oh, we're just going to play catch today.' You don't want him to zone in, get in his zone, so to say. So, I think pressure is going to be crucial, but it's always crucial. But, particularly when you are playing these type of quarterbacks, it's pivotal."
On how disciplined and focused the team is right now: "Well, they're a good team that is capitalizing on your mistakes, so you definitely want to keep those to a minimum. As far as [the Ravens committing] no penalties on Sunday [against Houston], I think that's excellent, but I still think we could do better, just as far as the whole game. That's a good part of it; that's a good start, no penalties. We are going to see what else we can kind of perfect."
On the Patriots' pass-protection schemes: "I haven't seen, especially this team … They haven't maxed it. They are going to do what they do. It's kind of their 11 vs. your 11. We're going to see how that plays [out]."
On if the team can win the game if it's a shootout: "Yeah, I think so. I hope so. If that's what it's going to take, if we have to win the game 63-60, then that's what it's going to take. We wouldn't really want it to be a shootout, but if it is, so be it."