On this Labor Day, the Patriots are working to finalize their 2010 roster, while simultaneously getting started in earnest on their preparations for their regular season opener. New England hosts the Cincinnati Bengals Sunday at 1 p.m. here at Gillette Stadium.
The team made a few more moves official Monday, re-signing four players and adding them to the practice squad. The most notable name, perhaps, is that of Shawn Crable, the outside linebacker and former third-round draft choice in 2008. He joins another [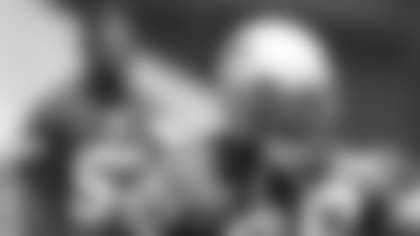 ]()draftee, offensive lineman Rich Ohrnberger(taken in 2009), wide receiver Darnell Jenkins(a PS member last year), and rookie safety Sergio Brown.
After spending the bulk of his first two seasons in Injured Reserve with various ailments, Crable was released on the eve of this summer's training camp (July 28). However, at the time, head coach Bill Belichickhinted that, if conditions were right, Crable could return. Today, Crable is healthy enough to have passed a physical, according to Belichick, and will be given a third chance to prove himself in New England.
The Patriots may eventually need Crable's services on the active roster. Over the weekend, New England parted ways with veteran OLBs Pierre Woodsand Derrick Burgess, whittling further an already thin position. The team has only four outside linebackers on the active roster at the moment: Tully Banta-Cain, Rob Ninkovich, Marques Murrell, and rookie Jermaine Cunningham, who has been absent from practice quite a bit recently with injury problems of his own.
"We'll just see how it goes with that whole group," Belichick remarked. "I think those players do some of the same things, they also do different things. There are a lot of factors to take into consideration there – all three downs on defense, which can have some variety to them and the kicking game. With all four downs … they contribute in different ways. It's kind of an old decision at that position – how to keep the right players, the best players, the best fit players that can help the team the most."
Belichick went on to state that it was difficult to say goodbye to players like Sam Aiken, last year's special teams captain, as well as established veterans like Woods, inside linebacker Eric Alexander, and a young draft pick like Tyrone McKenzie, who was fighting to make the roster after missing all of last season as a rookie with a serious knee injury.
At the same time, the head coach lauded the efforts of two undrafted rookies who made the roster: inside linebacker Dane Fletcher, a converted defensive end/outside linebacker, and defensive lineman Kyle Love, who played quite a bit of reserve nose tackle [
"I think both players showed up early and were able to sustain a pretty good level of performance from early on, even in the spring, to the early part of training camp. They showed pretty early that they could compete and they were able to sustain that. Those are two positions that are hard to find and when you find guys that can do that, especially when they can make that transition relatively quickly… Especially in Dane's case."
Belichick was also pleased with the players he acquired in the past few days, including safety Jarrad Page, inside linebacker Tracy White, and rookie offensive lineman Steve Maneri.
The latter is a former tight end who has since converted to full-time tackle. Meanwhile, with the loss of veteran Brandon McGowanto IR, Page seems the logical choice to fill his role at safety.
"We'll see. We've played against him. He's a productive player," Belichick commented about Page. "We'll see exactly how he fits in, but I'm glad we got him. I think he'll be a good addition to the group. I think he will help us."
The Patriots still have four more practice squad positions available to reach the league maximum of eight. How the team fills those jobs depends on a variety of factors.
"You consider the depth of your team – who do you need, where could you use extra players – the quality of those players," Belichick detailed. "How close one of those players might be actually to playing for you, versus … being able to practice is one thing, being able to be elevated from the practice squad to the 53-man roster or 45-man roster [on game days], whichever it is, that sometimes is another thing.
"You have players who are, in some cases, developing. So, even though you release the player, you don't know exactly what his ceiling is. If you think it's high enough, even though he may be further behind other players that you might consider for the practice squad, if you think that player might be able to overtake those guys eventually, that could be another consideration. It's kind of all of those combined."
With so much uncertainty lingering, it makes preparing for the first opponent that much more difficult.
"It's always a tough time," said Belichick. "It's tough to release 22 or more players … whatever the transactions are … it's hard on the coaches, it's hard on the players. Every team goes through the same thing. You have to get past that, move on, we all know it's going to happen. Everybody's in the same boat. Doesn't make it any easier, but that's the way it is.
"Part of the difficulty and preparation for opening day is not only the unsettling of your roster, but also the unsettling of your opponent's roster. They're doing the same thing we're doing," he continued.
"I'm sure they're looking at our moves and trying to figure out who's going to go where. And we're trying to do the same thing with them. That's part of the preparation, too. You really don't know how it's going to go until Sunday, or today, or even going forward. There could still be things happening later in the week. I'm sure there'll be players signed off practice squads and other places ... depending on availability and injuries and so forth."
Finally, though the remote possibility exists that guard Logan Mankinscould re-sign, Belichick didn't offer much hope of it happening anytime soon.
"I'm going to coach the players that are here," he responded when asked about the Pro Bowler. "Right now I'm getting ready for the Bengals with the players that are on our roster."
For news and notes from Moday's practice, which is scheduled to begin mid-afternoon, please **visit the PFW Blog *later today. *