Bill Belichick met with the media for the first time this offseason, checking in from the NFL owner's meetings in Palm Beach and touching on a wide variety of topics that have come to the forefront since the Patriots' season ended and the new league year began almost two weeks ago.
The Patriots have taken a measured approach in Free Agency, focusing on retaining their own players while tapping a small number of external free agents to fill out their roster depth.
"[We're] looking ahead to this year and trying to put the best team on the field that we can in 2022," said Belichick as he opened his press conference, adding of the team's free agency approach, of which internal development will be a key part of the plan, "We spent a lot of money last year, those guys are all young, they're under contract.
"We reviewed everything that happened in the '21 season, which we did, but more importantly, it's about moving ahead."
Of the players the team did bring back, Belichick expressed excitement about having some of his key team leaders back in Devin McCourty and Matthew Slater.
"It's great to have Devin back, great to have Matthew [Slater] back," said Belichick. "Fantastic people as well as players, they mean a lot to the organization, they're great role models and great players. We feel very fortunate to coach two of the best at the position that have ever played. Certainly, Matt Slater could go out there in the kicking game with Brady on offense and [Lawrence] Taylor on defense. I'm very fortunate to have the opportunity to coach all the players but I'd say those three in particular."
Captain James White will also be back in the mix after seeing his 2021 season cut short by a hip injury.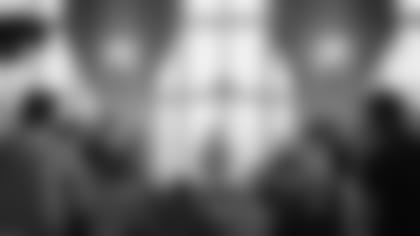 "Looking forward to seeing James [White]," continued Belichick. "I think he's certainly worked hard and made a lot of progress. When we start the off-season program we'll kind of see where things are at. James is another fantastic person, multiple-year captain, great work ethic, great role model for younger backs."
For now, Belichick and the Patriots are in the thick of the offseason, still working through Free Agency while getting ready for next month's draft.
"Putting our systems together, whatever changes were going to make, making those changes," said Belichick of their current to-do list. "Adjusting to new personnel, building with some, obviously with Mac, building with some now that we know who are some of the players we have back that we didn't know we were going to have back. Putting that together. Having Devin back, that makes a difference in what we can do defensively. Looking at some new opponents obviously. Mike [McDaniel]'s in the division and then the NFC North, there are some other things that will need to be ready for. It's all part of it.
Another big topic at the forefront of Patriots news is the coaching staff. Following the departure of offensive coordinator Josh McDaniels, whom Belichick wished good luck to except when the Raiders are facing the Patriots, there are questions about how the team will manage their staff, with Joe Judge returning into the fold and taking on an offensive role along with Matt Patricia, who Belichick said will continue to have a "broad" role that could include being on the offensive side as well.
"It's great to have Joe Judge back and Matt [Patricia] of course, they are two really good coaches," said Belichick. "We've had a lot of coaches take multiple responsibilities... I'm not really worried about that. I think a good coach is a good coach and Matt's a great coach, Joe's a great coach. They'll help us no matter what position they coach."
Belichick did not specify who would eventually be calling plays for the offense, but did say he believed the staff was likely complete, though he wouldn't rule anything out.
"Everybody will have a defined role like they always do," said Belichick. "Once we get on the field coaching the players and game planning and things like that then that will all work itself out."
Otherwise, Belichick showed no sign of slowing down as he gets ready to turn 70 next month.
"I'm just looking forward to this year. Got a lot to do and not really looking past it or behind it. Just focus on the present, there's a lot to do," said Belichick. "I enjoy it. I enjoy doing it. All parts of it. Comprehensive job. It's a lot but it's fine. It beats working."
Belichick Quotes of Note
On the reunion with Malcolm Butler:
"He indicated the desire to play this year. We worked through the process with Malcolm like we do with every player. I would say we know him but he came up and visited whenever it was last week, a week and a half ago. So we signed him. Look forward to having him back."
On new Director of Player Personnel Matt Groh:
"Matt's done a tremendous job for us. Very smart, detailed, obviously has a very detailed football background with his dad and his family. He's grown up in football, has scouted in multiple areas for us. Has had multiple responsibilities from area scout on the West Coast to the southeast regional scout, national scout. Really put the draft together last year as the Director of College Scouting. With Dave [Ziegler] leaving I feel like he's the best person to step into the personnel job. He's done a great job. He's as good as anybody that we've had in that position."
On the reunion with Trent Brown:
"Good to have Trent Brown back, glad we were able to work it out. Glad we were able to work it out with all the players we re-signed. He played well when he played but he missed half the year so hopefully, we'll be able to get more playtime from him this year. He's a quality player."
On responding to the Free Agency moves made by rival AFC teams, like the addition of Tyreek Hill in Miami:
"I think if we spent a lot of time doing that now there's going to be a lot of changes. I think you're probably better off waiting until the majority of the changes have been made so you can get the full picture and then figure out what, if anything, you want to address. Obviously, I'm aware of Tyreek Hill but there are other things that happened down there before they signed Hill."