INDIANAPOLIS - Bill Belichick has seen a lot change on the NFL landscape in his nearly 40 years in the league. One of those things is the annual Scouting Combine, which is taking place once again this week inside Lucas Oil Stadium.
The annual event brings some 330-plus players together for all 32 teams to assess in a one-stop scouting and medical evaluation process that has been perfected in the centrally located convention city of Indianapolis.
As Belichick stepped to the dais inside the Faegre Baker Daniels Club for his first Combine press conference since 2009, the New England coach found himself recalling the early days of the now finely-tuned annual scouting affair.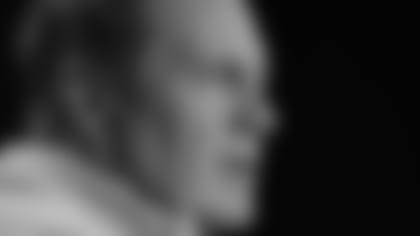 "I was walking over here just this afternoon thinking about just how far the whole Combine has come," Belichick said. "The first one I was at was the second one at Arizona State. Obviously held outdoors. The day ended not in total darkness, but certainly past dusk. I still have the image of [future Bears defensive lineman William] Refrigerator Perry doing the vertical jump out there on the vertex in the middle of the Arizona State field in almost total darkness.
"Now we have the banners on the streets, we have NFL Network. This is a huge media event and fan event. It's really come a long way."
Despite the cameras, official sponsors and 900-plus credentialed media, the event is still, at its heart, a major part of the scouting process leading up to May's NFL Draft.
"Obviously a great opportunity for our organization to see the players," Belichick said. "From a medical standpoint I'd say that's probably the biggest thing we get out of this is to have the physical examinations and have them all done at one time. The medical part of it is huge.
"Having personal interaction with the players personally is good, certainly for me. Just being to see them in person. Even though the drills are workout drills and not really football drills. Certainly something to be said to be able to line up all the guys together and seeing them compete."
Belichick was clear to point out that the Combine is an early step in the overall pre-draft process, especially in a year that includes a record of more than 100 underclassmen.
"Obviously it's a pretty good looking group of players," Belichick said of the draft class. "We have a long way to go in the evaluation. I'm nowhere close to being able to give you any type of analysis or evaluation of what this draft is or isn't. But it certainly looks like a lot of interesting players. Certainly a lot of guys we have to do work on. This is the heaviest underclass group that's come out. So we have a lot of catching up to do in that area."
After his opening comments, Belichick took a few questions on a variety of Patriots-related topics at this point in the offseason. But the coach offered limited information in his answers.
In regards to all the changes that have come on his coaching staff this offseason Belichick said simply, "I think our coaching staff is pretty well set right now. So we'll go forward with it. I'm excited to have the people that we have. We'll just see how it all come together."
As far as New England's top two free agents - cornerback Aqib Talib and wide receiver Julian Edelman - the coach said, "I talked about that at the end of the season, about the process that evolves. And I would say we're in that process."
Really, though, Belichick's rare press conference appearance at the Combine was mostly an opportunity for the coach to talk about how far the key NFL event itself has come in his time.
"Tremendous growth of this event and the whole scouting nature of the National Football League and how it's progressed through the years," Belichick observed.