There certainly are similarities.
All week long, those who cover football for a living have been drawing comparisons between New England's Tom Brady and Dallas Cowboys quarterback Tony Romo.
"I met him this off-season, but I don't really know him," Romo said of Brady during a conference call with New England media.
"He's just a fantastic player. You try to take things from great players and try and use them in your game. He's a great, great player that has done a phenomenal job for a long time now, but at the same point, you just have to be yourself and do what you do well."
Both were unheralded players coming out of college who have worked their way into starting roles. Another area where both players share a bond is with Drew Bledsoe, from whom both QBs took over their respective teams.
"It's kind of strange how it happened that way," Romo acknowledged.
"I learned a lot from Drew. He helped me out when he was here. You try to take some of the things you learned from him and kind of move on."
Might he give his old teammate a call for some advice on how to handle Bill Belichick's defense?
"No, I don't think so," he replied. "I'm sure Belichick will change up things weekly. They're going to have their core stuff that they're going to want to get to, but at some point they're going to mix it up each week. He's probably going to come up with some different scheme that they like to attack us with.
"We'll just try and adapt to it as the game move along and try to be ready for it, but they're a great football team. It will be a great challenge for us. It's just another step that we have to take to get to where we're trying to go."
Trying to study the Patriots has been tougher than usual for Romo this week, having played Monday night on the road in Buffalo and having returned early Tuesday morning to Dallas.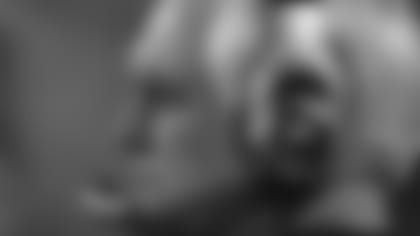 "It's been difficult," he admitted. "I didn't watch any tape until [Tuesday], so I came back from the game and came back here and started watching tape on the Patriots to get ready for this week. You get a little tired there just because you don't have as much time off, but that's part of what makes it fun, too, is you grind it out, you put forth a lot of effort and hopefully it will all come together on Sunday."
"Oh yeah. He was here yesterday, and always is, trying to learn the game plan early and doing what he needs to do," Cowboys head coach Wade Phillips said of his still-developing QB.
"He does all the right things, and I think that's why he's turning into a bigger quarterback."
Romo will be on one of the bigger stages of his nascent career Sunday when his 5-0 Cowboys meet the 5-0 Patriots. It will mark only the fifth time in NFL history that two teams with those records (or better) have met in the regular season – a fact not lost on Romo.
He was asked if the added hype is what makes the game of football worth playing.
"I think so. It makes it more fun. You want to play in these types of games. It will be fun when they come to town, but we don't look at them any different that we did last week. They're all big games and you have to win each won. They count the same in the record book."
"I think both teams will be up for this game. Both of us 5-0, that's motivation right there," Phillips added.
Thursday Practice Notebook
Due to the inclement weather here in New England, the Patriots moved their afternoon practice indoors to the Dana-Farber Field House. It was a helmets-shoulder pads-and-shorts practice.
After stretching, the team gathered at midfield, where they were joined by a special guest of owner Robert Kraft. Former head coach and general manager Chuck Fairbanks addressed the team for a few minutes. Towards the end of his speech, he said something that drew laughs and applause from the players.
RB Laurence Maroney took part in pass-catching drills early in practice and appeared unhindered by the groin injury that has sidelined him the past two games.
The only players missing from practice were DB Mel Mitchell and T Wesley Britt, both of whom were absent from Wednesday's session as well.