Patriots fans have to be hoping that the song stuck in their head after Sunday afternoon's game in Buffalo isn't, "Then I saw them play, now I'm a believer." Buffalo and New England will battle for first place in the AFC East -- one an expected undefeated team and the other trying to prove that its hot start is to be believed. Bill Belichick's boys have won 15 straight against the Bills, but they haven't all been in easy fashion. Trips to western New York bring more than just Buffalo wings and beer-lubed Bills fans throwing birds (and the occasional full moon) at the visiting team buses. No, this time it brings a meeting of 2-0 teams that might just evolve into an actual shootout. Until Sunday's rare Patriots 1 o'clock kickoff, sit back and enjoy this Buffalo edition Friday Six-Pack with a side order of blue cheese!
1. Stepping up in the spread - Aaron Hernandez will not be ready to go after a reported MCL injury suffered against the Chargers. That'll change the personnel package in some way that's included two tight ends (Hernandez and Rob Gronkowski) and two wide receivers (Deion Branch and Wes Welker) for much of the first two weeks. Who will fill Hernandez' shoes? In many ways he's a slot receiver more than a tight end, so the most logical choice might be Julian Edelman. But Chad Ochocinco seems to be working more into the mix step by step. Could he get the extra reps and chances this week? After opening the season on the inactive list for two weeks while battling a hamstring injury maybe Taylor Price gets some more run. Maybe it will be some combination of all those players. I don't expect the passing attack to be all that hindered without the man who has caught 14 passes for 165 yards and two touchdowns. But the guys that Tom Brady has at his disposal as he looks to eclipse 400 yards for the third straight week and break a few more records will be a little different. The Bills are banged up in the secondary with Terrence McGee out of action. They can't cover consistently or rush the passer with any real fear-inducing regularity. They will give up yards, plays and points. Brady will find those. The question is, who will be on the receiving end this time around?
2. Hurt or injured?
- The Patriots have plenty of guys on the injury report (16 as of Thursday), missing various parts of practice action. Who will play? Who knows? Hernandez walked through the locker room on Thursday with no noticeable limp. A day later he was ruled out. Patrick Chung missed two days of practice after a reported thumb surgery, but then was back on the field with a black cast on Friday. Sebastian Vollmer was out of practice action with a back injury that held him out of the opener and is now out again. Kyle Arrington was limited with a concussion. Albert Haynesworth (back) did not practice on Thursday or Friday. Ras-I Dowling is fighting a hip issue. Leigh Bodden has been dealing with both back and hand problems to open the season. Josh Barrett and Dane Fletcher have casts of their own. Heck, even punter Zoltan Mesko has a left (kicking) knee injury that had the team trying out punters. The inactive list for this game in Buffalo - the first version of which includes Hernandez, Vollmer and Mike Wright(concussion) - will be very interesting. It will also go a long way toward what kind of team the Patriots can field on both sides of the ball as depth is being challenged on the offensive line and in the secondary in particular.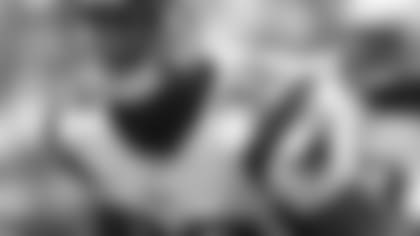 3. McCourty in session - Devin McCourty has had a tough start to the season against some pretty good wide receiver competition in Brandon Marshall and Vincent Jackson. His test will be different though not necessarily easier this week in Buffalo. Stevie Johnson, who's nursing a groin injury, isn't the big body of the first two. But he's developed into a consistent playmaker, both down the field and in key third-down situations. The Bills spread things out and let Ryan Fitzpatrick throw it around. He likes to throw it to Johnson, who had a 37-yard TD against the Patriots last season and averages 13.5 yards a catch so far. With health issues at safety, it's time for the Pro Bowler McCourty to step and play like a true playmaker. Fitzpatrick makes some throws that give the defense a chance to make plays. McCourty needs to start making plays. Sounds like a recipe for a rebound for the New England second-year defensive captain. Fingers crossed.
4. Jackson (no) Hole - Fred Jackson isn't considered an elite back. But maybe the former practice squad player is starting to get the respect he deserves. Jackson has two 100-yard games to open the season. He's averaging 6.5 yards a carry with two touchdowns. And he's been so good over the last year-plus that he's rendered C.J. Spiller an afterthought in the backfield. Jackson averages 4.8 yards a carry in his career vs. New England. He had 136 yards in a December matchup in Buffalo in 2008. Bill Belichick knows how good Jackson can be if you let him get rolling. With the way the Bills spread things out on offense, Jackson has been having even more fun in 2011. It will be key for the Patriots front line and linebackers to be solid in their run fits and gap responsibilities to make sure Jackson doesn't get off to a fast start. If he gets rolling that only helps out Fitzpatrick and the passing game. And it only makes life more difficult on a Patriots pass defense that's been struggling to open the season. In order to make the Bills offense - which has scored more points than the Patriots this season - more easily defended, it starts with keeping Jackson from getting going.
5. No big plays; Spiller watch - With some injuries at wide receiver - including Roscoe Parrish being out - the Bills may use versatile running back more as a true wide receiver. That's an interesting idea and one that's a complete unknown at this point. Spiller was one of the more dynamic players in college football history. He's been a bit of a disappointment as a back behind Jackson. But he's shown flashes of that big-play ability that made him a star in the bright orange uniforms of Clemson. Sometimes the unknown of a player being used in a new spot in a new way can be very tough to defend. That could be even more true with New England's health issues and unsettled lineup in the secondary. Missing a tackle on Spiller on the edge is an instant big play. The Bills feed off big plays on offense, whether it's with Spiller or Johnson or Jackson or others. The Patriots defense could benefit from keeping up its own big-play style. But it's an absolute necessity that the unit doesn't allow big plays in this one or that will give the home squad quite a boost.
6. Crowd control - The Patriots expect the home crowd at Ralph Wilson Stadium to be rocking. New England prepared for a loud environment by blasting music during practice this week. Buffalo fans haven't had much to cheer about for their team, or their region for that matter, in quite a while. The 2-0 start has them feeling good. They could take a huge step toward NFL winning legitimacy with a win on Sunday. They probably feel like they've been the Patriots whipping target for long enough. Now they have the chance, the momentum and maybe the offensive ability to do something about it. They will have plenty of support behind them in a pretty intimate setting. If they can make plays early they could only increase the home field advantage. But the converse is also true. If Brady and Co. march up and down the field and have their way early, the pro-Bills crowd may turn into a here-we-go-again mass of misery.
Prediction:
It's a 2-0 battle in the AFC East. It's the proven champion against the up-and-coming challenger. Did the challenger get here by knocking off a couple tomato cans? We'll see on Sunday, but I think there is a chance of that. I'm not sold on the Bills. Buffalo has some playmakers on offense. I just don't see Fitzpatrick beating Brady in a shootout. The Bills defense leaves much to be desired at this point, other impressive talent on the interior defensive line with Kyle Williams and Marcell Dareus. The Raiders found plenty of room to throw. Brady will find even more. The Patriots defense can make plays, even if it's not stout at this point. Fitzpatrick threw five balls to New England players last season. I think all those trends continue. I expect the Patriots to put up plenty of points on offense and come up with a few turnovers on defense. It's been the team's recipe for success for more than a year. Buffalo may put up an early fight, but they'll fall behind and fade as the game wears on. I see something in the range of a 35-21 victory for the Patriots as the win streak against Buffalo reaches 16 straight.